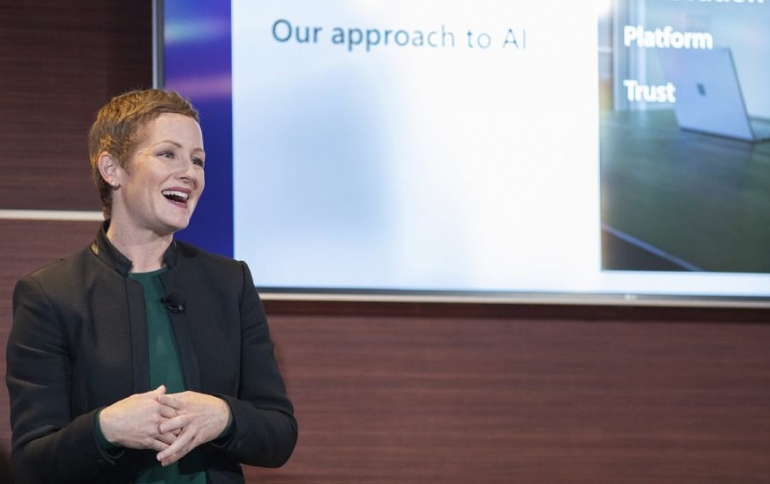 Microsoft Announces Updates Aimed at Helping Businesses Adopt AI
This week, Microsoft announced technology updates aimed at helping the company's customers adopt artificial intelligence tools.
Microsoft said it is helping customers adopt AI in multiple ways. That includes providing more flexible options for deploying AI tools – on the intelligent edge, in remote environments or in networks that a company maintains on-site.
For example, Microsoft said this week that it is the first company to enable cognitive services to be used in containers. Azure Cognitive Services are tools developers can use to add AI functionality such as image recognition to their systems. Containers support means companies can take advantage of AI tools even if they are in a scenario in which they can't easily access the public cloud.
Microsoft's first containerized cognitive services include APIs that use optical character recognition to find words in images; can detect language, extract key phrases and analyze sentiment in text; and recognize faces in images. Those initial containerized services are now available in preview, and more will follow.
Many business leaders cite a lack of data science expertise as a barrier to AI adoption. To help them get started, Microsoft is offering a preview of simpler AI features in its Power BI business analytics and data visualization service that don't require users to write a single line of code. The company said these updates will make it easier for users across a business to discover hidden insights in their data, regardless of their coding skills.
Some of the most promising growth in AI is being driven by advances in communication technology - speech recognition, translation and conversation-based interactions. Computers are learning to sound more natural, and AI is enabling improved transcriptions, more useful chatbots and enhanced in-vehicle navigation, for example.
This week, Microsoft unveiled tools to accelerate the use of conversational AI. One open-source system, now available in preview, can help build an enterprise-grade virtual assistant in a matter of minutes.
Microsoft also said this week that it had incorporated some of the translation advances from its research labs into its public offerings. The company also showcased its new neural text-to-speech synthesis system, available via preview in Azure Cognitive Services, which generates digital voices that are nearly indistinguishable from recordings of people. This technology can make interactions with chatbots and virtual assistants more natural and engaging, convert digital texts such as e-books into audiobooks, and enhance services like in-car navigation.
Microsoft also announced that that developers can now use the video game developer platform from Unity Technologies as a rendering engine for AirSim, Microsoft's open source platform for testing how autonomous systems such as drones can use AI in the real world. Developers and researchers can access AirSim on GitHub.
Also this week, Microsoft released guidelines aimed at helping customers think about ways to develop bots and other conversational AI tools responsibly. The company said these guidelines were derived from Microsoft's own experiences developing tools such as Cortana and Zo. The guidelines include things to consider when designing bots related to employment, finances, physical and mental well-being, and other sensitive uses.
In addition, Microsoft announced that it had signed an agreement to acquire XOXCO, a software product design and development studio known for its conversational AI and bot development capabilities.
Microsoft also announced several updates to Azure Bot Service, including the general availability of Bot Framework SDK and Tools version 4.1, which helps developers build bots more efficiently.