Mitsubishi to Use the Verbatim Brand For its Optical Discs Worldwide
Mitsubishi Kagaku Media will ship all its CD, DVD and Blu-ray Disc media under its Verbatim brand, the company announced today.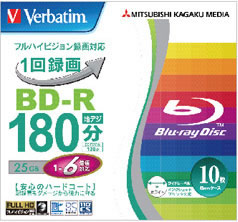 Until now, the company was shipping its discs under the Mitsubishi brand in Japan and the Verbatim brand ovreseas.
As of September 1st, Verbatim will become the global brand of Mitsubishi Kagaku Media CD,DVD, Blu-ray as well as USB memory, Sd card and portable hard drive products.
For the Japanese market, the company has also introduced a new packaging for the available DVD and BD discs. The new packages feature clear indications about the media's capacity, recording time, type of media e.t.c.
The new series of Verbatim media will be available from September. This includes BD-R LTH discs (25GB) for 4x recording, BD-R 25GB 6x and 4x recording, BD-RE 25GB for 2x, BD-R DL (50GB) for 4x and 6x (MID VERBATIMf) and BD-RE DL for 2x (MID VERBATIM1).
Verbatim's BD-R LTH discs for 6x recording (MID VERBATIMu) are also currently on mass production.
Mitsubishi has also stopped the production of 12x DVD-R DL and also dropped plans to produce 16x DVD+R DL.