Verbatim FWC-03 Wireless Car Charger
While many modern cars have some kind of wireless charging abilities, many cars don't, and for those users, Verbatim has introduced to the market a series of fast wireless car chargers, and today we will examine the FWC-03 model. This is the top-of-the-line model and supports wireless charging up to 15 watts backward to 5W!
Verbatim's fast-charging phone holder uses high-speed Qi wireless charging technology to provide safe and fast charging for your Android or iPhone. The high-quality charging mount with its tempered glass surface allows hands-free calls and easy viewing of GPS maps while quickly charging your Qi-enabled smartphone.
The fast-charging phone holder is easy to use, secure, and convenient. Choose between installing the holder into your car's air vent or fitting it to the dashboard or window via the suction pad. When the phone is placed in the holder, the side clamping arms automatically close, holding the phone securely in place. The arms open with a light touch on the sensor on the top of the charger. The holder can rotate through 360° allowing for optimum viewing and easier use of functions.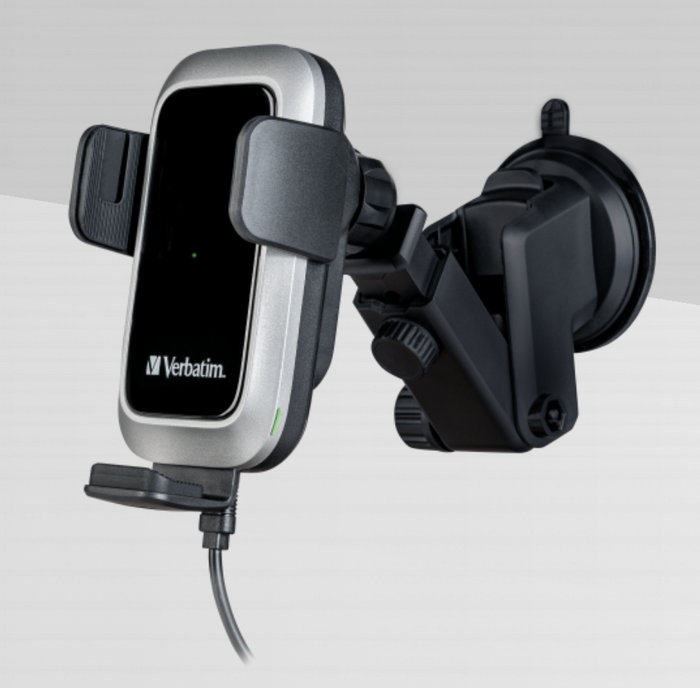 The Verbatim phone holder uses Qi induction technology to charge your phone quickly and easily once it is placed into the holder. It incorporates smart recognition technology; the charging coil auto-aligns for optimum charging. With a maximum charging power of 15W, the car phone holder with a charging function is optimized to keep your phone's battery healthy with sufficient charging efficiency. It can even charge through phone cases with a thickness of up to 4mm. The maximum input power varies depending on the phone model. For example, the Samsung S21 can charge at 15W, Samsung S20 at 10W, iPhone 13 Pro at 7.5W, and Google Nexus at 5W. Please check your phone specifications for the maximum charging watts.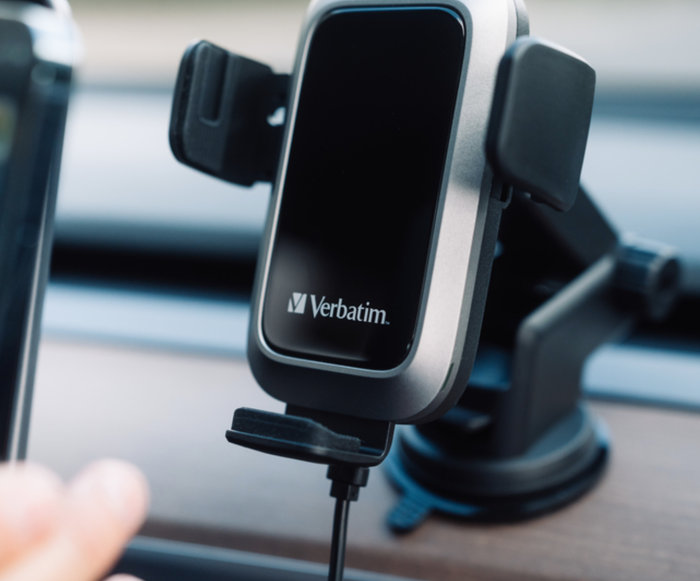 Features
Part Number: 49554
Qi certified
Auto-alignment coil = Smart recognition
Tempered glass surface
Automatic open/lock
Three mounting options: vent holder, suction cup on dashboard, or front window
Output: 15W/10W/7.5W/5W self-adaptation
360°rotatable
Release button on the back
One-handed operation
Anti-slip & anti-scratch silicone on both arms and foot
2-year limited warranty

Specifications
Electro-magnetic induction
Input (requirements for adapter): 9V/1.67A; 12V/1.5A-3A
Output: 15W / 10W / 7.5W / 5W (auto-adaptation)
Working frequency: 110 KHz-205KHz
Product standard: Qi
Charging distance: ≤10mm
Charging efficiency: ≤80%
Product dimension: 123mm x 71mm x 75mm
Product material: ABS + PC + Glass
Product weight: 176g
Cable: USB-C to USB-A cable, 1m
1x touch button on the top back for one-handed operation
Duration of rest power after power off: 5 hours
Duration of ability to open/close clamps after power off: 30 minutes
How many times arms can be opened after power off: 2-3 times
Triangle support: yes
2 LED status indicators: Green - standby, Blue - charging
Phone case thickness max. (mm): 4mm
Phone width min to max (mm): 60-90
The Verbatim FWC-03 Pro Qi Fast wireless car charger can be found online for around ~33 euros. The retail box is big since it includes not one but three different mounting methods.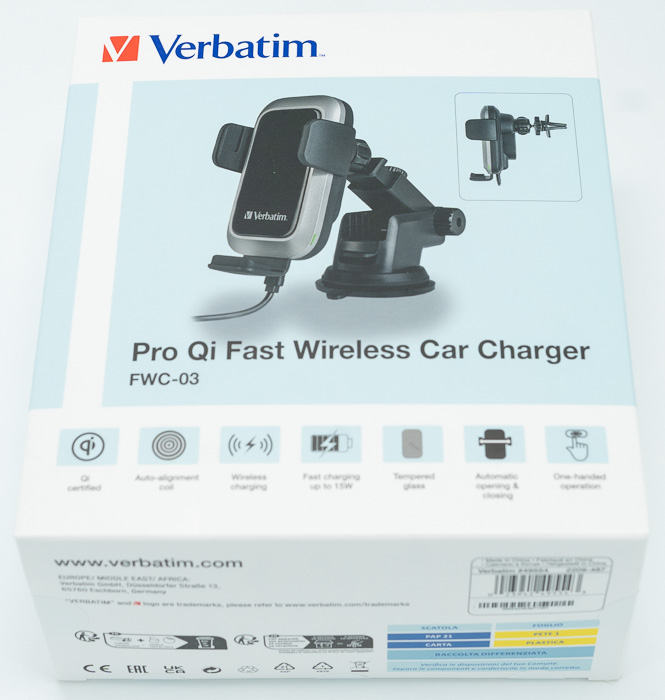 Inside the box, users will find
1xVerbatim FWC-03 Pro Qi Fast Wireless Car Charger
1x USB-C to USB-A cable
1x Air vent holder
1x Holder with suction cup
1x Quick start guide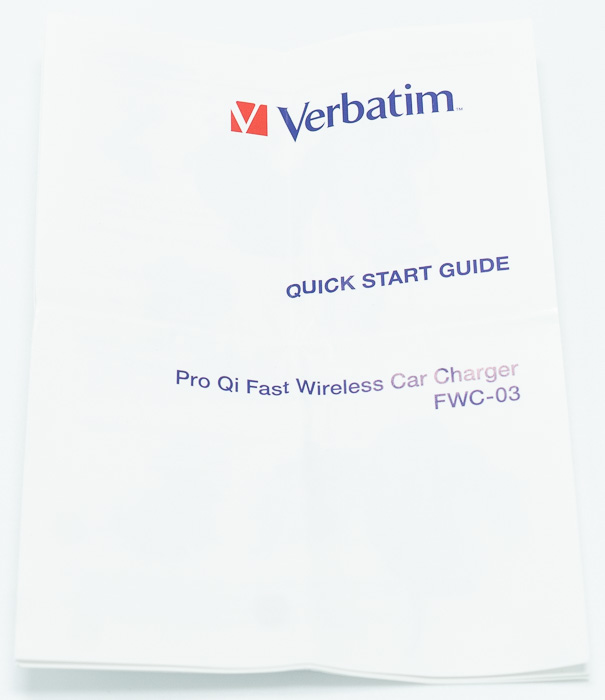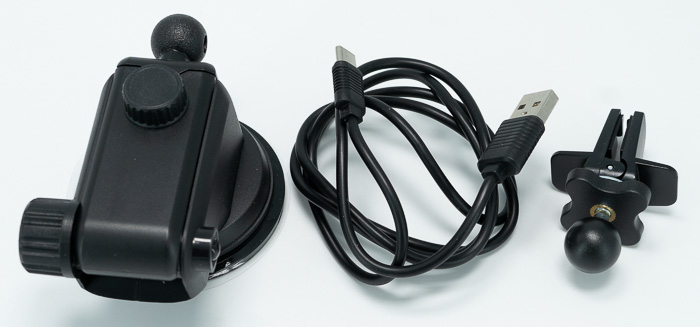 The main unit is made out of ABS + PC + Glass, has 123mm x 71mm x 75mm dimensions, and around 176gr of weight. At the back, we will find the model part number and input/output requirements.
The product also includes a big suction cap with a mounting arm mechanism that can be used to either secure the device at the front windscreen or somewhere on the dashboard. There are several different adjustments users can perform to find their preferred location. Alternatively, users can install the Wireless charger at the air vents, again with an included mounting mechanism.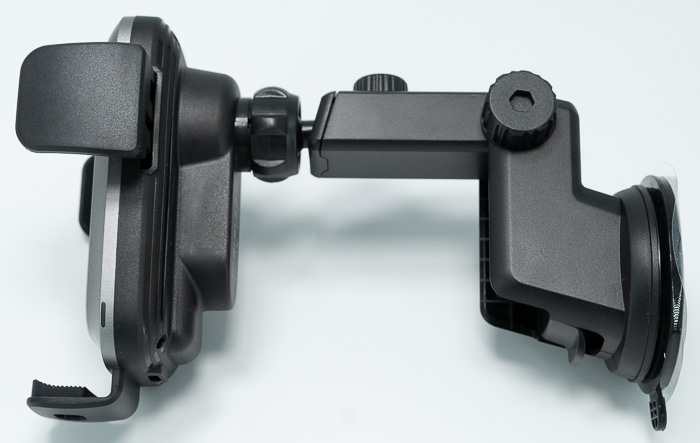 Usual Type A/C carports only provide 5V / 1A output, which is not sufficient to power the Verbatim Qi Fast Wireless Car Charger. For this product you need to use a quick charge 3.0 car charger adapter (not included) or a QC 3.0 USB port in your car is required for Fast Charge Mode. Then you need to use the included USB cable and mount it at the bottom of the device.
The device supports many different mobile phones from thickness max. (mm): 4mm and width min to max (mm): 60-90. If your phone is measured bigger, and simply won't fit don't buy it. After putting the phone if the location, touch the button in the top back and place your phone in the car charger, the charger will start auto-aligning by moving the coil of the charger up and down to find the best charging position. Charging will start automatically when the best spot is found (if supported by the phone), the auto-aligning process might take some time.
There is a LED that has two modes, green (Working/Standby mode) and blue (charging). If metal or magnetic objects are somewhere on the charger, the LED will flash green and blue. If foreign objects are detected charging will be stopped.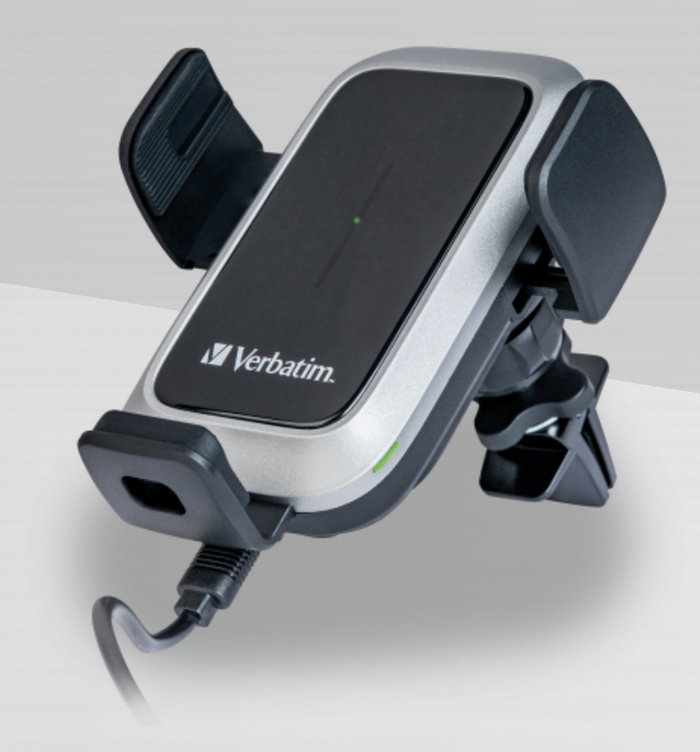 After you mounted the holder and the car charger is provided with power you can insert your phone, the arms will close automatically. The phone will automatically start charging (if the smartphone supports Qi). The green status LED on both sides will switch to blue. If you want to open the arms while the device is charging and connected to power supply, you need to touch the button on the top back. After touching the button, the arms will release your phone so you can take it out. Dont apply force to open or close the arms manually this will damage the device.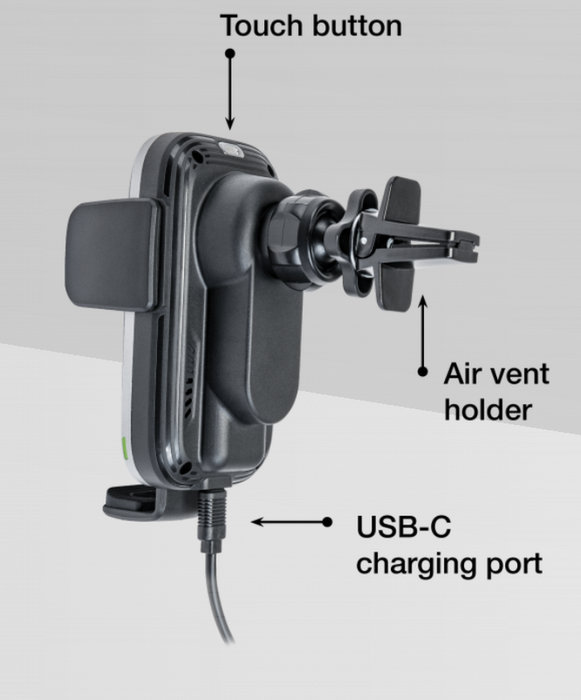 Conclusion
We used the device in our personal car and with a Samsung S22 Ultra it worked just fine, even with the protective case installed. The device does work according to its specifications, however as we mentioned, in order to have fast charging enabled, you need to have the corresponding Cigarrete card charger with Quick Charge 3.0 technology on board. Such devices aren't so expensive ~ 10-15 Euro, and for sure will also power up other devices as well. The automatic on/off function works as advertised and you have to be careful not to manually open the arms, or else you might break the device. The three mounting methods (vent holder, suction cup on dashboard, or front window) are welcomed and this is a complete retail package for all users who wish to have up to 15watt fast quick charging for their mobile phone on the road. Lastly, the device comes with 2 years of warranty in order to keep you covered in all cases. The retail price should be expected around 35 Euros around Europe and if you are looking for such a device, the Verbatim FWC-03 Wireless Car Charger is a good product to consider.