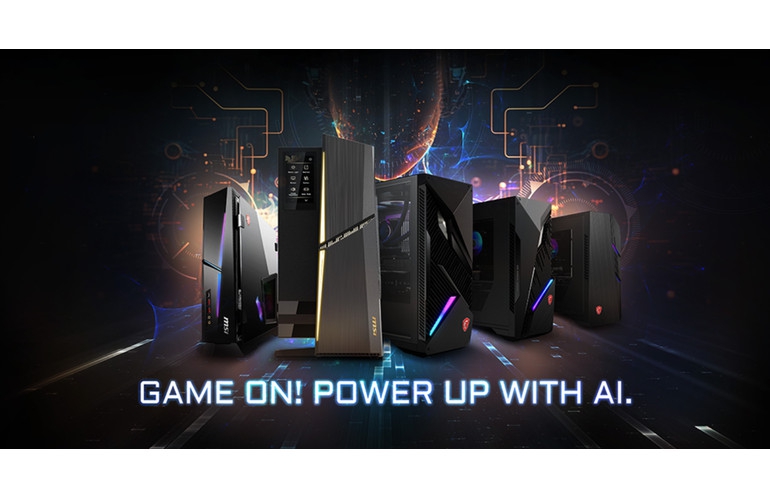 MSI announces new desktops with Intel 14th Gen, monitors, coolers and other products
MSI, a trailblazing brand in gaming hardware and innovation, continuously strives to fulfill gamers' dreams. Today, we take immense pride in unveiling AI-powered gaming desktops featuring the 14th generation Intel® processor. This marks the perfect fusion of intelligence and performance, promising gamers an invigorating gaming experience.

Next-Generation AI Gaming Desktops
In our commitment to delivering unparalleled gaming experiences, MSI proudly introduces the MEG Trident X2 14th and MPG Infinite X2 14th, equipped with the latest 14th generation Intel processors. These desktops incorporate cutting-edge Frozr AI Cooling technology, delivering exceptional performance through intelligent cooling. Frozr AI Cooling employs advanced algorithms to dynamically monitor component temperatures, ensuring rapid responses to temperature changes and suppressing temperature spikes. Gamers can now enjoy maximum performance without the need for manual adjustments.
Frozr AI Cooling: Intelligent Temperature Management
Thanks to the latest GPU AI accelerator and the exceptional cooling efficiency of Frozr AI Cooling in MSI AI Gaming Desktops, AI-generated content (AIGC) now achieves significantly increased output speed. In the case of the MEG Trident X2 14th, utilizing the Stable Diffusion has accelerated content generation by 1.8 times compared to the previous generation. In UL Procyon® AI Inference Benchmark scores, there has been a 1.6 times improvement over previous expectations. This empowers users to enjoy high-speed and stable content generation quality on MSI Gaming desktops. In the realms of gaming and streaming, MSI AI Gaming Desktops have integrated NVIDIA Broadcast, allowing gamers to swiftly present rich, entertaining, and high-quality game content to their audiences during live broadcasts. Gamers can also take advantage of NVIDIA® DLSS 3.5 to achieve smooth and detailed gaming visuals even when playing 4K games with ray tracing enabled.
Powerful 14th Gen Gaming Desktops
With robust AI enhancements, MSI 14th gen AI Gaming Desktops feature powerful Intel® Core™ i9 / i7 processors and MSI GeForce RTX™ 4090 graphics cards, both optimized by the outstanding Silent Storm Cooling design. Notably, the Intel® Core™ i7 processor 14700KF offers a 15% performance improvement compared to its predecessor.
MEG Trident X2 14th: The AI Flagship Gaming Desktop

The MEG Trident X2 14th boasts a range of unique features, including Silent Storm Cooling 3 for superior system cooling, an Air Baffle to assist in VGA cooling by forming cold air, and heatsinks for VRM and DDR5. The VRM temperature, in particular, decreases significantly by 19°C, resulting in a noteworthy 21% performance improvement in the 'Extreme Performance' mode within the MSI Center.
The graphics card temperature, with the addition of the Air Baffle, is quite close to the temperature during open-air testing.
The inclusion of heatsinks on VRM and DDR5 not only enhances aesthetics but also improves system performance.
Utilizing NVIDIA® DLSS technology, 4K games fps are greatly increased.
In terms of design details, it features MEG series patterns on the left side and a premium brushed finish that is fingerprint-resistant, giving the MEG Trident X2 14th a stylish and clean overall appearance. The MEG Trident X2 14th also includes the unique HMI 2.0, allowing gamers to access system information like game fps through a touch-sensitive panel, eliminating the need for third-party software. Additionally, HMI 2.0 provides control over MSI gaming monitors, enabling features such as Smart Crosshair, Optix Scope, Night Vision, and brightness adjustment, simplifying the gaming experience by eliminating the inconveniences of previous pop-up OSDs.
HMI 2.0 Touch Panel: Intuitive Control for Gamers
In the wireless network aspect, the MEG Trident X2 14th is equipped with the latest WiFi 7 wireless card, which offers network speeds that are 4.8 times faster than WiFi 6. This means that gamers no longer need to worry about network latency affecting their gaming experience.
Focused on Enhancing the Gamer's Upgrade Experience - MPG Infinite X2 14th

Aside from featuring the latest AI technology, the MPG Infinite X2 14th incorporates the latest 14th gen Intel® Core™ processors, RTX 4090, and a 240mm AIO liquid cooling system optimized by Silent Storm Cooling 2 for system stability during high-load operations. The Infinite series emphasizes the gamer's upgrade experience, allowing for tool-free removal of tempered glass on the side panel and enabling users to expand SSD capacity using EZ clips.
Gamers can expand SSD capacity on their own without the need for additional tools.
MPG Infinite X2 14th features tempered transparent glass that meets EMI standards, providing clear visibility of the interior components while creating eye-catching RGB lighting effects. These lighting effects can be customized using the MSI Mystic Light software for a truly immersive experience.
MPG Infinite X2 14th Customizable RGB Lighting
MSI's 14th gen AI Gaming Desktops aim to provide gamers with a unique gaming experience by seamlessly integrating performance and intelligence. In this era of frequent hardware advancements, these desktops ensure that gamers maintain their peak performance and achieve remarkable results. Hey, gamers! Game on! AI will power you up.

Intel® Core™ 14th Gen AI Gaming desktop Lineup :
https://www.msi.com/Landing/intel-14th-gen-gaming-desktop
MSI, a world-leading brand for gaming and creation, proudly introduces the VIGOR GK41 series, a revolutionary duo of gaming keyboards designed to elevate your gaming experience. The VIGOR GK41 and its advanced counterpart, the VIGOR GK41 DUSK, are crafted with precision and a next-level to cater to the diverse needs of gamers.
VIGOR GK41: Armed for Game On
The VIGOR GK41, the first product in the series, stands out with its Kailh Linear Red switches, offering outstanding responsiveness for gamers seeking the perfect keystroke. Boasting 6 fixed color LEDs in 10 different lighting zones, the GK41 creates a visually immersive gaming environment. Supporting MSI Center software enables gamers to customize macro key settings and lighting effects. It also offers the flexibility to configure combination keys for adjustable lighting effects and seamless control over media settings. The adjustable stand with three angles (0°, 3°, or 7°) ensures ergonomic comfort. It is complemented by 100% anti-ghosting keys, making the VIGOR GK41 the go-to choice for gamers who demand outstanding performance at an affordable price.
VIGOR GK41 DUSK: Elevate Your Aesthetics
The VIGOR GK41 DUSK, the advanced sibling of the VIGOR GK41, takes gaming aesthetics to new heights. Featuring the same Kailh Linear Red switches, it introduces per-key RGB lighting and stylish side RGB light bars, transforming your gaming station into a captivating visual spectacle. The VIGOR GK41 DUSK's unique design includes special black, gray, and red keycaps, accompanied by an extra set for personalized configuration. With the same powerful MSI Center software support, gamers can enjoy lighting effects and macro settings customization, the flexibility of a three-stage adjustable stand (0°, 3°, or 7°) is also available to ensure ergonomic comfort. The 100% anti-ghosting keys provide precision gaming, making the VIGOR GK41 DUSK the ultimate choice for gamers who demand style and substance.
VIGOR GK41
Featuring Kailh Red Mechanical Switches
6 Fixed Color LEDs in 10 Different Lighting Zones
6+N Key Rollover & Anti-ghosting
Hotkeys for Rapid Control
3 Adjustable Keyboard Angles (0°, 3°, or 7°)
VIGOR GK41 DUSK
Featuring Kailh Red Mechanical Switches
Classic Mix of Multi-color Keycaps
Includes Additional Keycaps Set for Customization
Per-key RGB with Additional Lightbars
3 Adjustable Keyboard Angles (0°, 3°, or 7°)
MSI is thrilled to announce an incredible offer for all gaming enthusiasts - Starting from October 17th to November 17th, 2023, when purchase MSI latest liquid cooling products - MAG CORELIQUID E360 / WHITE, you will get a free Sonic Superstars game key!
MSI has always been dedicated to upgrading users' gaming experience, and our new E series liquid cooling models are no exception. Designed for optimum performance and reliability, these cooling solutions will keep your gaming rig running smoothly. And now, when you invest in our latest liquid cooling technology, you'll also get rewarded with a FREE Sonic Superstars game key.
Don't miss this opportunity to elevate your gaming rig's performance and enjoy the latest blockbuster games! Simply make a purchase of the MSI MAG CORELIQUID E360 / WHITE between October 17th to November 17th, 2023, and redeem this exclusive offer on MSI Member Center.
Moreover, share your product experience on specified platforms, you can also participate in the 'Shout out for MSI' promotion and get an additional USD 20 Steam code as a reward!
Let's upgrade your setup with MSI's liquid cooling products and unlock a world of gaming possibilities.
Shout Out for MSI – Share your MSI product experience. Help others choose by letting people know why you choose MSI. We'll thank you with a cool reward. https://www.msi.com/Landing/join-shout-out-for-msi


MSI Reward Program - Review a product, refer a friend, or participate in other actions that can earn up to 500 points. Register now and unlock your exclusive benefits! https://rewards.msi.com/
MSI, the world's leading manufacturer of true gaming hardware, is expanding the hardware possibilities for all gamers.
We're proudly introducing the latest line-up of monitors showcasing cutting-edge Rapid VA technology, delivering an immersive curved experience and lightning-fast response times. The response time can reach 1ms GtG to reduce monitor ghosting in games. These monitors come equipped with the WQHD 1000R rapid VA panel, offering refresh rate options of 240Hz or 170Hz. Gain a competitive edge and make precise decisions in fast-moving games with ease. With the support of gaming intelligence, users can configure screen functions effortlessly through mouse operations, effectively replacing the need for physical buttons on the display. In addition to a night vision feature that empowers gamers to adapt to visually challenging dark scenes, this software offers a Smart Crosshair that dynamically adjusts its color to match the game's background, firmware updates, and KVM functionality with just a few clicks.
Quantum Dot technology
With MSI's innovative Quantum Dot technology, both the MAG 325CQRF-QD and MAG 275CQRF-QD monitors boast extensive gamut coverage and higher peak brightness, delivering unparalleled vividness not only for gaming but also for productivity tasks. Prepare to be captivated by the most lifelike and vibrant colors, enhancing your overall visual experience.
Besides, MSI also released MAG 325CQRXF and MAG 275CQRXF with 240Hz high refresh rate and 1ms response time. The 2 models also passed the VESA DisplayHDR 400 and ClearMR Clear Motion 7000 Certification for stunning image quality.
Always improving, MSI will keep challenging itself in the design of gaming monitors, and ensure that you are always one step ahead of your opponents.
For the full list of MSI Rapid VA monitors: