Netflix Reports Performance on U.S. ISP Networks
In the company blog Thursday, Netflix Director of Content Delivery Ken Florence presented a ranking of the best and worst network operators for Netflix streaming, a ranking that the company plans to maintain and publish as a monthly report. In the post, written by Ken Florance, Netflix's director of content delivery, Florance explains that the company has compiled data on how well ISPs are best able to sustain high-capacity throughput.
Currently, Netflix' top HD streams are about 4800 kilobits per second. Although Netflix users is able to sustain play at that rate due to throughput constraints, the greater the throughput the user can achieve, and the greater the image quality over the duration of the play.
"As we use a number of CDNs, and our clients can adapt to changing network conditions by selecting the network path that's currently giving them the best throughput, Netflix streaming performance ends up being an interesting way to measure sustained throughput available from a given ISP over time, and therefore the quality of Netflix streaming that ISP is providing to our subscribers," Florance said.
Obviously, the sustained throughput can vary by network technology (e.g. DSL, Cable), region, etc.
In the charts below, Netflix is using a time-weighted bitrate metric to represent the effective data throughput our subscribers receive over many of the top ISPs.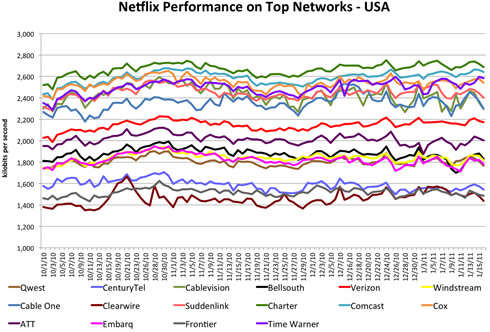 According to the charts, US network Charter leads in overall throughput, averaged 2,667 Kbps between October 1, 2010 and January 15, 2011.
Comcast, Cox, Time Warner, Cablevision, Suddenlink, and Cable One are following Charter.
Verizon, AT&T, Bellsouth, Windstream, Embarq, and Qwest performed at the 2,300 Kbps and 1,700 Kbps range.
Slower performers include CenturyTel, Frontier, and Clearwire.
Netflix plans update these charts monthly.