New LG Watch URBANE Has LTE Connnectivity
LG Electronics said Thursday it will showcase its latest smartwatch upgraded with the long-term evolution (LTE) network at the Mobile World Congress (MWC) in Spain opening early next month. The LG Watch Urbane LTE touts a fast voice communication and data transmission between the caller and recipient, enabling users to speak through the wearable device without their smartphones present, a feature absent in the same model released early last week.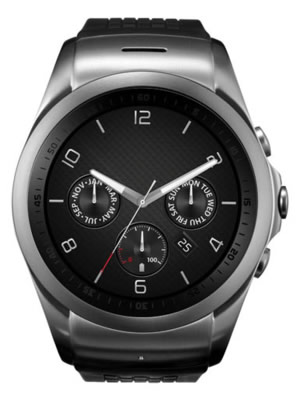 The LG Watch Urbane LTE offers the style of a real analog watch and adds to this micro-technology centered around a 1.3-inch Plastic-OLED display. Under the P-OLED display, the LG Watch Urbane LTE packs all the communication capabilities of a smartphone in a polished, metal wristwatch. Like any 4G phone, it can make and answer calls as well as send and receive text messages. With carrier support, the smartwatch offers push-to-talk (PTT) capability with other devices on the same cellular network so wearers can use their LG Watch Urbane LTE as a walkie-talkie with unlimited range to talk to multiple parties at the same time.
At the core of the LG Watch Urbane LTE is the all new "LG Wearable Platform" operating system, developed specifically for the company's proprietary wearable products. Beyond the OS, the smartwatch carries over most of the features of the LG G Watch R, including a display with always-on ambient mode. Paired with the category's largest 700mAh battery, the LG Watch Urbane LTE delivers long talk and use times and can go for days in standby mode.
Three physical buttons on the right side of the smartwatch allows for access to a number of functions without having to swipe through multiple menu screens. The top button accesses the Quick Setting menu where the user can check and adjust battery usage, brightness, volume and connection settings. The main center button switches between the watchface and list of installed apps. The bottom button acts as the "Back" function when depressed quickly but becomes a safety beacon when long-pressed, automatically dialing any preset phone number as well as sending the location coordinates of the wearer.
The connectivity options offered by the LG Watch Urbane LTE include NFC technology, allowing wearers to have a virtual wallet on their wrist.
A built-in heart rate monitor and motion sensors make tracking fitness goals easier than with a smartphone. In addition to the standard fitness coach, the LG Watch Urbane LTE also includes specialized features for golfers, cyclists and hikers. IP67 dust and waterproofing certification means the watch can be submerged in a meter of water for up to 30 minutes.
Specifications:
Chipset: 1.2GHz Qualcomm Snapdragon 400
Operating System: LG Wearable Platform
Display: 1.3-inch P-OLED (320 x 320 / 245ppi)
Network: LTE
Memory: 4GB eMMC / 1GB LPDDR3
Battery: 700mAh
Sensors: 9 Axis / Barometer / PPG / GPS
Connectivity: WiFi 802.11 b, g, n / Bluetooth 4.0LE / NFC
Color: Silver
Other: Dust and Water Resistant (IP67) / Speaker / Microphone