New Nokia 3310 3G Coming in October
HMD Global, the home of Nokia phones, will release the €69 Nokia 3310 3G Nokia 3310 3G basic phones in mid-October.
Available in fresh colours and a new user interface that lets fans pick a theme to suit their mood, this classic is now 3G enabled and can be enjoyed in even more countries around the world. And yes, it still has Snake (!)
The Nokia 3310 3G combines the talk and text appeal of the current model with a 3G data connection. The retro user interface has been improved meaning you can now change the icon colours and position to ensure your favourite functions are exactly where you want them to be.
The Nokia 3310 3G is available in four colours - yellow, red, azure and charcoal, all with a matte finish and new silver keypads.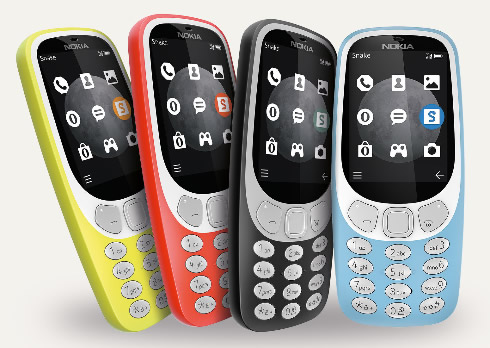 Ergonomically redesigned, the phone also has more spacing between the buttons, letting you dial, text and tweet more comfortably.
The Nokia 3310 3G has up to 6.5 hours of talk time and an up to 27 days of standby time.It will retail for a global average price of €69 with roll out from mid-October.
Specifications
Display: 2.4" QVGA
Performance: Software platform Feature OS Java powered

Battery type:

Removable BL-5C battery (1200mAh)
Max. talk time Up to 6.5 hours
Max. standby time (Single-SIM) Up to 27 days
Max. standby time (Dual-SIM) Up to 24 days
Max. MP3 playback time Up to 40 hours
Max. FM radio playback time Up to 35 hours

Colours: Azure, Yellow, Warm Red, Charcoal
Size: 117 x 52.4 x 13.35mm
Weight (Single-SIM): 84.9g
Weight (Dual-SIM): 88.2g

Internal memory:

64 MB
MicroSD card slot Support for up to 32 GB (memory card sold separately)

Primary camera: 2MP
Flash LED flash

Network speed: 3G

Dual band 900/1800 MHz +3G Band 1 and 8
(Single-SIM) Quad band GSM 850/900/1800/1900 + 3G Band 1, 2, 5, 8

Bluetooth: 2.1
Micro-USB
Connector: 3.5 mm AV connector
Apps: FM radio, MP3 player