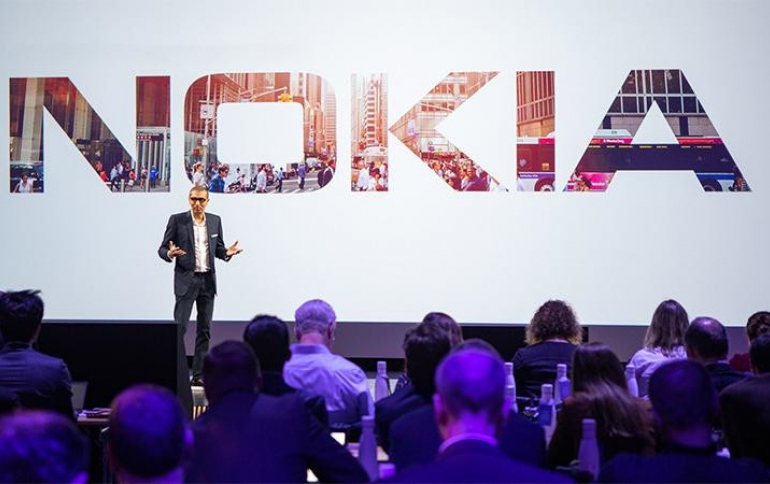 Nokia Reports Q1 Profit Despite Supply Disruption
Nokia on Thursday reported a 2% fall in first-quarter revenue as it took a hit of about 200 million euros ($217 million) to its topline largely because the COVID-19 pandemic disrupted supply from operations in China.
However, the company manage dto make a small profit backed by good demand for its new 5G telecoms equipment.
Nokia reported January-March revenues falling to 4.9 billion euros.
Its rivals, Ericsson and Huawei, have posted growth in revenue in the first quarter of the year, helped by strong demand as telecom services help to keep businesses working remotely during the pandemic.
Nokia said majority of the coronavirus impact will be in the current quarter and expects a seasonally strong second half of the year. It has so far signed 70 commercial 5G deals, with 21 networks going live.
Nokia generated first quarter underlying profit of 1 cent per share, and a loss of 2 cents per share in the same period last year.
Nokia expects its Reefshark-based 5G system-on-chip (SoC) development, which allows a single chip to carry an entire computer system, to have a significant impact on reducing its product costs.
Reefshark chipsets increases data-handling capacity for mobile towers and accounted for 17% of Nokia's 5G shipment in the quarter and the company expects it to reach 100% by 2022.
Rajeev Suri, President and CEO, on Q1 2020 results:
"On a year-on-year basis, group-level non-IFRS operating margin was up by 3.6 percentage points; Networks gross margin increased by 3.5 percentage points; Nokia Software had an excellent quarter with sharp margin improvements and strong momentum with customers in North America; and, Nokia Enterprise delivered double-digit sales growth.

As I noted last quarter, we continue to have a sharp focus on Mobile Access and cash generation and saw good progress in both areas in the first quarter. "5G Powered by ReefShark" shipments continue to increase and product cost reductions are proceeding well. We also announced some leading new solutions in the quarter, including a unique approach to dynamic spectrum sharing that is in test mode with select major customers today, and is expected to be available in volume over the summer, in line with the availability of DSS-capable mobile devices.

On the services side, ongoing execution improvements drove improved year-on-year profitability.

We also enhanced our total cash position to €6.3 billion, while net cash showed an expected seasonal decline to €1.3 billion.

In Q1, we saw a top line impact from COVID-19 issues of approximately €200 million, largely the result of supply issues associated with disruptions in China. We are adjusting the mid-points within our previously disclosed Outlook ranges for full-year 2020 to reflect the increased risks and uncertainty presented by the ongoing COVID-19 situation. We expect the majority of this COVID-19 impact to be in Q2 and believe that our industry is fairly resilient to the crisis, although not immune. We did not see a decline in demand in the first quarter. As the COVID-19 situation develops, however, an increase in supply and delivery challenges in a number of countries is possible and some customers may reassess their spending plans.