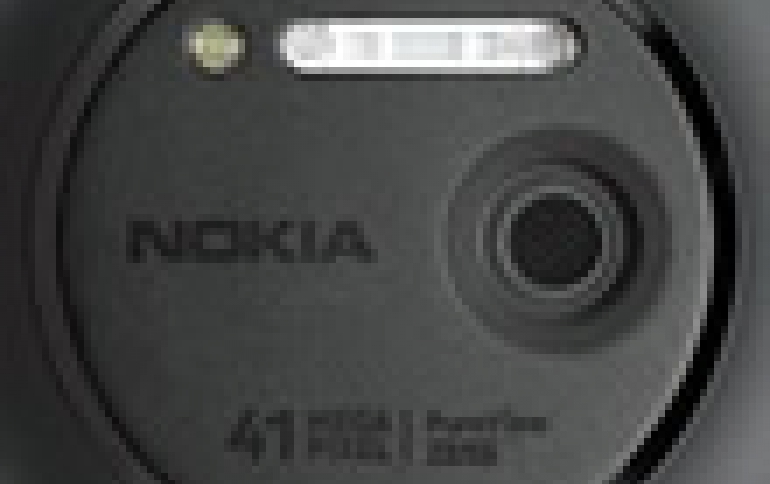 New Nokia Lumia 1020 Packs Impressive Camera Features
Nokia has made official its new Lumia 1020 smartphone, the first to feature a 41MP backside illuminated sensor and actually a device that blurs the lines between a digital camera and a smartphone. Available exclusively from AT&T beginning July 26 (U.S.), the Lumia 1020 is priced at $300 with a two-year agreement and comes in matte black, matte white and matte yellow. Pre-orders beginning July 16 at. The phone will be also available in Europe, Asia And Latin America later this quarter.
The Nokia Lumia 1020 has been designed to set a new benchmark in imaging. The Windows Phone 8 device comes packed with a second generation 41 megapixel sensor - the largest back side illuminated (BSI) sensor available on a smartphone - which lets you capture high-resolution photos and video and uniquely zoom-in or out and reframe the smaller details within your pictures. It has a 4.5-inch AMOLED PureMotion HD+ display (1280 x 768 pixels, 16:9 aspect ratio) made with Gorilla Glass 3 and is super sensitive to touch even with fingernails or while wearing gloves.

The phone has second generation optical image stabilization (OIS), ZEISS optics with a 6-lens design, and other specifications like a manual shutter and xenon flash to help capture high-quality photos both day and night.
Using a new feature called dual capture, the Nokia Lumia 1020 simultaneously takes a high resolution 38 megapixel image for endless editing opportunities, and creates a 5 megapixel picture that is easy to share to social networks with Windows Phone 8.
Nokia Lumia 1020's imaging capabilities are not limited to still photos. It records HD video in 1080p at 30 frames per second and lets you zoom in up to four times closer to the action with no loss of quality (up to 6x closer in HD 720p). Additionally, it is equipped with digital high-performance microphones that record high quality stereo sound with deep bass, even at loud events.
The Nokia Pro Camera app lets you manually adjust flash, focus, ISO, shutter speed, white balance and exposure. Nokia Pro Camera lets you re-frame a photo to zoom in and out. You can zoom, re-frame, straighten horizons, change orientation or make other alterations as many times as you want. You can also zoom in on images to discover details you couldn't see at the time of capture.
If you want to share your photos with friends, the Nokia Lumia 1020 automatically creates 5 megapixel versions that are easy to share via e-mail, messaging or social media.
The Nokia Lumia 1020 also comes with an attachable point-and-shoot-like leather wrist strap. Additionally, you can purchase the Nokia Camera Grip accessory ($79). This case snaps on the phone to mimic the feel of an actual camera and includes extra battery power, shutter button and a universal tripod mount.
Nokia also released a new imaging software development kit (SDK) that provides key image editing features of the Nokia Lumia 1020 to developers. The SDK is available today at developer.nokia.com with a number of developers including Vyclone, Yelp and CNN integrating these features into future releases.
At the NY event held by Noki atiday, Hipstamatic showcased Oggl PRO, an exclusive application for the Nokia Lumia 1020 offering advanced smartphone camera controls for their creative community. It was also announced that applications Vine, Path and Flipboard will soon be available on Windows Phone.
To help people see what's around them and discover new places to take photos, the latest developments in LiveSight will available in HERE Maps soon. The Nokia Lumia 1020 also comes with ad and subscription free Nokia Music streaming.
The Lumia 1020 is the first Windows Phone to include AT&T Locker, the free cloud storage app that lets you store and share your high-resolution images and video, as well as music, documents and more, in one place. For a limited time, anyone who purchase a Nokia Lumia 1020 can get 50 GB of free storage.
Will all this advanced technology be enough to make the 1020 a breakthrough device in driving high-volume Lumia sales? It seems unlikely, as the Nokia Lumia 1020 is an expensive device. But the 1020?s stunning imaging and audio capabilities will grab a lot of attention from a lot of people. Nokia could use that to add lustre to the Lumia brand as a whole, increasing the desirability of the more affordable devices in its Lumia range of smartphones.
Lumia 1020 specs
OS
Windows Phone 8
Price
$300 on contract
Processor
Dual-core 1.5GHz MSM8960
Memory
2GB
Display
4.5-inch PureMotion HD+ OLED, ClearBlack, Nokia Glance Screen
Resolution
1,280 x 768
Glass
Gorilla Glass 3
Pixel Density
334 ppi
Storage
32GB
Primary camera
PureView 41-megapixel OIS f/2.2 6-element lens, Resolution: 7712 x 5360, LED + xenon flash, includes Nokia Pro Camera
Secondary camera
2-megapixel
Video recording
1080p
Cellular
HSPA+, LTE
WiFi
802.11 a/b/g/n
Bluetooth
3.0
Orientation
Magnetometer, Accelerometer, Gyroscope
Navigation
A-GPS, GLONASS, WLAN Network Positioning
Connectivity
NFC
Wireless charging
Qi (with optional snap-on cover)
SIM standard
micro-SIM
Battery
2,000 mAh, wireless charging supported via cover
Weight
157.6 grams
Dimensions
130.3 x 71.4 x 10.4 mm
HERE location services
Free global HERE Maps and HERE Drive+, Free HERE Transit available in the Store
Colors
White, Black, Yellow