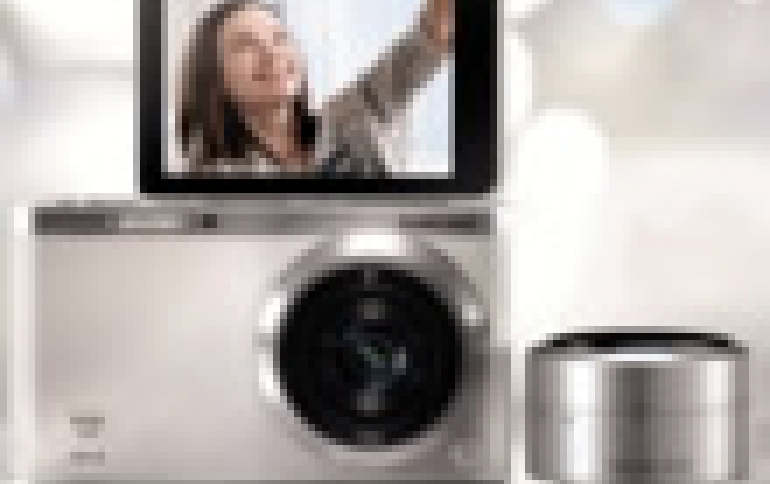 New Samsung NX mini SMART Camera Released
Samsung announced today the launch of the NX mini, a slim and light interchangeable-lens camera. Weighing only 158g (body only) and sporting an ultra slim (22.5mm) design, the NX mini can easily slip into almost any pocket or bag. The camera features a metal body with a leatherette finish and will be available in five different colors (white, pink, mint green, brown and black).

The NX mini has a range of features which allow photographers to indulge in the global trend of self-shooting. With a 75.2mm (3.0-inch) Flip up and Touch Display that flips 180-degrees, users can frame images of themselves perfectly. With the slim 9mm wide angle lens, the NX mini can capture group shots from an arm's length away.

With the NX mini's new Wink shot feature, you simply need to set up a shot and wink at the camera to capture an image. Once a wink is detected, the NX mini takes a shot automatically after two seconds, without having to press any buttons.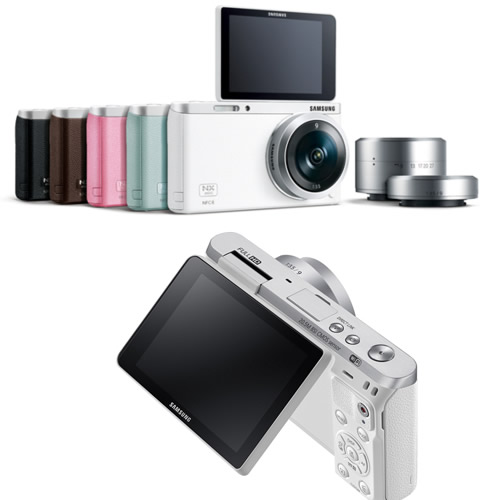 Despite its slim appearance, the NX mini packs an 1-inch type 20.5MP BSI CMOS Sensor. It supports 6fps Continuous Shot mode and its 1/16000 sec Shutter Speed freezes fast moving scenes.
As with all of Samsung's 2014 SMART cameras, the NX mini features Wi-Fi and NFC integration. Exclusive to Samsung, Tag & Go connectivity allows the NX mini to pair with NFC-enabled devices, such as smartphones or tablets, by touching the two together. Once paired, users can:
- Select and transfer multiple images to the paired mobile devices through Mobile Link;
- Send images to up to four devices with Group Share;
- Control the NX mini via a smartphone with Remote View Finder Pro;
- Use the camera as a Baby Monitor. When noise is detected, the paired smartphone is activated via an app, allowing parents to see if they need to attend to their child.
Additionally, storage options are integrated into the NX mini and images can be uploaded directly from the camera to the cloud. You can upload your pictures directly from the NX mini to both Dropbox and Flickr. Dropbox provides 2GB of free storage to new users, accessible from just about any device and with Flickr users can upload up to a terabyte of images.
Samsung has introduced three NX mini lenses (NX-M) which are optimized for use with the NX mini body:
- The NX-M 9mm F3.5 ED lens has an ultra-slim design and its wide angle allow for capturing landscapes and self-portraits. This lens also provides the optimum angle for taking selfies.
- The NX-M 9-27mm F3.5-5.6 ED OIS lens is a micro-compact zoom lens small enough to fit in pockets and bags. This compact-sized standard zoom lens offers a variety of shooting options from wide-angle to telephoto shots, with optical image stabilization.
- With the NX-M 17mm F1.8 OIS lens, photographers can enjoy a beautiful bokeh effect which makes the highly detailed subject stand out from the surroundings.
NX mini owners will also be able to use fifteen NX lenses with the device by using a specialized NX-M Mount Adapter (ED-MA4NXM). These lenses are sold separately.
Samsung NX-M 9mm F3.5 ED Lens Specifications
Image Sensor

20.5 effective megapixel BSI CMOS sensor

Display

75.2mm (3.0-inch) Flip up and Touch LCD Screen
HVGA(320x480) 460.8k dots

View finder

N/A

Flash

Built-in Flash: Guide Number 4.9 (at ISO160, 24mm), Guide Number 4 (at ISO100, 24mm)

[Optional] External Flash / SEF7A: Guide Number 8 (at ISO160, 24mm), Guide Number 7 (at ISO100, 24mm)

ISO

Auto, 160, 200, 400, 800, 1600, 3200, 6400, 12800
*Extension settable 100,25600

Image

JPEG (3:2): 20.0M (5472x3648), 10.1M (3888x2592), 5.9M (2976x1984), 2.0M
                     (1728x1152),
JPEG (16:9): 16.9M (5472x3080), 7.8M (3712x2088), 4.9M (2944x1656), 2.1M
                       (1920x1080)
JPEG (1:1:13.3M (3648x3648), 7.0M (2640x2640), 4.0M (2000x2000), 1.1M
                      (1024x1024)
5.0M Burst mode only

JPEG Burst mode: 5.0M (2736x1824)

RAW: 20.0M (5472x3648)

Video

MP4 (H.264, Audio AAC): Full HD 1920x1080/30p, 1280x720/30p,
640x480/30p, 320x240/30p

Video Output

HDMI 1.3a

Value-added Features

Tag & Go (NFC/Wi-Fi)

SMART Mode: Beauty Face, Best Face, Landscape, Macro, Action Freeze, Rich Tone, Panorama, Waterfall, Silhouette, Sunset, Night, Firework, Light Trace, Continuous Shot, Kids Shot, Food, Parties and Indoors

Image SMART Filter: Miniature, Vignetting, Soft Focus, Sketch, Fish Eye, Classic, Retro,
Oil Paint, Cartoon, Ink Painting, Cross Filter, Zooming Shot

Video SMART Filter: Miniature, Vignetting, Sketch, Fish Eye

Wi-Fi Connectivity

IEEE 802.11b/g/n support (Smart Camera 3.0)
. AutoShare
. SNS & Cloud
. Email
. Auto Backup
. Remote View finder Pro
. Mobile Link
. Samsung Link
. Group Share
. Photo Beam
. Baby Monitor

NFC

Advanced Passive NFC(Wired NFC)

Bundle PC software

Adobe® Photoshop® Lightroom® 5, i-Launcher

Storage

MicroSD, MicroSDHC, MicroSDXC, UHS-I MicroSD Support

Battery

B740AE/B740AC/B740AU/B740AK (3.8V/ 2330mAh)
* The battery specifications or model may differ by region

B740AE(Global-2330mAh)
B740AK(Korea)
B740AU(USA)
B740AC(China)

Dimension
(WxHxD)

110.4 x 61.9 x 22.5mm (excluding the projection part)

Weight

158g (196g with battery)
Samsung NX-M 9-27mm F3.5-5.6 ED OIS Lens Specifications
Focal Length

9mm (equivalent to 24.3mm in 35mm format)

Elements in Groups

6 elements in 5 groups
(1 Aspherical lens, 1 Extra-low Dispersion lens, 1 Xtreme High Refractive lens)

Angle of View

83.4°

Aperture

F3.5 (Min. F13), (Number of Blades : 5 , Circular Aperture Diaphragm)

Minimum
Focus Distance

0.11m

Maximum
Magnification

Approx. 0.11x

Mount Type

NX M Mount

Dimension (DxL)

50.0 x 12.5mm

Weight

31g