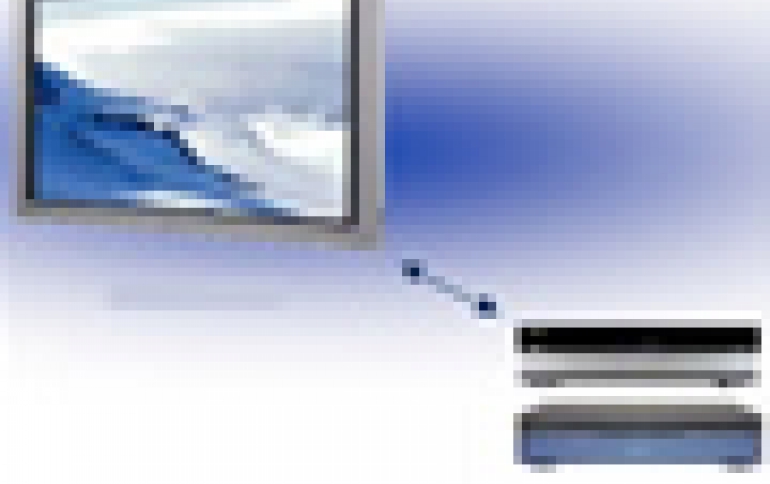 New Wireless HD Standard Created
Samsung, Sony and other consumer electronics companies announced their support Wireless Home Digital Interface (WHDI), a technology that transmits high-definition video signals wirelessly from a single set-top box to screens around the home. In the new consortium, Sony and Samsung, along with Motorola , Sharp and Hitachi will develop an industry standard around technology from Amimon of Israel called WHDI, for Wireless Home Digital Interface.

The creation of a broad industry group makes it more likely that consumers will be able to buy WHDI-enabled devices from different manufacturers and have them all work together.

Chips that support WHDI are expected to reach stores next year, costing about $100 more than equivalent, non-wireless TVs.

Wireless streaming of high-definition video can be also done with the fastest versions of Wi-Fi, a technology already in many homes, but that requires compression or reduction of the data rate, with picture quality degrading as a result. There's also a delay in transmission as chips on both ends of the link work to compress, then decompress the image.

WHDI uses a radio band at 5GHZ that's used by some Wi-Fi devices. To get around the limitations of the limited bandwidth, WHDI chips apply a different type of video compression. The chip separates the "important" components of the video signal, the ones that really make a difference to the viewer, from the less important ones, like tiny variations in color over a small area. It then gives priority to the important parts, while putting less effort into getting the fine nuances to the receiver.

Wireless Home Digital Interface is considered as a stopgap technology until the higher-picture-quality WirelessHD takes over. WirelessHD, which is also supported by Samsung, Sony, Intel and others, defines a wireless video area network (WVAN) for the connection of consumer electronic (CE) audio and video devices. A key attribute of the WirelessHD system is its ability to support the wireless transport of an uncompressed 1080p A/V stream with a high quality of service (QoS) within a room at distances of 10m.

Streaming HD content at distances of 10 requires a high data throughput (greater than 3 Gb/s) and a large allocated frequency spectrum. A large amount spectrum is available on an unlicensed basis in many countries in the 60 GHz band. In addition, the transmit power (the combination of transmitter power and antenna gain) should be greater than 10 W of effective isotropic radiated power (EIRP).

The WirelessHD specification defines a wireless protocol that enables directional connections that adapt very rapidly to changes in the environment. This is accomplished by dynamically steering the antenna beam at the transmitter while at the same time focusing the receiver antenna in the direction of the incoming power from the transmitter. This dynamic beam forming and beam steering utilizes not only the direct path, but allows the use of reflections and other indirect paths when the line-of-sight connection is lost.

Still another contending wireless technology is ultra-wideband, or UWB. It requires less compression than Wi-Fi, but its range is more limited, generally to in-room networking. The technology is backed by WiMedia Alliance and it is an ISO-published radio standard for high-speed ultra-wideband (UWB) wireless connectivity. The first implementations of WiMedia UWB serve as the foundation for Wireless USB.

Wireless video technologies have been talked up for years, but haven't lived up to their promises so far. Still, WHDI's range should give it an edge, since it allows the technology to do more than just replace a cable in the entertainment center.