Nokia C2-05 and Nokia X2-05 - Power For Less
Nokia today launched the Nokia C2-05 and Nokia X2-05 phones aimed at younger, urban populations. Both new phones come with the new Nokia Browser, which uses Nokia?s own compression technology. Nokia's compression technology delivers real mobile web pages quickly and at a fraction of the bandwidth, and cost, of other mobile phones. They also come with the Nokia Store for access to apps. These are actually the most affordable phones in the world to offer a built-in Store for apps and other content downloads. Both have dedicated social networking apps preinstalled, too.

The Nokia C2-05 has a slider form-factor, and it can slip into pockets and handbags.
As well as the Nokia Browser and the Nokia Store, there are dedicated Facebook and Twitter apps for updates on the go - other social networking apps can be added later by the user, of course. In China, which is one of the main markets in which we?ll be shipping this phone, there's an app for the social network QQ.
On the hardware front, the Nokia C2-05 offers a VGA camera with digital zoom and a full-screen viewfinder. There's also a media player for MP3 and MP4 files, as well as an FM radio with a recorder built in, so users can save songs to play later. The phone allows for up to 32GB of external memory on a MicroSD card, and features both Bluetooth and MicroUSB for easy sharing and transfer of media. There?s a stereo headset included in the box.
The Nokia C2-05 measures 99.43 x 47.77 x 16.28mm and weighs 98.5g. The display is a 2-inch QVGA resolution (320 x 240 pixels) LCD, offering up to 65K colors. The reception is GSM Dual Band 900/1800 and 850/1900. Battery life is up to 20 days in standby or four hours talktime.
The Nokia C2-05 allows every user to express their personality: it comes in a range of colours including pink, peacock blue and dynamic grey. It also allows further personalisation through themes, wallpapers and ringtones from the Nokia Store.
The Nokia C2-05 will become available in Q4 and will cost around 50 Euros before any local taxes or operator subsidies.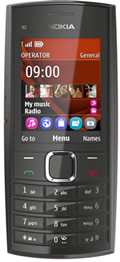 The Nokia X2-05 is a candy-bar form factor phone that offers an emphasis on music and media. Like the Nokia C2-05, it comes with the new Nokia Browser and Nokia Store on-board. There are also preloaded Facebook and Twitter clients.
As with other phones in the Xseries, the media player is a central focus. Music is a big priority for the people these phones are aimed at - sometimes it will be the only music player they've got access to, and everyone wants music on the move, anyway.
It can play MP3 and MP4 files, either through the stereo headset provided or through the loud loudspeaker. The speaker operates at 106phons - you'll recall that phons are a measure of perceived loudness and that 106 of them are enough to entertain the whole room. There's also an FM radio with a recording facility. On the back there's a VGA camera so users can snap the world around them while they're on the go.
This one measures 113 x 50 x 15 mm, but is a little lighter overall at just 87.8g. The screen is slightly larger, too, with a 2.2-inch QVGA display offering 65K colors at a 320 x 240 resolution. Storage is once again through an optional MicroSD card - cards with up to 32GB capacity can be fitted. The reception is GSM Dual Band 900/1800, while battery life is rated up to 25 days on standby or four hours talktime. Sharing and media transfer is once again offered through Bluetooth and the included MicroUSB cable.
Available in Black, Silver, White and Bright Red, the Nokia X2-05 will also ship in Q4 and is expected to cost around 46 Euros before any local taxes or operator subsidies.