Nokia Introduces Three Lumia Smartphones for Windows Phone 8.1
Today at Microsoft's Build 2014, Nokia announced three Lumia smartphones -- the Lumia 930, the Lumia 635 and the Lumia 630 -- based on Windows Phone 8.1 and a series of exclusive Nokia features. The Nokia Lumia 930 sports a 20-megapixel PureView camera, optical image stabilization (OIS) and ZEISS optics to achieve sharp shots and the flexibility to zoom into any shot after you've taken it. A HD 1.2 MP wide-angle camera adorns the front.
The Nokia Lumia 930 also possesses HD video skills with four microphones. This quad allows directional recording, which enhances the clarity of your subjects by rejecting the sounds outside the direction of capture.
The 930 has a 5-inch, 1080p Full HD display (1920×1080; 441ppi), with Gorilla Glass 3, Super Sensitive Touch and a near 180-degree viewing angle. It comes with integrated Dolby Surround Sound, a 2.2 GHz quad-core Qualcomm Snapdragon 800 processor, 32GB of internal storage (7GB free OneDrive cloud storage) and 2GB of RAM. Also built into the pillow-like design is an LTE quad-band chip and Bluetooth 4.0 LE. Other features include a 2420 mAh battery and built-in wireless charging.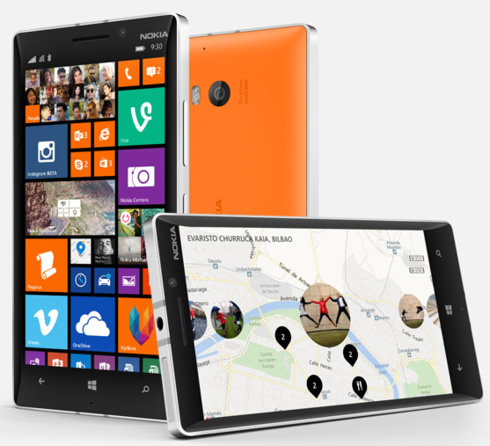 The new Nokia Lumia 930 also comes with imaging apps such as Nokia Camera, Nokia Storyteller, Nokia Creative Studio and Nokia Refocus.
The Nokia Lumia 930 is priced at $599 before taxes and subsidies. It will be available from June – beginning in Europe, Asia, India, Middle East and Latin America – and will continue to rollout throughout the world (except the US) throughout the summer.
The Nokia Lumia 630 and Nokia Lumia 635 are both delivering a quad-core processor, 4.5-inch ClearBlack screen and a colourful design with changeable shells.
The Nokia Lumia 630 comes in two 3G variants, including the most affordable Lumia, and the first Lumia with dual-SIM.
These funky new smartphones are the first Lumias to see the Windows Phone navigation keys integrated into the user interface (UI), disappearing when watching video and when the phones are locked, as well as slick volume buttons, matching the shell.
The Nokia Lumia 635 and Nokia Lumia 630 also offer a new speedy Word Flow keyboard and social apps like WhatsApp and WeChat, plus Nokia Camera, maps and navigation from HERE, and free Nokia MixRadio streaming.
They also introduce 'SensorCore' low-power sensing, that enables exercise and exploration apps like Bing Health and Fitness with real-time monitoring and data storing like steps taken, calories burned, and miles walked.

The Nokia Lumia 630 is expected to rollout in May, beginning with Asia, Russia, China, India and Europe, from $159 for the single-sim variant, and $169 for the dual-sim variant. The Nokia Lumia 635 will be broadly available, including in the US starting in July, from $189.
Nokia also confirmed that Windows Phone 8.1 is scheduled to be available across the entire Lumia Windows Phone 8 portfolio as an over-the-air update this summer following testing and partner approvals.
Key specifications
| | | | |
| --- | --- | --- | --- |
|   | Nokia Lumia 630 | Nokia Lumia 630 Dual SIM | Nokia Lumia 635 |
| Operating System | Windows Phone 8.1 | Windows Phone 8.1 | Windows Phone 8.1 |
| Display | 4.5-inch FWVGA display, ClearBlack LCD, Gorilla 3 | 4.5-inch FWVGA display, ClearBlack LCD, Gorilla 3 | 4.5-inch FWVGA  display, ClearBlack LCD, Gorilla 3 |
| Battery | 1830mAh | 1830mAh | 1830mAh |
| Connectivity | HSPA+ 21Mbps/5.76Mbps, Wi-Fi (b/g/n), BT 4, micro-USB | HSPA+ 21Mbps/5.76Mbps, Wi-Fi (b/g/n), BT 4, micro-USB | LTE 100Mbps/50Mbps, HSPA+ 42Mbps (dual carrier)/5.76Mbps, Wi-Fi (b/g/n), BT 4, micro-USB |
| Processor | 1.2GHz quad core Qualcomm Snapdragon 400 | 1.2GHz quad core Qualcomm Snapdragon 400 | 1.2GHz quad core Qualcomm Snapdragon 400 |
| Camera | 5MP AF | 5MP AF | 5MP AF |
| Memory | 512 MB RAM, 8GB eMMC with 128GB micro SD card support | 512 MB RAM, 8GB eMMC with 128GB micro SD card support | 512 MB RAM, 8GB eMMC with 128GB micro SD card support |
Nokia Lumia 930
Design

Dimensions

Height: 137 mm
Width: 71 mm
Thickness: 9.8 mm
Weight: 167 g

Display and User Interface

Display size: 5 ''
Display resolution: Full HD (1920 x 1080) 
Display features: Brightness control, Orientation sensor, Screen double tap, Refresh rate 60 Hz, Sunlight readability enhancements, Corning Gorilla Glass 3, Easy to clean, High brightness mode, Lumia Color profile, Sculpted glass, Wide viewing angle
Display colors: TrueColor (24-bit/16M) 
Aspect ratio: 16:9 
Pixel density: 441 ppi
Display technology: ClearBlack, OLED 
Touch screen technology: Super sensitive touch 
Sensors: Ambient light sensor, Accelerometer, Proximity sensor, Gyroscope, Magnetometer

Keys and Input Methods

User Input: Touch 
Operating keys: Volume keys, Camera key, Power/Lock key

Form factor

Form factor: Monoblock touch 
Hardware

Connectivity

SIM card type: Nano SIM 
Charging connectors: Micro-USB 
AV connectors: 3.5 mm audio connector 
System connectors: Micro-USB-B 
USB: USB 2.0 
Bluetooth: Bluetooth 4.0 
Bluetooth profiles: Advanced Audio Distribution Profile (A2DP) 1.2, Phone Book Access Profile (PBAP) 1.1, Generic Attribute Profile (GATT), Audio/Video Remote Control Profile (AVRCP) 1.4, Hands-free profile (HFP) 1.6, Object Push profile (OPP) 1.1
Wi-Fi: WLAN IEEE 802.11 a/b/g/n/ac 
Wi-Fi security modes: EAP-TTLS/MSCHAPv2, WPA, WEP, EAP-AKA, PEAP-MSCHAPv2, WPA2 (AES/TKIP), WPA2-Enterprise, WPA2-Personal, EAP-TLS, WPA-Enterprise, EAP-SIM, WPA-Personal
NFC: Pairing, Secure NFC for payment, Sharing, Tagging
Other wireless connectivity: Wi-Fi Channel bonding, Screen projection

Data Network

LTE network bands: 1, 3, 7, 8, 20
LTE max data speed DL: 150 Mbps 
LTE max data speed UL: 50 Mbps 
WCDMA network: 850 MHz, 900 MHz, 1900 MHz, 2100 MHz
WCDMA max data speed DL: HSDPA - 42.2 Mbps 
WCDMA max data speed UL: HSUPA - 5.76 Mbps 
GSM network: 850 MHz, 900 MHz, 1800 MHz, 1900 MHz
GSM max data speed DL: EGPRS 236.8 kbps 
GSM max data speed UL: EGPRS 236.8 kbps 

Power Management

Battery model: BV-5QW 
Battery capacity: 2420 mAh
Battery voltage: 3.8 V
Removable battery: No 
Maximum standby time: 18 days
Maximum talk time (2G): 11.5 h
Maximum talk time (3G): 15.5 h
Maximum music playback time: 75 h
Maximum video playback time: 9 h
Maximum Wi-Fi network browsing time: 9 h
Wireless charging: Built-in (Qi standard) 

Processor

Processor name: Qualcomm Snapdragon 800 
Processor type: Quad-core 2.2 GHz

Memory

User data storage: In device, OneDrive cloud storage
RAM: 2 GB 
Mass memory: 32 GB 
Expandable memory card type: No 
Free cloud storage: 7 GB
Software and applications

Productivity features

Personal information management features: Calculator, Clock, Calendar, Alarm clock, Reminders, Phonebook, To-do list, Family Room, Kid's Corner, OneNote, Social networks in Phonebook, Wallet, Notifications
Business apps: Lync (Corporate IM) free download, Company Hub for enterprise applications, Office apps: Excel, Word, Powerpoint, OneNote, OneDrive storage for documents and notes, Adobe Reader free download
Document formats supported: PDF, Word, Excel, OneNote, Powerpoint
Sync type: Exchange ActiveSync, Via Windows Phone apps, Nokia Photo Transfer for Mac
Sync content: Calendar, Video, Pictures, Music, Contacts
Papyrus: A natural handwriting note-taking app that you use just like paper, but with the flexibility and advantages of modern technology. With Papyrus, you can go beyond paper! 

Other Applications

Game features: Touch UI, XBox-Live Hub, DirectX 11
Adidas miCoach: Turn your phone into a personal coach, miCoach is your smart running companion. miCoach works with many adidas top athletes and coaches to offer the best in training building speed, endurance and strength.

Software platform & User Interface

Operating system: Windows Phone OS 
Software release: Windows Phone 8.1 
Software updates: Firmware Over-the-Air (FOTA) 
Communications

Email and Messaging

Email clients: Gmail, Nokia Mail, MS Exchange Active Sync, Windows Live / Hotmail / Outlook.com, Yahoo! Mail, IBM Notes Traveler, Outlook / Office 365 / Exchange
Email protocols: SMTP, IMAP4, POP3
Email features: Viewing and editing of email attachments, Multiple email accounts, HTML emails, Inbox filtering, Text-to-speech message reader, Conversational view on email, Linked inboxes, Word flow keyboard
Supported instant messaging services: WhatsApp, Skype IM, WeChat, Viber, LINE, Hangouts, MySpace, Twitter, Yahoo! Messenger
Messaging features: Text messaging, Automatic resizing of images for MMS, Distribution lists for messaging, Multimedia messaging, Conversational chat style SMS, Unified inbox for SMS and MMS, Concatenated SMS for long messages, Integrated text messaging and chat, Number screening for messaging, Text-to-speech message reader, Word flow keyboard

Call management

Call management features: Voice commands, Call waiting, Call history, Call forwarding, Conference call, Integrated hands-free speakers, Speed dial, Voice mail
Video call features: Skype video call 
Supported amount of phonebooks: One integrated phonebook 
Supports amount of contacts: Unlimited 
Ringtones: Downloadable ringtones, MP3 ringtones
Noise cancellation: Multimicrophone uplink noise cancellation 
Speech codecs: GSM FR, GSM HR, AMR-NB, AMR-WB, GSM EFR

Communication apps

Vimeo: All the best parts of Vimeo in one application for your Windows Phone 8 device. Upload, manage, and watch videos from anywhere. 
Device security

Security

Enterprise security features: Mobile VPN, Remote lock and wipe, Hardware accelerated device encryption, Mobile device management, Remote security policy enforcement
General Security features: Device lock, PIN code, Device lock passcode, Regular signed firmware updates, Track and Protect via internet, Application certification, Application sandboxing, Backup and restore via Internet, Browser integrated anti-phishing, Remote device lock via Internet, Remote device wipe via Internet, Secure boot, Signed OS
Supported security standards: TLS v1.0, TLS v1.1, TLS v1.2, SSL v3.0, Suite B ciphers
Sharing and Internet

Browsing and Internet

Internet browser capabilities: Internet Explorer 11 
Social apps: Facebook, LinkedIn, Twitter, WhatsApp
Photo sharing: Facebook, Send as email attachment, Share over Bluetooth, Flickr, Picasa, Tap and share images or videos with NFC, Nokia Beamer, OneDrive, Share on TV with Nokia Play To DLNA app
Video sharing: Video sharing to social network and internet, Facebook, Flickr, Joyn video call sharing, OneDrive, Picasa, Share on TV with Nokia Play To DLNA app, Video sharing with NFC, YouTube
Location sharing: WP location sharing, Foursquare
Wi-Fi hotspot: Up to 8 Wi-Fi-enabled devices 

Sharing and Internet apps

Instagram Beta: Instagram Beta is a fast, beautiful and fun way to share your life with friends and family. Take a picture or video, choose a filter to transform its look and feel, then post to Instagram — it's that easy. You can even share to Facebook, Twitter, Tumblr and more. it's a new way to see the world. 
Nokia Beamer: Nokia Beamer lets you share your screen with family, colleagues and friends by simply pointing your Nokia Lumia at any screen displaying the web address http://beam.nokia.com. Or share your live Lumia screen by sending a link by email, sms or social networks. 
Vine: Vine is the best way to see and share life in motion. Create short, beautiful, looping videos in a simple and fun way for your friends and family to see. 
Navigation

GPS and navigation

Location and navigation apps: HERE Drive+, HERE Maps, HERE Transit
Navigation features: Public transportation routing guidance, Free maps, Offline maps, Augmented reality with LiveSight, Automatic day/night view switching, Download the latest maps with Wi-Fi, Find upcoming departure times, Free global voice guided turn-by-turn drive navigation, Free turn-by-turn walk navigation, Live traffic information, Speed limit warnings, Venue maps - shopping and transport centers
Location technologies: Cellular and Wi-Fi network positioning, A-GPS, A-GLONASS, BeiDou, Sensor enhanced positioning

Location and navigation apps

HERE Maps: Discover the best places in any neighbourhood with HERE Maps. New LiveSight technology reveals interesting places in your display. Explore malls, stations and more with venue maps. Access your favourite places on any HERE app and on here.com. 
HERE Drive+: Navigate safely with global free turn-by-turn navigation and true offline support. HERE Drive+ features audible speed limit warnings, dedicated dashboard and commute assistance. Save and access favourite places on any HERE app and on here.com. 
HERE Transit: Get around by bus, train and subway all in one easy-to-use app. Compare route options, arrival and departure times and walking distances in over 700 cities and 50 countries. Over-the-air updates ensure you always have the latest routes and schedules. 
Photography

Main camera

Main camera sensor: 20 MP, PureView 
Main camera focus type: Auto focus with two-stage capture key 
Camera digital zoom: 2 x
ZEISS optics: Yes 
Sensor size: 1/2.5 inch 
Main camera f-number/aperture: f/2.4 
Camera focal length: 26 mm
Camera minimum focus range: 10 cm
Camera image formats: JPEG/Exif 
Flash type: Dual LED flash 
Flash operating range: 3.0 m
Flash modes: Off, Automatic, On

Main camera features

Main camera - other features: 6-lens optics, Backside-illuminated image sensor, High resolution zoom 2x, Optical image stabilization, PureView
Digital camera add-ons: Panorama lens, Nokia Refocus, Bing vision, Cinemagraph lens, Nokia Camera, Nokia Glam Me

Photography apps

Nokia Camera: Nokia Camera brings together the features from Nokia Pro Cam and Nokia Smart Cam modes into one application. It gives you the whole exclusive Nokia camera experience with fast access to editing and sharing. 
Creative Studio: Get more out of your pictures with this quick and easy photo editor. Creative Studio's editing tools let you quickly adjust color balance, remove red eye and apply filters. Then, share your pictures directly on Facebook and Twitter. 
Cinemagraph: A magical blend of photo and movie-like animation, creating pictures that seem almost alive. Helpful on-screen assistance lets you select the animated area of your picture and easily create and edit a cinemagraph. You can share your cinemagraph with friends via social media, email and messaging. 
Panorama: Get the bigger picture with Nokia's easy-to-use Panorama app. Simply take your pictures and the app automatically stitches them into a picture-perfect view. Once you're done, share your panorama directly to Twitter and Facebook. 
Nokia Storyteller: Storyteller collects your photos, videos and cinemagraphs into a browsable timeline and map, so you can let the pictures tell the whole story for you. Zoom into an event, and edit your photos directly from the Storyteller interface with Lumia camera applications. Zoom out of the story to reveal where it all took place. 
Nokia Refocus: A new innovative fun camera app that lets the you capture interactive macro photos and choose what you want in focus later. You can also have everything in focus or do color-pop. Then you can share the interactive image and let your friends play around and change the focus in it on-line. 

Image capturing

Capture modes: Video, Still
Scene modes: Automatic, Sports, Night
White balance modes: Cloudy, Incandescent, Fluorescent, Daylight, Automatic
Light sensitivity: Automatic, ISO 100, ISO 200, ISO 400, ISO 800, ISO 1600, ISO 3200, ISO 4000
Photos viewed by: Month, Photo editor, Album, Timeline, Camera Roll, Favorites, Nokia Storyteller, Photos from social networks

Secondary camera

Secondary camera resolution: 1280 x 960 pixels
Secondary camera f-number/aperture: f/2.4 
Secondary camera - other features: Video recording, Still image capture, Video call
Music and Audio

Music

Music apps: Nokia MixRadio, Xbox Music
DRM support: PlayReady 
Audio features: Audio Streaming, Music Player, Media Player, Album graphics display in Music player, Dolby Digital Plus surround sound, Cloud music offline playback, Cloud music playback, Graphical equalizer, Podcasts

Music apps

Nokia MixRadio: Imagine a radio station where every track is chosen just for you, from music you love and music you'll want to discover. Meet Nokia MixRadio – we bring you free streamed mixes of music created to your personal taste that you just click and play. No subscription and no advertising, just great music everyday. 

Music format

Codecs: MP3, AAC LC, AMR-NB, WMA 9, Dolby Digital Plus (E-AC-3), GSM FR, HE-AAC, HE-AACv2, WMA 10 Pro
Audio playback file formats: MP4, AAC, MP3, M4A, WMA, 3G2, AMR, 3GP, ASF

Radio

Radio features: Internet Radio, FM Radio

Voice and audio recording

Recording: Voice recording in MMS, Voice recording in OneNote
Audio recording file formats: AMR 
Audio recording codecs: AAC LC, AMR-NB, Dolby Digital Plus, GSM FR
Audio recording features: Nokia Rich Recording with four microphones, Nokia Rich Recording with Surround Sound
Video

Main video camera

Camera video resolution: 1080p (Full HD, 1920 x 1080) 
Camera video frame rate: 30 fps
Camera video zoom: 3 x
Video playback frame rate: 30 fps
Video playback codecs: H.263, H.264/AVC, MPEG-4, VC-1, Windows video
Video playback file formats: 3G2, 3GP, MP4, WMV, AVI, M4V, MOV
Video recording formats: MP4/H.264 
Video white balance modes: Cloudy, Fluorescent, Incandescent, Automatic, Daylight

Main video camera features

Video streaming: YouTube browsing and video streaming, Streaming from video services and internet, Progressive video download, Nokia Video Upload app
Video recording features: Video zoom, Optical image stabilization, Continuous autofocus, Nokia Rich Recording with Surround Sound, Nokia Rich Recording with four microphones, Nokia Video Trimmer app, Stereo Audio Recording, Video light

Secondary video camera

Secondary video camera resolution: 720p (HD, 1280 x 720) 
Secondary camera video recording formats: MP4/H.264