Microsoft Showcases Windows Phone 8.1 and Windows 8.1 Update
On Wednesday at Build 2014, Microsoft's developer conference, the company announced Windows Phone 8.1, the availability of Windows 8.1 Update, a developer platform, and a $0 royalty licensing program Microsoft's partners developing smartphones and tablets with screens under nine inches. Microsoft's move is an attempt to broaden the small user base of mobile versions of Windows, in the hope that more customers will end up using Microsoft's cloud-based services such as Skype and Office.
Microsoft detailed new developer opportunities on the Windows platform with a common platform across devices, a single toolset, a common infrastructure across the Windows and Windows Phone stores, and a commitment to interoperability.
The company unveiled Windows Phone 8.1 and introduced Cortana, a voice activated phone assistant feature aimed to rival Apple's Siri. A test version was demonstrated by Joe Belfiore, a Windows Phone executive. The Cortana service, which can take verbal instructions to search the Web, set alarms, make calls and a host of other actions, is still in beta testing, said Belfiore, but will soon be a standard feature on Windows phones.
In Windows Phone 8.1, you get to Cortana by either a Live Tile on your Start screen or by pressing the search button on your device. This will take you to Cortana Home. To interact with Cortana, you can either speak or type: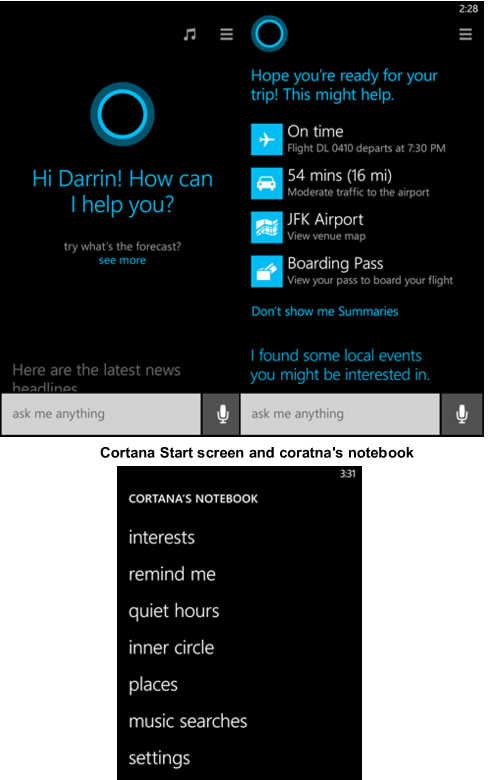 When you interact with Cortana for the very first time, she will start learning things about you... like your name, how to pronounce it, and ask for some personal interests. Once she's learned a bit about you, Cortana's home populates with information that is curated just for you. You'll see things like flight information she's found from your email confirmations, weather, the latest news, and even traffic information once she learns your commute routine, such as from work and home.
All the stuff Cortana curates for you is stored in Cortana's Notebook. For example, she'll let me know if my upcoming flight back to Seattle is on time and, if I choose, will even pop-up to recommend what time I should leave for the airport based on traffic. Cortana can also manage your phone when you don't want to be disturbed by setting quiet hours where she will silence any notifications, in-coming calls, and texts. Cortana understands the "inner circle" of people-closest-to-you, and she can let them break through at any time during quiet hours. And Cortana is the only digital assistant that lets you setup people reminders. And all of these interests and preferences are under your control via Cortana's notebook.
What's more, because Cortana is powered by Bing, some of the interests in Cortana's Notebook will light up on Bing.com when you sign in on the web. Bing.com will give you access to the things Cortana tracks for you, like your weather, stocks, news, and flights.
Microsoft also designed Cortana to be able to interact with 3rd Party Apps installed on your phone. You can ask Cortana to help you make a video call in Skype, watch a TV show in Hulu Plus, look up a news feed on Facebook or send a tweet using the Twitter app.
Other new features that make Windows Phone 8.1 smartphones more personal include Action Center, which complements Live Tiles by showing new activities and notifications at a glance; and Senses, a suite of features that takes the work out of managing data use, storage space and battery life.
Windows Phone's new Start screen is customizable. It has a third column and you can customize your Start background with a favorite picture. In addition, Microsoft is providing a new app that lets you set a wide range of interesting "Lock Screen Themes" which show all kinds of different visuals and animations.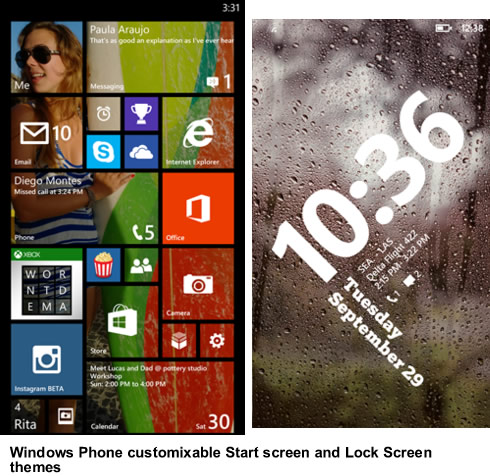 A new Skype app for Windows Phone 8.1 is integrated with the Phone dialer, so if you're on a call you can quickly "upgrade" your ordinary phone call to a Skype video call at the tap of a button. And the new Skype app is designed to work with Cortana so you can use Cortana to setup your calls within Skype.
The new Calendar has been redesigned to add a new week view which lots of people have been asking for and it has many touches - like panning right to get to the next day or week or month. What's more, it looks a lot like Outlook on your Windows PC
Microsoft has also added a number of features in Windows Phone 8.1 that are designed to help you get the most out of your data allowance, battery life and storage.
Data Sense lets you track how much data usage you use in a given month and will give you a breakdown of usage by app so you can see which app is using the most of your data. As you near your data limit, Data Sense will more aggressively offload data to Wi-Fi and limit cellular usage… and in 8.1 there's a new "high savings" mode that cranks up the compression of images as you browse the web so you can browse even farther using less data than WP8.

Wi-Fi Sense will automatically connect you to free public hotspots it finds to help you save cellular data. And, if you'd like, you can opt-in to automatically and securely enable your friends and contacts to auto-connect to your home Wi-Fi, so they can use the internet connection at your house without hassling you for the password and typing it in manually. If you turn off Wi-Fi in Wi-Fi Sense, you can have Cortana automatically turn it back on when you reach one of your favorite places as identified in Cortana.

Storage Sense will help you get the most out of the memory and storage on your phone. It will help you manage content you have on an SD memory card if your device supports those. You can also move content – like apps, music, photos – between the storage built in to your device and an SD memory card.

And Battery Saver gives you a breakdown of how apps are using your battery so you can make more informed usage decisions. With "automatic mode" enabled, it can dramatically extend your battery life.
Microsoft has also made changes to Music, Video and Podcasts. These are now split out as separate apps and all of which can be updated via the Store. In Music, you can edit your playlists and manage your cloud collection easily. Video makes it possible to buy or rent videos from Xbox Music, and Podcasts now lets you subscribe to any RSS feed and provides a Bing-powered podcast search for every country where Windows Phone is available.
The updated People Hub has higher-fidelity feeds for your social network content and it connects directly to 3rd-party social networking apps so that you can have easy access to all the full functionality of the 3rd party apps once they are installed. Email now supports S/MIME secure email, and Microsoft has broadened the support for different account types, now including iCloud.
The Windows 8.1 update photos experience now jumps directly to your most recent photos and shows as collections automatically organized, in a view grouped by date and location. Online photo albums are now supported via app-extensibility, so 3rd parties can plug in their services. In the Camera, Microsoft has updated the UI and added "burst mode" photography.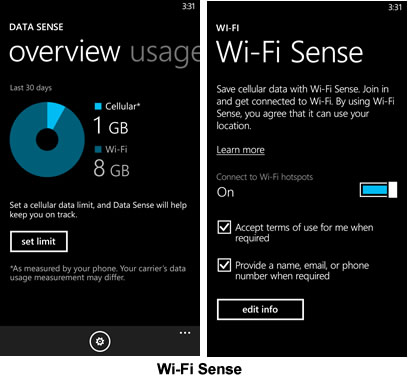 Your Microsoft Account allows Windows and Windows Phone to work together . Windows Phone 8.1 furthers the integration between phone and PC. If you change your theme color, that change will sync across all your Windows devices. If you buy an in-app purchase in some of the newer apps written for Windows Phone and Windows 8.1, the purchase works on your phone AND your PC. And other settings like your home Wi-Fi password will also sync.
The Windows 8.1 phone will also be able to project its screen onto a PC, TV set or projector, by connecting te device to a compatible PC using a USB cable and run an application on the PC to show the phone screen.
Windows Phone 8.1 also makes it easier for IT professionals to manage devices and for professionals to connect to business apps and services with features such as simplified device enrollment, a built-in mobile device management client, S/MIME for encrypted mail and VPN support.
Windows Phone 8.1 will start rolling out to current Windows Phone 8 users over the coming months. It will also come pre-installed on new phones starting this month. Cortana will launch shortly in the U.S. as a beta, in the U.K. and China in the second half of 2014, and in other countries in 2015. Registered developers can update their phones to Windows Phone 8.1 as part of the developer program later this month.
Microsoft also announced Windows 8.1 Update, which includes improvements such as quicker access to what's important, a more familiar experience across touch and non-touch devices, and more ways to discover apps.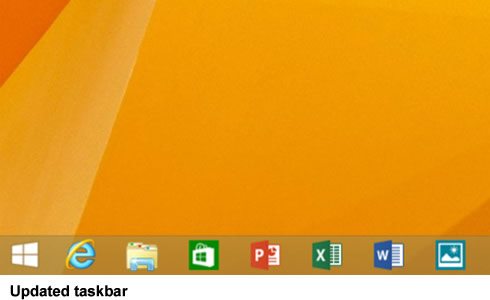 Key features of the update include user interface improvements for mouse and keyboard users, the ability to access the taskbar from any screen and pin Windows Store apps to the taskbar alongside desktop apps and favorite websites, and performance and compatibility enhancements to Internet Explorer 11. Activities such as powering down, searching the Web and switching between apps are easier than ever. Navigating with the mouse and keyboard will feel more familiar because there's more consistency with where controls are and how they work. Specific to the enterprise, Windows 8.1 Update offers improved Internet Explorer 8 compatibility on Internet Explorer 11, extends mobile device management functionality, and eases deployment with increased predictability for new operating systems and line-of-business apps by leveraging familiar management tools.
Current Windows 8.1 customers will receive the Windows 8.1 Update for free through Windows Update, while Windows 8 customers will receive the update free through the Windows Store, beginning April 8, 2014.
Microsoft is evolving its Windows business model to enable partners to offer lower-cost devices in the competitive smartphone, tablet and PC categories. Microsoft will offer to hardware partners $0 Windows with services including a one-year subscription to Office 365.
With Windows 8.1 Update Microsoft's hardware partners can also more easily build lower-cost machines ? such as devices with 1 GB of RAM and a 16GB hard disk drive.
Microsoft also announced enhancements in the way developers can build applications that target the full range of Windows devices using Visual Studio 2013 Update 2 Release Candidate. Among other new capabilities, with the introduction of universal projects, developers are able to create apps that can be optimized to take full advantage of Windows devices. Universal projects allow developers to use approximately 90 percent of the same code, a single packaging system, and a common user interface to target apps for phones, tablets and PCs.
Microsoft also updated the Windows Store to improve app discoverability and monetization, as well as easier shopping for end users with improved search, more personal recommendations and better merchandising. In addition, later this week, Microsoft will release the next version of Windows App Studio, a Web-based tool for non-developers that enables the creation of universal Windows apps in a single project.
To help developers build apps for Windows using a natural user interface, Microsoft detailed plans for Kinect for Windows v2, coming this summer, with a new sensor and SDK that will enable developers to create Windows Store apps, with the Kinect sensor, for the first time. The Kinect for Windows v2 sensor offers more precision and responsiveness.