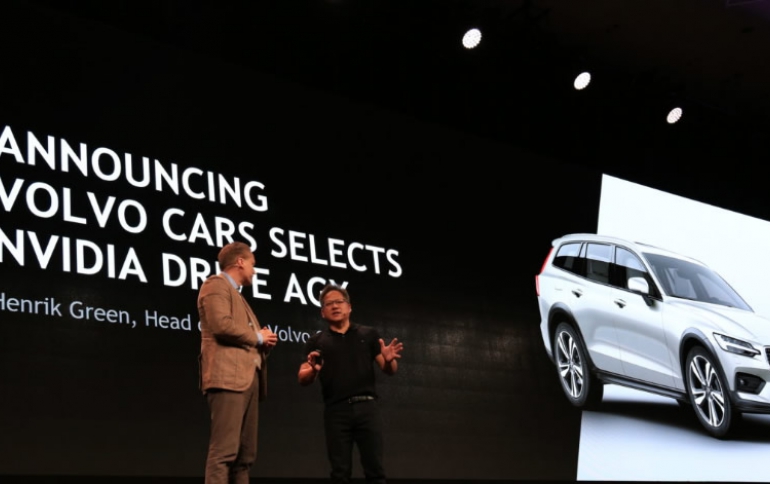 NVIDIA to Supply NVIDIA DRIVE AGX Computer for Volvo's Upcoming Vehicles
NVIDIA said on Wednesday that Volvo Cars would begin using its artificial intelligence computer to deliver low-level autonomous features in all its next-generation vehicles.
Whether developing fully autonomous, highly automated or driver assistance systems, automakers and suppliers are realizing there is a need for far greater compute inside the car. The NVIDIA DRIVE AGX is an architecture designed for safety and a platform able to handle increasingly sophisticated AI software.
Volvo Cars announced that it's developing its next-generation core computer using NVIDIA DRIVE AGX Xavier.
The future production vehicles from Volvo will feature Level 2+ assisted driving features, going beyond today's traditional advanced driver assistance systems. NVIDIA and Volvo are working together to develop these capabilities, uniquely integrating 360-degree surround perception and a driver-monitoring system. The foundational technology built on DRIVE AGX Xavier is able to ultimately scale up to Level 4 highly automated driving capabilities.
Continental also announced that its Assisted and Automated Driving Control Unit (ADCU) is powered by DRIVE AGX Xavier. Together with NVIDIA, the supplier is developing a single platform architecture that scales from Level 2+ premium driver assistance to Level 3 and Level 4 Traffic Jam Chauffeurs and Highway Pilots, up to a fully autonomous Level 5 robotaxi. This codesigned hardware and software platform is also being leveraged for a range of commercial vehicles.
Veoneer, an autonomous driving supplier spun out from tier 1 supplier Autoliv, has also selected NVIDIA DRIVE AGX Xavier to architect its Level 4 highly automated self-driving supercomputer, known as "Zeus."
This AI supercomputer runs the NVIDIA DRIVE OS operating system and AV startup Zenuity's autonomous driving software stack and will be production-ready in 2021. Zeus will fuse data from cameras, radars and other sensors, interpret the situation and take required action.
NVIDIA DRIVE AGX Xavier achieves 30 trillion operations per second (TOPS) of performance, while DRIVE AGX Pegasus, designed for Level 5 robotaxis, delivers 320 TOPS.
DRIVE AGX can also be updated over the air, meaning autonomous functions can constantly improve with time, without having to change the hardware in the vehicle.