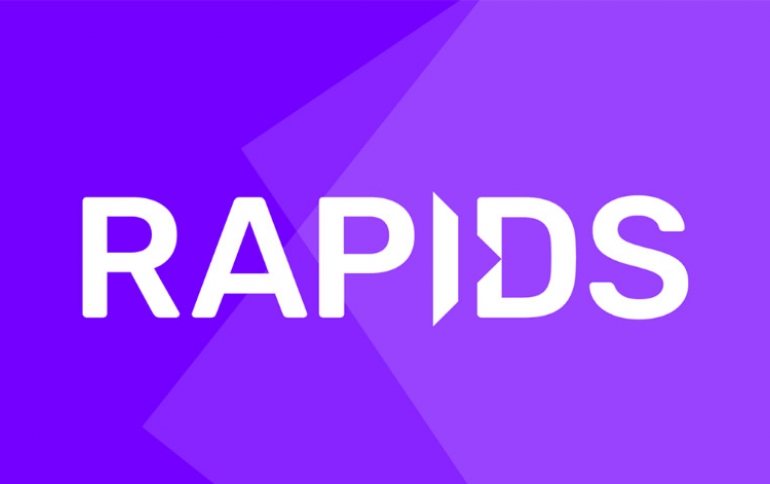 NVIDIA Introduces RAPIDS Software Platform for Large-Scale Data Analytics and Machine Learning
NVIDIA today announced RAPIDS, a GPU-acceleration platform for data science and machine learning, with broad adoption from industry leaders, that enables companies to analyze massive amounts of data and make accurate business predictions fast.
With the new platform, NVIDIA is s trying to grab a bigger slice of the business computing market from dominant rival Intel.
RAPIDS open-source software promises to give data scientists a performance boost as they address highly complex business challenges, such as predicting credit card fraud, forecasting retail inventory and understanding customer buying behavior. NVIDIA announced a wide support for RAPIDS - Databricks and Anaconda, to tech leaders like Hewlett Packard Enterprise, IBM and Oracle.
"Building on CUDA and its global ecosystem, and working closely with the open-source community, we have created the RAPIDS GPU-acceleration platform. It integrates seamlessly into the world's most popular data science libraries and workflows to speed up machine learning. We are turbocharging machine learning like we have done with deep learning," said Jensen Huang, founder and CEO of NVIDIA.
RAPIDS offers a suite of open-source libraries for GPU-accelerated analytics, machine learning and, soon, data visualization. It gives scientists the tools they need to run the entire data science pipeline on GPUs. Initial RAPIDS benchmarking, using the XGBoost machine learning algorithm for training on an NVIDIA DGX-2 system, shows 50x speedups compared with CPU-only systems, NVIDIA claims.
RAPIDS builds on popular open-source projects - including Apache Arrow, pandas and scikit-learn - by adding GPU acceleration to the most popular Python data science toolchain. To bring additional machine learning libraries and capabilities to RAPIDS, NVIDIA is collaborating with such open-source ecosystem contributors as Anaconda, BlazingDB, Databricks, Quansight and scikit-learn, as well as Wes McKinney, head of Ursa Labs and creator of Apache Arrow and pandas, the fastest-growing Python data science library.
To facilitate broad adoption, NVIDIA is integrating RAPIDS into Apache Spark, the leading open-source framework for analytics and data science.
Access to the RAPIDS open-source suite of libraries is immediately available at http://rapids.ai/, where the code is being released under the Apache license. Containerized versions of RAPIDS will be available this week on the NVIDIA GPU Cloud container registry.