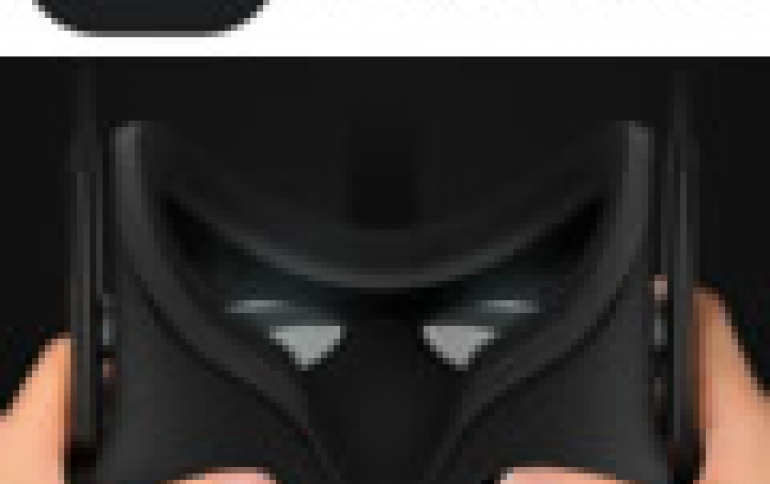 Oculus Rift Launches next Year With New Hand Controllers
After three years of various appearances in trade shows, the Oculus Rift VR headset is coming to consumers next year. The Rift headset features two OLED screens that promises clarity and a wide field of view. Its tracking system was the result of years of work, accordi ng to Oculus CEO Brendan Iribe. "You have very precise low-latency movement," said Iribe. "The same tracking system can actually be used for other real-world objects."
The device will be bundles with an external sensor that you can put on your desk, which replaces the webcam-like sensor from earlier Oculus headsets. Plugged in to your PC, the external sensor "just disappears," Iribe said. "We wanted it to be incredibly simple and easy to use," adding that Oculus experiences "will be a mixture of seated and standing: "You'll be able to move around a little bit."
They've also integrated a pair of headphones into the headset itself, which Iribe says has that 360-degree spatialized audio that's so integral to a more immersive environment. In addition, you can remove them to add your own headphones.
The Oculus Rift virtual reality headset will ship with an Xbox One wireless controller and adapter packed in. Oculus and Microsoft announced that the headset will support the new Xbox-to-Windows game streaming in a VR environment. The Oculus Rift will work natively with Windows 10. You'll be also able to can play Xbox One games on the Oculus Rift and play (stream) your Xbox One games right on the Oculus Rift?s VR screen.
Finally, Oculus will give you a more natural control with the Oculus Touch, a hand controller system that lets you navigate the virutal world.
"A pair of track controllers that we've created to take VR to the next level," Iribe said, stressing that they're prototypes, codenamed Half-Moon.
With the Oculus Touch wireless controllers, you'll be able to pick up virtual guns, manipulate virtual objects, make communicative gestures within games and virtual worlds, and have "hand presence".
It can detect "finger poses" like pointing, waving or "giving a thumbs up". Or flipping the bird or making wanker signs, although he's too polite to say that obviously.
Each grip includes both motion-based input as well as physical controls and haptic feedback.
Oculus said that a development kit version of the Oculus Touch will be available in Q1 2016.
The very first virtual reality games you'll be able to play on the VR headset includes games like sci-fi flight sim Eve Valkyrie, RPG Chronos, and Edge of Nowhere, an arctic survival game from Insomniac Games.
Other notable developers, like Rock Band studio Harmonix, are also making games for the platform. Oculus also announced that it will be investing $10 million in indie games in order to bring more VR experiences to the Rift.