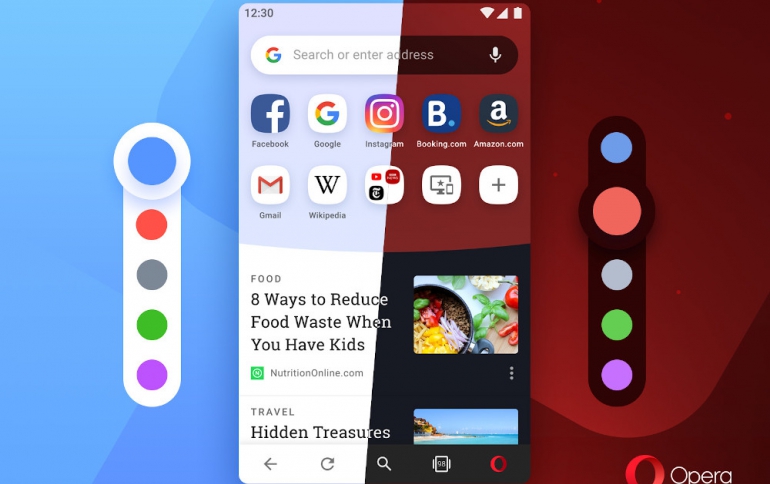 Opera Browser for Android Offers Ten New Colors to Choose From, Supports Bitcoin
The newest version of Opera for Android steps beyond dark and light modes in an interface redesign and adds Bitcoin support.
The first iteration of the new design, codenamed Squircles goes beyond the light and dark mode paradigm which has become mainstream, and creates a new, more colorful one with ten new color schemes, a flattened design and smoother edges. In addition, transition animations have been shortened.
Opera's new UI abandons the former sharp geometry, introducing the concept of transition focus. USe
All the Opera features like the free unlimited VPN, the built-in ad blocker and Crypto Wallet are easily accessible, and users can now choose whether they would like the UI elements highlighted in blue, red, gray, green or purple. The color themes can match the Android system's dark or light mode, or be set up independently.
Opera continues to provide an integrated news service, which can be adjusted by choosing topics of interest, as well as the default language. As part of the redesign, the news support a night mode, for more comfordable reading at night.
Opera was the first major browser to integrate a crypto wallet, enabling access to Web 3. The browser is now adding Bitcoin and TRON support which means it's the first time Bitcoin payments and transactions can be made directly in the browser without any extensions. With this release, Opera is making it possible to send and receive BTC directly from the browser the way one would an image or a music file. This means anyone can now not only send Bitcoin and Ethereum to another person but can also use it while interacting with websites to pay for goods or services. The browser now also works with TRX and the ecosystem of TRON DApps which can now be accessed in Opera.