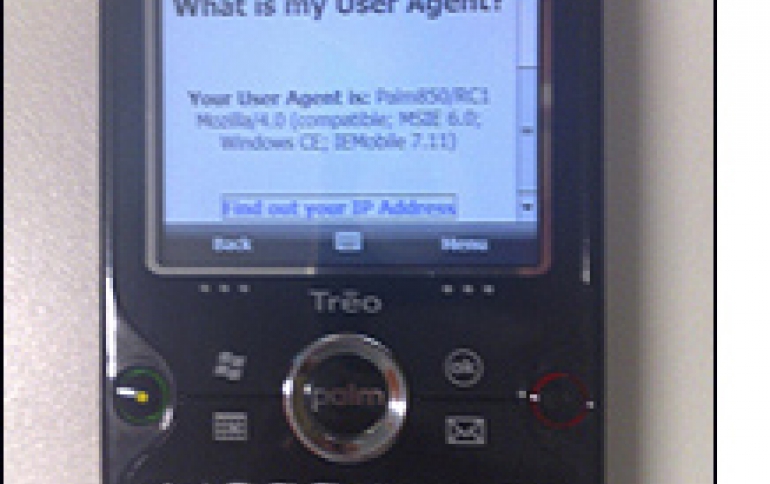 Palm Treo 850 Pics and Information Leaked
The Palm Treo 850 has made several appearances over the Internet as one of the next devices from Palm. Carrying on the tradition of former Treo iterations, an evolution in design and hardware specifications will mark this model's release.

The Design of the Treo 850

Initially shown by The Boy Genius Report, the Treo 850 will share many design elements with the Palm Centro. However, it will differ in size, operating system, and hardware features.

This smartphone will reported to feature the traditional Treo/Centro thumboard, though not in the "smile" configuration that has been a Treo feature.

According to a later post by TalmsPalm, the Treo 850 will measure in at 14 mm in thickness with a width and length of 60 mm and 113 mm, respectfully.

As featured in the leaked picture, there will be dedicated call/end buttons, and a circular-styled navigation pad. Following in the tradition of Windows Mobile devices, the Treo 850 will also have two softkey buttons which appear immediately under the 320-by-320-pixel touchscreen.

More Hardware Specifications

TamsPalm also revealed additional hardware specifications for the Treo 850.

These include:

Windows Mobile Pro 6.1

320 by 320 pixel touchscreen

GSM, EDGE, and UMTS with HSDPA 3.6

Assisted-GPS receiver

Wi-Fi (802.11 b/g)

microSD slot, located under the battery

2 MPx camera

1500 mAh battery

Micro-USB connector for both power and sync, replacing the Athena multiconnector

Bluetooth 2.0 EDR + A2DP

256 MB NAND-Flash (with greater than 175 MB for user) and 32 MB SDRAM

These specifications, if correct, will put the Palm Treo 850 near the top end of what is available for Windows Mobile devices, and definitely near the top of what is offered by U.S. carriers.

Release Dates, Product Placement

It is not known when the Treo 850 will be released. Palm traditionally releases devices in the late Spring and late Fall, so it could be that these images and specifications are coming as a result of some final carrier testing that is taking place.

In addition, while the Treo 850 is a GSM device, it is not known if it will be an AT&T exclusive device, or if T-Mobile will also carry it. There has also been no mention of whether it will support T-Mobile's flavor of 3G Internet.

The Treo 850 is probably going to replace the Treo 750 which has been on the market for nearly two years.