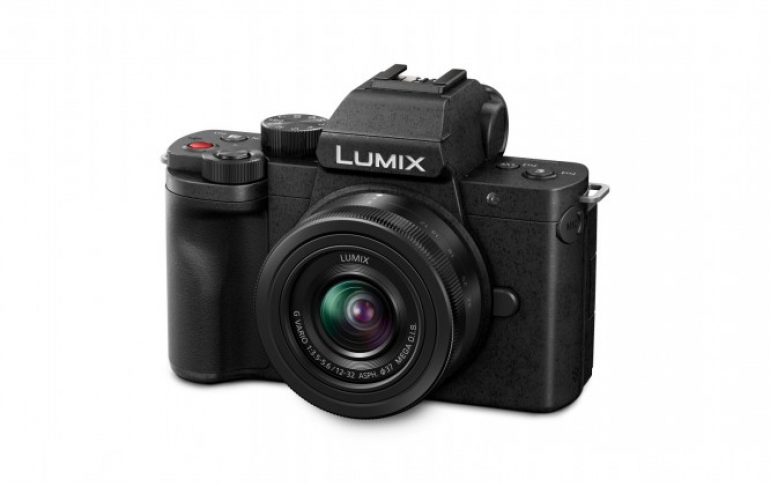 Panasonic announces new LUMIX G100 camera
Panasonic is excited to announce its latest mirrorless camera, the LUMIX G100. Specially designed for vloggers and content creators with a super lightweight and compact body, the G100 removes the need for bulky camera equipment while fantastic image, video and sound performance means you don't need to compromise on quality.
Superior video recording
The LUMIX G100 records smooth, high-resolution 4K or Full HD video in a variety of frame rates to meet every requirement.
A 20.3MP MOS sensor without low pass filter offers superior image quality in a world where many content creators are using smartphones. Clear shots are possible even at night, or in dim conditions, with high sensitivity ISO 25600.
The larger MFT sensor also helps to create beautifully blurred backgrounds for a professional look, while the Venus engine assures high-speed, high-performance image processing.
A powerful 5-axis hybrid image stabiliser1 really comes into play when making videos while moving and provides effective shake-suppression under a wide-range of situations, resulting in a much smoother, polished and comfortable experience for viewers.
Vloggers can also take advantage of the Frame Marker feature, which keeps check of your composition in various popular social-media optimised aspect ratios, while the REC Frame Indicator displays an eye-catching red frame to show at a glance when the camera is recording.
Premium sound quality
For high-quality, spatial audio recording, the LUMIX G100 includes an integrated OZO Audio by Nokia sound system - the first mirrorless camera in the world to offer such an advanced feature2. Three internal microphones record clear and vibrant sound with accuracy and precision, setting a new standard in innovative audio solutions for user-generated content. The G100 also tracks the voice of a detected person, automatically switching to the most appropriate sound mode for the situation. With this versatile audio technology, there's no longer any need to invest in a separate external microphone.
Special features
Whatever kind of content you want to create, the G100 has a range of suitable features.
The Video Selfie Mode allows for a simple and stress-free vlogging setup, starting up when the monitor is rotated forward and capturing the videographer and background in crisp focus without the need to make adjustments.
Special video effects such as 2x/4x3 slow motion and 2x/4x/8x FHD quick motion are easy to create with quick access from on the mode dial. Time lapse and stop motion animation features are also available with interval shooting and image composition processing inside the camera.
For advanced videographers, the G100 supports V-Log L recording. Users can apply the LUT (Look Up Table) of their choice on the recorded V-Log L footage on a PC.
For perfect action shots every time, users can take advantage of the 4K Photo functionality to capture split-second moments by just selecting the preferred frame out of a burst sequence.

Balanced ergonomics and usability
Weighing just 412g with its 12-32mm kit lens, the G100 is incredibly light and compact.
A new tripod grip (DMW-SHGR1*) can be added to make it even easier to hold the camera while recording and can also be used as a compact tripod. Connecting with the camera via USB, you can use the tripod grip to start/stop video recording, release the shutter, and enable or disable Sleep mode.
With a three-inch, high resolution free-angle touch screen and 3,680K dot viewfinder, the G100 makes it easy to compose high-quality images from any angle.
For power bursts on the go, USB charging of the G100 is included.
Easy connectivity and sharing
The LUMIX G100 integrates both Bluetooth and Wi-Fi 2.4GHz (IEEE802.11b/g/n) connectivity for instant sharing. A dedicated upload button makes it quick and easy to transfer videos and photos to your smartphone ready for sharing on your favorite social networks via the free LUMIX Sync app for iOS and Android. You can also use your smartphone as a remote controller for both video recording and photo shooting.
Bluetooth Low Energy (Bluetooth 4.2) allows your smartphone and camera to be constantly connected with minimum power consumption. Use your smartphone to activate the camera or add GPS geotags to your photos automatically.
The G100 can also be used as a webcam, providing exceptional image quality with rich depth of field and premium sound with video output over HDMI4, or for live streaming when paired with a HDMI video capture device.
Availability
The Panasonic LUMIX G100 will be available from the end of July with a suggested retail price of £589.99 for body only, £679.99 for 12-32mm lens kit, or £719.99 for 12-32mm lens and tripod grip kit.
From 24th June until 31st August, UK customers can buy a G100 body or lens kit and get a free tripod grip by redemption. Available at all retailers, terms and conditions apply.
Watch the full Panasonic G100 global launch announcement here: https://www.panasonic.com/uk/consumer/cameras-camcorders/lumix-g-compact-system-cameras-learn/article/announcement.html