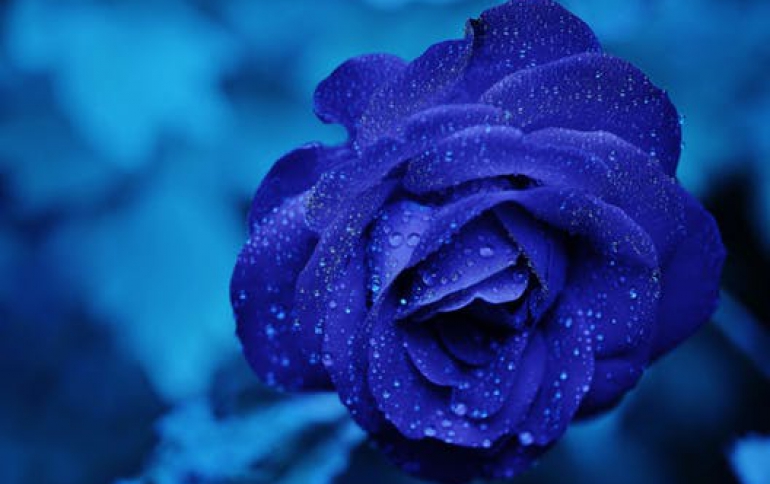 Panasonic Demonstrates "Companion" Robot at CES
Panasonic has developed a "companion" robot with human-like movements and communication skills. The robot, developed as a proof of concept, debuts at the Panasonic booth at CES 2017 in Las Vegas.
The robot is equipped with a Wi-Fi network function that accesses artificial intelligence-based natural language processing technology. This enables it to communicate in a friendly way. The robot is able to access and use cloud data, and communicate with those in other locations. Thanks to its embedded projector, the robot can be used for distance learning and other purposes. The robot is about the size of a standard kitchen countertop blender.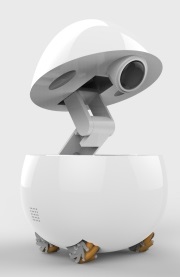 The robot has a cover that looks like an egg shell, which the robot can open to reveal a built-in projector. The robot also moves back and forward, and up and down. Its features and dexterity-designed to mimic human movements-inspires people to interact with it and are made possible with Panasonic-developed servo control technology. In addition, the robot's child-like voice adds to the realism. Its voice and embedded projector work together to deliver natural communication that builds a sense of attachment with its human owner.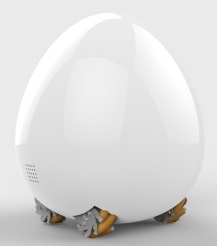 Panasonic has submitted patent or design registration applications in the U.S. and other parts of the world.

Specifications (Based on test model; subject to change)
Dimensions:

Diameter: Up to 290 mm (9.5 inches)
Height: Up to 485 mm (1.5 feet)
Weight 3.7 kg (8.1 lbs)

Movement speed: Max. 3.5 km/h (2.1 mph)
Battery: Lithium ion battery, 11.1 V 6600 mAh
Operable hours: Approx. 6 hours
Sensors: 8 M pixel CMOS camera x 1, infrared sensors x 5
Motors: Wheels: Pulse width modulation controlled DC motor x 4
Neck: Feedback controlled servo motor x 3
Projector: WVGA+ (854 x 480 dots), 50 lumens
Language: English
Processor & OS: 1.2 GHz 64/32-bit quad-core ARM Cortex-A53, UNIX OS
Wireless connectivity: Wi-Fi: IEEE 802.11 a/b/g/n (2.4GHz/5GHz)
Bluetooth: Version 5