1. Introduction
Philips DVP720SA DVD Player - page 1
Philips develops and manufactures innovative products for all your hi-tech entertainment needs – home, car audio, multimedia and DJ equipment. By combining cutting-edge technology with sophisticated design, these products can transport you to a world of fun.
This year, Philips has given a new meaning to the phrase "home cinema". With the new digital home cinema packages and systems, home entertainment has become extremely attractive and practical. The consumer will immediately become addicted to the effects provided by surround sound and the razor sharp images with vibrant and intense colours. For state-of-the-art DVD, look no further. With new additions in Philips' range, consumers are sure to find just what they want – from the latest DVD-A/DVD-V/SACD machines to portable DVD players.
The DVP720SA is one of the latest players in Philips' product list. It is an affordable solution for a DVD player with a very large features list.

- Features

Progressive Scan (PAL & NTSC)
Progressive Scan doubles the vertical resolution of the image resulting in a noticeably sharper picture. Instead of sending the field with the odd lines to the screen first, followed by the field with the even lines, both fields are displayed together. A flicker-free, high resolution image is created giving you better viewing quality.



Multi-channel Super Audio CD
This new generation music format gives you:
- Ultra high quality music reproduction
- 5.1 multi-channel surround sound
- Full backward and forward compatibility with CD


Built-in decoders
A built-in DTS and/or Dolby Digital decoder eliminates the need for an external decoder by processing all six channels of audio information to provide an astoundingly natural sense of ambience and dynamic realism. Dolby Pro Logic II provides five channels of surround processing from any stereo source.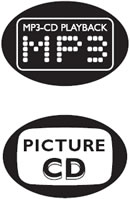 Multi-format playability
Multi-format playability allows you to view images in the comfort of your living room and play most dics formats for maximum disc compatibility, viewing and audio pleasure.
DivX® 3.11/4.x/5.x playback
With DivX® support, you will be able to enjoy DivX® encoded videos in the comfort of your living room. The DivX® media format is an MPEG-4 based video compression technology that enables you to save large files like movies, trailers and music videos on media like CD-R/RW, memory cards and DVD-Video. DivX® CDs can be played back on selected DVD players, DVD Recorders and Home Theater Systems.
- Specifications