Philips Unveils New 49" SuperWide Dual Quad HD Curved Monitor With Windows Hello Webcam
EPI, the brand license partner for Philips displays and audio, announced two new high-performance monitors to add to its Philips Brilliance Collection.
The Philips Brilliance 49'' SuperWide Curved LCD Display with Dual Quad HD 5120 x 1440 resolution and the Philips Brilliance 32″ 4K LCD Display were recently unveiled at the Consumer Electronics Showcase in Las Vegas.
Both of these new monitors feature a webcam that is equipped with sensors for Windows Hello facial recognition which logs you into your Windows devices in less than two seconds. Now, users can log-in faster and more securely with facial recognition biometric security. The secure webcam pops up when you need it and tucks back into the monitor when not in use.
The Philips Brilliance 49'' SuperWide Curved LCD Display acts like two full-size high-performance monitors in one for a massive wide view without the complicated setups. The 1800r curved display supports the Adaptive-Sync technology for smooth quick refresh and ultra-fast response time. Moreover, the VESA-certified Display HRD 400 brings images to life with brightness and crisp colors.
The Philips 329P9H 32'' 4K LCD monitor uses IPS technology offer full, colors and wide viewing angles, making it possible to view the display from almost any angle – including the 90-degree Pivot mode. A Smart Ergo Base can be adjusted to your preferred height, swivel, tilt and rotation angle. The PowerSensor automatically detects if a user is present and can reduce monitor brightness when they're not, which reduces energy costs up to 80 percent and prolongs the monitor's life.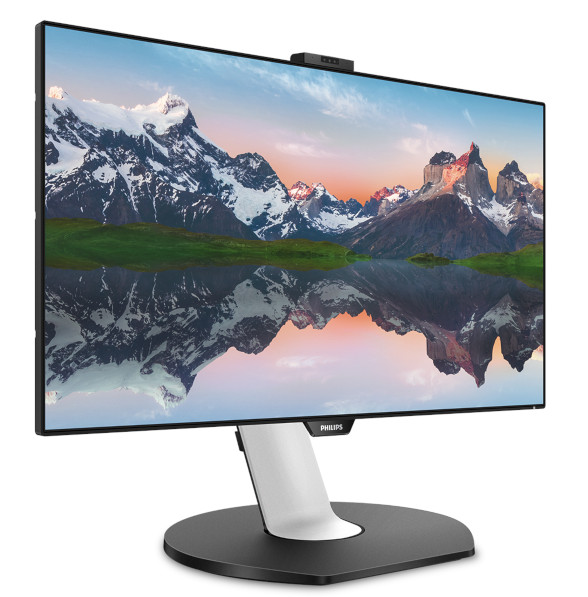 Both displays have been upgraded with performance-enhancing features, including a USB-C docking station and MultiClient Integrated KVM switch. The MultiClient Integrated KVM switch allows you to control two separate PCs with one monitor-keyboard-mouse set up. A button allows you to quickly switch between sources.
Additionally, both displays come equipped with other technologies including LowBlue Mode and the 49'' has Flicker-Free technology. LowBlue Mode uses a smart software technology to reduce potentially irritating blue light for easy-on-the-eyes productivity. Flicker-Free technology applies a new solution to regulate brightness and reduce flicker for comfortable viewing.
The new Philips Brilliance 49'' SuperWide Curved LCD Display will be available in March at Amazon and NewEgg for $1299 MSRP and the new Philips Brilliance 32″ 4K Display will be available in February at Amazon and NewEgg for $799 MSRP.
Philips Brilliance 32-inch 4K display (329P9H)
LCD panel type: IPS technology
Backlight type: W-LED system
Panel Size: 31.5 inch / 80 cm
Display Screen Coating: Anti-Glare, 3H, Haze 25%
Effective viewing area: 697.3 (H) x 392.2 (V)
Aspect ratio: 16:9
Optimum resolution: 3840 x 2160 @ 60Hz
Pixel Density: 140 PPI
Response time (typical): 5 ms (Gray to Gray)
Brightness: 350 cd/m²
Contrast ratio (typical): 1300:1
SmartContrast: 50,000,000:1
Pixel pitch: 0.182 x 0.182 mm
Viewing angle: 178º (H) / 178º (V), @ C/R > 10
Display colors: Color support 1.07 billion colors
Color gamut (typical): NTSC 90%, sRGB 80%, Adobe RGB 87%
Scanning Frequency: 30 - 160 kHz (H) / 23 - 80 Hz (V)
SmartUniformity: 97 ~ 102 %
Signal Input: DisplayPort 1.2 x 1, DisplayPort out x 1, HDMI 2.0 x 2, USB-C 3.1 Gen 2 x 1 (upstream, power delivery up to 65W)
HDCP: HDCP 2.2 (HDMI/ DP / USB-C)
USB:: USB 3.1 x 4 (downstream with x 1 fast charge B.C 1.2)
Audio (In/Out): Headphone out
RJ45: Ethernet LAN (10M/100M/1G)
Sync Input: Separate Sync, Sync on Green
USB-C: Reversible plug connector
Super speed: Data and Video transfer
DP: Built-in Display Port Alt mode
Power Delivery: USB PD version 2.0
 Max power delivery: Up to 65W (5V/3A; 9V/3A; 10V/3A;12V/3A; 15V/3A; 20V/3.25A)
Philips Brilliance 49-inch curved display (499P9H)
LCD panel type: VA LCD
Backlight type: W-LED system
Panel Size: 48.8 inch / 124 cm
Display Screen Coating: Anti-Glare, 2H, Haze 25%
Effective viewing area: 1193.5 (H) x 335.7 (V) mm at a 1800R curvature
Aspect ratio: 32:9
Optimum resolution: 5120 x 1440 @ 60Hz
Pixel Density: 109 PPI
Response time (typical): 5 ms (Gray to Gray)
Brightness: 450 cd/m²
Contrast ratio (typical): 3000:1
SmartContrast: 80,000,000:1
Pixel pitch: 0.233 x 0.233 mm
Viewing angle: 178º (H) / 178º (V), @ C/R > 10
Flicker-free
Picture enhancement: SmartImage
Display colors: 16.7 M
Color gamut (typical): NTSC 103%, sRGB 121%, Adobe RGB 91%
HDR: DisplayHDR 400 certified (DP / HDMI)
Scanning Frequency: 30 - 230 kHz (H) / 48 - 70 Hz (V); Adaptive sync (for HDMI/DP)
SmartUniformity: 97 ~ 102%
Delta E: < 2
sRGB
LowBlue Mode
EasyRead
Adaptive sync
 Signal Input: DisplayPort 1.4 x 1, HDMI 2.0 b x 2, USB-C 3.1 Gen 2 x 1 (upstream, power delivery up to 65 W)
HDCP: HDCP 2.2 (HDMI / DP / USB-C)
USB:: USB 3.1 x 1 (upstream), USB 3.1 x 3 (downstream with x 1 fast charge B.C 1.2)
Audio (In/Out): Headphone out
RJ45: Ethernet LAN (10M/100M/1G)
Sync Input: Separate Sync, Sync on Green
USB-C docking
USB-C: Reversible plug connector
Super speed: Data and Video transfer
DP: Built-in Display Port Alt mode
Power Delivery: USB PD version 2.0
Max power delivery: Up to 65W (5V/3A; 9V/3A; 10V/3A;12V/3A; 15V/3A; 20V/3.25A)