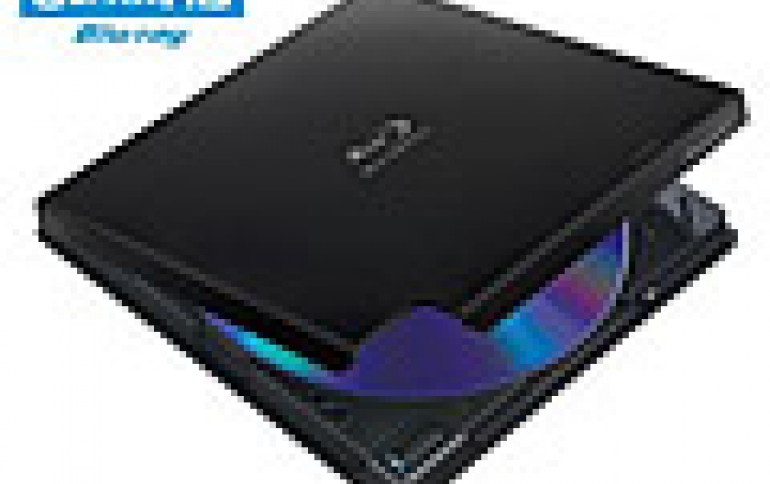 Pioneer BDR-XD06J-UHD Is The First Portable UHD BD PC Drive
Following the recent release of the internal BDR-S11J SATA drives, Pioneer brings its Blu-ray technology expertise to a more compact, portable Ultra HD Blu-ray drive, the new BDR-XD06J-UHD.
Available in Japan next month, the external USB 3.0 drive is expected to retail for not less than 15,000 yen ($134).
The BDR-XD06J-UHD supports playback of Ultra HD Blu-ray (UHD BD) discs using a special verion of Cyberlink's Power DVD 14 software. Of course, reproduction of 4K video content requires a Windows 10 PC running on an Intel 7th generation Core i7 / i5 processor (KabyLake-S / H) and at least 6GB of RAM. In terms of GPU, your PC should have at least Intel HD Graphics 630, along with a motherboard based on the Intel 200 series chipset with support for Intel's Software Guard Extensions (SGX), HDCP 2.2 / HDMI 2.0a video output. That's of course in addition to a similarly HDMI2.0a-equipped 4K monitor (optionally with HDR support) to actually output the content on Pioneer has a UHDBD advisory tool, which will check whether your PC is compatible with UHD BD playback.
The compact drive (133 x 133 x 14.8 mm) weighs 230 g. In terms of specs, you get a maximum burning speed with BD-Rs (SL and DL) at 6x (4x with BD-R LTH discs), 4x with BD-R TL/QL and 2x with BD-RE (SL/DL/ TL). DVD+R/R SL discs can be burned at 8x, DVD+R/R DL and DVD-RW at 6x, DVD+RW at 8x, DVD-RAM at 5X and CD-R/RW at 24x.
Pioneer has also included its PureRead 3+ algorithm to the drive, offering more accurate reproduction of audio CDs, even in cases the disc is scratched. The algorithm will force the drive read problematic digital data on the disc more than once in order to avoid the interpolation of the read data, which eventually could affect the quality of the output audio.
In addition, an "Silent mode" keeps the drive quiet during playback of playing BDs, DVDs and audio CDs, and each disc can be ejected even if the drive is turned off.

The BDR-XD06J-UHD can be either powered by its USB 3.0 port of through an optional AC adapter.
Specifications
Supported recording discs
BD
BD-R (Single / Dual / Triple / Quadruple layer)
BD-RE (Single / Dual / Triple layer)
DVD
DVD-R , DVD-R DL, DVD-RW, DVD + R, DVD + R DL, DVD + RW, Highspeed DVD + RW, DVD-RAM
CD
CD-R, CD-RW, HS CD-RW, US CD-RW, US + CD-RW
Supported playback
BD
Ultra HD Blu-ray (BD-ROM Dual / Triple layer)
BD-ROM (Single / Dual Layer), BD-R (Single / Dual / Triple / Quadruple Layer), BD-RE (Single / Dual / Triple Layer)
DVD
DVD + R DL, DVD + R D, DVD + R DL, DVD + RW, DVD-RAM (Single / Dual Layer), DVD - Video , DVD - R, DVD - R DL, DVD - RW, DVD +
CD
CD-ROM (Mode 1 & 2), CD-ROM XA, CD-R, CD-RW, Photo CD (Single / Multi-session), Video CD, CD-DA, CD-
Interface
USB 3.0
Write speeds
BD
-R
2x, 4x, 6x
-R DL
2x, 4x, 6x
-R TL
2x, 4x
-R QL
2x, 4x
-R (LtH)
2x, 4x
-RE
2x
-RE DL
2x
-RE TL
2x
Read speeds
DVD
-R
1 x, 2 x, 4 x, 6 x, 8 x
-R DL
2x, 4x, 6x
-RW
1 x, 2 x, 4 x, 6 x
+ R
2.4x, 4x, 6x, 8x
+ R DL
2.4x, 4x, 6x
+ RW
2.4x, 4x, 6x, 8x
-RAM
2x, 3x, 5x
CD
-R
4x, 10x, 16x, 24x
-RW
4x, 10x, 16x, 24x
BD-ROM (1 layer)
6 x Max
BD-ROM (2 layers)
6 x Max
BD-ROM (3 layers)
4 x Max
DVD-ROM
8 x Max
CD-ROM
24 x Max
Buffer
4 MB
Dimensions
133 mm x 133 mm x 14.8 mm (W x D x H)
Weight
230 g
Ultra HD Blu-ray playback requirements
Supported OS
Windows 10
CPU
Intel 7th generation desktop Corei 7 / i5 processor (KabyLake-S)
Core i7 / i5 processor for Intel 7th generation notebook (KabyLake-H)
* U processor not supported
GPU
Intel HD Graphics 630 Built-in GPU ( 7th Generation Intel processor)
Memory
6 GB or more
Display

External display
4K resolution (3840 x 2016 or more) HDMI 2.0a (HDCP 2.2 required) compatible display
HDR compatible (when HDR content is played, when HDR content is not supported, played back with HDR> SDR conversion)
Internal display
4K resolution (3840 x 2016 or more) compatible built-in display
HDR compatible (when HDR content is played, when HDR content is not supported, played back with HDR> SDR conversion)

Motherboard
Intel SGX-compatible Intel 200 series motherboard
HDCP 2.2 / HDMI 2.0a output compatible Intel internal GPU output compatible motherboard (for HDMI external output)