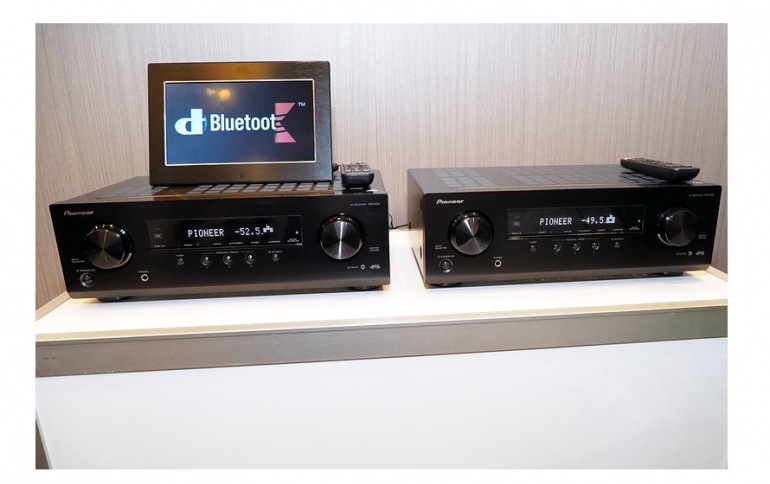 Pioneer Introduces New Entry-level AV Receivers at CES 2019
Pioneer & Onkyo announced two new entry-level AV receivers: the VSX-834 7.2-Channel AV Receiver and the VSX-534 5.2-Channel AV Receiver.
Both the VSX-834 and VSX-534 will be available in February for $479.99 and $379.99, respectively.
Featuring a new low-profile design with a height of just 5.8 inches, the receivers make installation into stands/racks/cabinets even easier.
Dolby Atmos and DTS:X playback is delivered via 5.2.2 (VSX-834) and 3.2.2 (VSX-534)-channel speaker layouts. Owners without Dolby Atmos speakers can still enjoy many of the benefits of object-based audio, thanks to two surround technologies: Dolby Atmos Height Virtualizer and DTS Virtual:X that simulate the output from 'virtual' height and surround speakers if they are not physically present in a room.
DTS Neural:X and Dolby Surround technologies also up-mix legacy "2D" soundtrack formats to simulate a surround-sound experience. Both receivers are designed to create 3D sound for movie soundtracks encoded on DVD, Blu-ray Disc or compatible video streaming services.
The VSX-834 delivers 165 W/Ch (6 ohms, 1 kHz, THD 10%, 1-ch driven), while the VSX-534 offers 150 W/Ch (6 ohms, 1 kHz, THD 10%, 1-ch driven). Pioneer's 'Direct Energy' circuit design ensures wide-band frequency reproduction.
Pioneer's MCACC (Multi-Channel Acoustic Calibration System) is a microphone-based sound calibration system that adjusts output to account for variables such as speaker size and distance. Additionally, Phase Control technology eliminates phase-lag caused by the low-pass filter between main channels and subwoofer, and reproduces clearer mid- and high-range sound while adding dynamic impact to LFEs.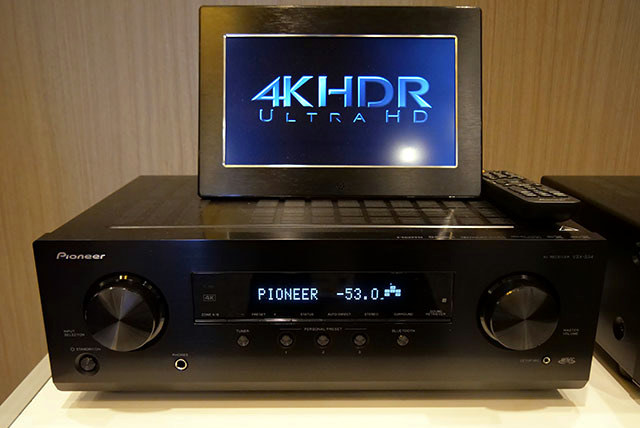 When using Dolby Atmos-enabled speakers, high-directivity sound reflects off the ceiling, while low-directivity sound reaches the ears directly. This difference causes a phase shift, making sound feel uncomfortable. Reflex Optimizer technology resolves this phase-lag and optimizes the performance of Dolby Atmos-enabled speakers for clear sound imaging at the viewing position. Sound from Dolby Atmos-enabled speakers integrates with that from the floor speakers for a comfortable sound-field.
All HDMI connections on the AV receivers support 4K/60p, 4:4:4, 24-bit video pass-through, and the HDCP 2.2 digital copy-protection standard for playback of premium content. Video with HDR (High Dynamic Range) in HDR10, HLG (Hybrid Log-Gamma), or Dolby Vision formats is passed through to a compatible display. Further, video with BT.2020 color space is supported. Super Resolution, which is a 4K upscaling technology particularly suited to HD sources, is also included.
In addition to conventional tone control, the VSX-834 and VSX-534 also feature a mid-range sound adjustment feature called "Dialogue Enhancement". You can independently adjust the volume of predominantly mid-range sounds, such as the dialogue in films with the up/down key on remote control.
Connect your Wireless Headphone dock to the Zone B output (which extends the sound from the main zone) and you can listen via wireless headphones. You can listen to all sound sources AVR received via the Zone B output.
Bluetooth wireless technology is incorporated into both VSX-834 and VSX-534 and includes a new Bluetooth Direct button that lets users connect their smartphone, tablet, laptop or smart speaker such as a Google Mini or Alexa Dot.
The VSX-534 and 834 support HDMI-based control function (CEC). These models allow the following operations: volume adjustment/mute via TV; automatic input change when TV channel is switched or playback starts on a player, and linked power on/off with TV.