Pioneer Introduces New Flagship DDJ-SZ Controller, Remix Station 500
Pioneer today expanded its family of Serato DJ software compatible controllers with the introduction of the DDJ-SZ. The company also launched the REMIX-STATION 500, which enhances DJ performances with its ability to generate a range of sound effects with a variety of buttons and controls. The DDJ-SZ controller is 35 percent bigger than the DDJ-SX, sporting additional functionalities and features including extra large JOG wheels (8.1-inch - the same size available on CDJ players), large performance pads with multi-color illumination, DJM style mixer, dual USB ports and a MAGVEL cross fader.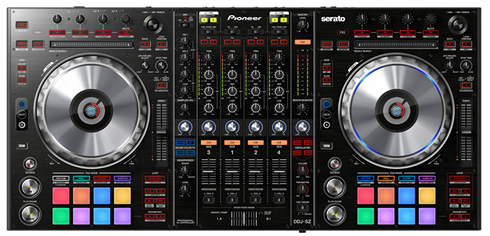 The center of each JOG wheel also features "ON JOG display" to illustrate playback status, cue points and position. In addition, the unit offers a JOG FEELING ADJUST to enable users to change the resistance of the wheel from light to heavy.
Directly below each JOG wheel are four effects buttons - HOT CUE, ROLL, SLICER and SAMPLER. Under the effects buttons are eight extra large velocity sensitive "performance pads" that DJs can quickly access to insert different modified effects to music playing. In Sampler mode, the output volume of the sampler effects also varies depending on the strength of user?s tap of the pad. An update from the current DDJ-S controllers, the performance pads on the DDJ-SZ illuminate in different colors to quickly communicate the effect mode it is in.
The DDJ-SZ includes two USB ports to enable simultaneous connection of two computers. Users can instantly switch between two computers for seamless transitions between two DJs or as additional music sources.
The mixing area of the DDJ-SZ also closely mimics Pioneer's DJM series of professional mixers, utilizing a generous number of controls and effects with features including Sound Color FX and new Oscillator functions. The mixer can also be used as a standalone 4-channel mixer for outboard players and turntables.
The new Oscillator on the right side of the mixer provides four types of sound effects: Noise, Siren, Cymbal and Horn. A quick touch of the buttons activates the effect(s), which can also be modified in amplitude (volume) to add to the music currently playing.
The mixer includes four Sound Color FX functions (Pitch, Jet, Echo and Filter), which add numerous audio effect combinations and arrangements to currently playing music with a simple twist of the knobs. Through Serato DJ's beats per minute (BPM) analysis, users can also synchronize Echo effects to the BPM of currently playing music.
The controller can support DVS (Digital Vinyl System) using control tone to enable an external player to be used as a Serato DJ deck.
For smooth transitions and high durability between the DDJ-SZ's players, the unit features a MAGVEL cross fader (the same component used in Pioneer?s DJM-900SRT) that utilizes a contact-free magnetic system that can withstand more than 10 million operations. The "cut in" time of the cross fader can also be customized to the user's preference.
Other features of the DDJ-SZ controller include:
- A new Serato DJ software is bundled with the DDJ-SZ.
- Slip Mode - While activated, Slip Mode silently continues song playback during a performance loop, scratch or hot cue and resumes audible playback when the loop, scratch, or hot cue operation is ended.
- Needle Search - Users can immediately jump to a specific part of a music track with a simple touch of the Needle Search pad.
- Two built-in 24-bit soundcards, low-jitter clock and a Wolfson digital-to-analog converter (DAC) are used for accurate audio playback. In addition to a 32-bit Digital Signal Processor to minimize digital noise, its balanced-hybrid operational amplifier and balance output circuit also reduce analog circuit noise.
- Built-in Sound Card (audio interface)
- P-LOCK Fader Cap - Prevents the fader knob from slipping off during extreme use.
- Auto Standby - Automatically switches to standby mode when no activity or input is detected for a period of time.
The Pioneer DDJ-SZ will be available in March 2014 with a suggested retail price of $2,399.In addition, Pioneer says that the first 5,000 units of the DDJ-SZ sold worldwide will be bundled with a free license for the Serato Video plug-in (worth $149).
The Pioneer REMIX-STATION 500 offers three effect sections, Rhythm FX, Scene FX and Release FX, for simple musical arrangements and features the first "Pressure Controller" knobs, which further alter and vary the effects of the arrangements. In addition, the system can also act as a USB controller when used with the included VST1/AU2/RTAS3 RMX-500 Plug-in software.
The Rhythm FX section of the REMIX-STATION 500 offers five audio effects, ROLL, TRANS, ADD, REV DELAY and OFFSET, which cuts up and manipulates parts of the music playing to produce new rhythms. The effects can be increased and decreased with a turn of the large knob as well as altered when the knob is pushed down, activating the pressure controller.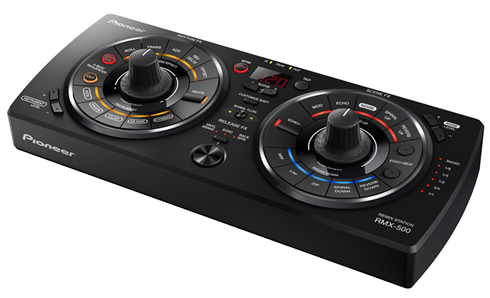 The Rhythm FX section also incorporates five Instrument buttons (KICK, SNARE, CLAP, HI HAT and CYMBAL), each offering six different patterns of sound that can be added with a simple touch. The unit also features a 4-Beat Sequencer with an OVER DUB button, and when activated, enables users to record one bar of each instrument button for more unique sound effects playback. The OVER DUB can also be deactivated after the recording process and while playback occurs, to then give users the ability to tap each button for additional instrument sounds.
In the Scene FX section, users can choose from five Build Up effects and five Break Down effects. The Build Up effects, consisting of MOD, ECHO, NOISE, SPIRAL UP and REVERB UP, add sounds, while Break Down effects, consisting of HPF, LPF, ZIP, SPIRAL DOWN and REVERB DOWN, cut sounds. The large knob increases or decreases the parameters of the chosen effect with a simple turn as well as changes the effects with a push of the knob. Two sub-parameters knobs are also available for additional changes to the effects being produced.
The system also includes a Release FX button that eliminates the current music playing and leaves only the sound effects when activated. Release FX can also be used to create the opposite effect: When the button is disengaged, all section effects are eliminated while the original music continues to play. Three types of Release FX are available, Vinyl Brake, Echo, and Back Spin.
Using the included REMIX-STATION 500 VST/AU/RTAS plug-in software, users can create the same types of music production and effects while producing on a computer. In addition, connecting the device to a computer enables it to act as a controller for music production.
Additional features include:
- QUANTIZE function enables real-time music analysis and synchronization of effects along with the beat of the music
- AUTO BPM function automatically measures and follows the tempo of music
- USB-MIDI for use as a MIDI controller
- Mountable on Pioneer?s T-U101 (X-Stand)
The REMIX-STATION 500 will be available in February with a suggested retail price of $499.
Main Specifications
Inputs: RCA x1
Outputs: RCA x1, Stereo phones jack (1/4")
Other ports: USB B port x1
Sampling Rate: 48 kHz
A/D and D/A converter: 24 bit
Frequency response: 20 Hz - 20 kHz
Total harmonic distortion: 0.006% or less
S/N ratio: 96 dB
External dimensions: 12" (W) x 2.6" (H) x 5.2" (D)
Weight: 2 lbs