Denon Takes on Pioneer With New Four-channel Standalone Prime 4 DJ System
Denon DJ introduces Prime 4, a 4-Deck Standalone DJ system with 10-inch multi-touch/ gesture display, dual-zone output, pro-mixer section, powerful performance pads, dual mic channels and a 2.5-inch built-in SATA drive bay.
The standalone unit allows DJs to play four decks of tracks using only two platters, which is something DJs have wanted for some time.
The Prime 4's jog wheels are six-inches, metal, and boast center HD displays with customizable RGB light rings. There's also an eight performance pads below each deck with options for hot cues, loop and autoloop, roll, and slicer and slicer loop.
Prime 4 features a 10-inch multi-touch/gesture display for DJ music library interaction. It combines timestretch for DJs to radically mix any track tempo and genre, with real-time musical pitch shifting, matching musical keys with just the tap of a finger.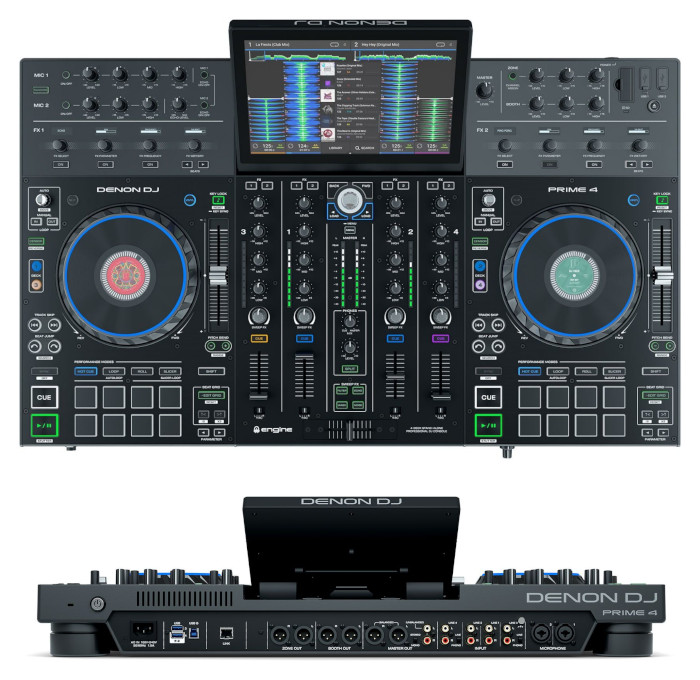 Prime 4's independent Zone Output is empowering DJs with the ability to send a full playlist of music to a completely separate room or location, all while the DJ rocks the dancefloor in the main venue. Also, Prime 4 can access music files and media sources with no less than four USB inputs, one SD and also a built-in SATA drive bay.
Prime 4 empowers DJs to manipulate 14 on-board, pro-club DJ Effects, with three quick access parameter adjustments for instant gratification 'in the mix.' DJs can quickly access and manipulate single encoder, dual-function control too for Sweep FX and Filter, across all 4 channels. In addition, any DJ in any venue now has total command over impactful visual elements with lighting and video control via Denon DJ's StagelinQ connectivity and Denon DJ partners Soundswitch, Timecode and Resolume applications.
Prime 4 features a metal build quality and 24-bit Denon DJ audio.
The U.S. retail for the Denon DJ Prime 4 will be $1699.00, when it will be released in March 2019.
Denon DJ also recently slashed the SC5000's price to $999, making it well underpriced in comparison to Pioneer DJ's CDJ-2000NXS2, at $2,199.