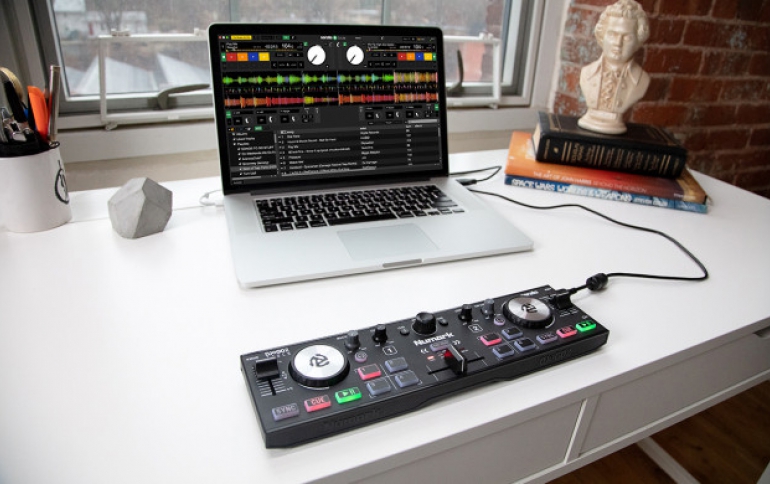 Numark Adds Capacitive Touch Platters to Pocket-sized DJ2GO2 Controller
Numarkintroduces its new DJ2GO2 Touch, the successor to their popular DJ2GO2.
Both beginners and professional DJs alike get the full benefits of a pro controller shrunk to fit in their pockets—at a retail price of $79.00.
DJ2GO2 Touch is a portable, pocket-sized DJ controller with the ability to scratch with capacitive touch jog wheels. With a built-in sound card and Serato DJ Lite-ready, it fits in front of any laptop gives the DJ the ability to perform hot cues, looping and sampler effects.
DJ2GO2 Touch also features music streaming capability with TIDAL and SoundCloud as part of Serato DJ Lite.

Beginner and professional DJs can perform light to heavy scratches and blend the mix by nudging the side of the capacitive touch jog wheel.
Out the box, DJ2GO2 Touch comes with Serato DJ Lite and is upgrade-ready to the full version of Serato DJ Pro.
Key Features
Capacitive touch jog wheels for scratching and mixing
Portable two-channel DJ controller for Serato DJ Lite (software included)
TIDAL and SoundCloud capability included
Built-in audio card with headphone cueing to create the perfect mix
Song navigation and channel and master gain controls
DJs can map DJ2GO2 Touch with other popular DJ software
Multiple Pad Modes with cueing, looping and sample triggers
Fits perfectly on top of any laptop
1/8-inch headphone output
1/8-inch main output