1. Introduction

BEHRINGER Spezielle Studiotechnik GmbH was founded by Uli Behringer some 13 years ago. Today, the BEHRINGER group of companies is one of the largest manufacturers of professional audio and MI equipment in the world, with a global presence across 5 continents and with more than 1,500 employees in 20 countries. BEHRINGER is the name that many soundphiles known very well. A well respected company, it has introduced many sound related products, from soundmixers to headphones, and lately PC/MAC related products, the so called "Midi controllers".
This year, BEHRINGER introduced a new model, aimed at semi-professional to professional DJs, the BCD3000. This is a product that promises to change the way you manage and mix digital audio music.
- BEHRINGER BCD3000
The BCD300 was announced at this year's NAMM Show 2007. Leveraging on the strengths of its award winning predecessor, the BCD2000, the next generation BCD3000 DJ machine has been given a new look, its controls have been enhanced, and it is now compatible with all major computer platforms.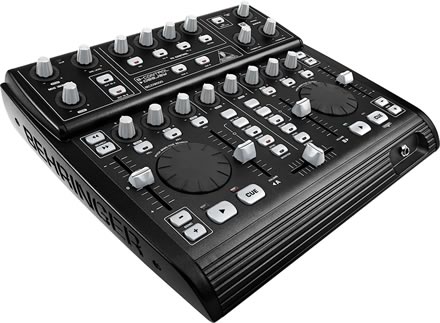 The BCD3000 is a 4-channel audio interface, enabling control over virtually all current DJ applications by using the powerful virtual mixer (TRAKTOR 3 LE software included). Despite its compact size, it offers a fully fitted controller console with 24-bit A/D and D/A converters, a full-speed USB audio interface with a high-grade microphone preamplifier, a 3- band kill EQ for each channel, ultra-precise faders, a smooth crossfader and talkover function.
The BCD3000 features 2 first-class Phono preamps, one of which is switchable to the CD input. The sophisticated Headphone section includes a PFL function as well as the option to monitor the master output signal directly. Start/Stop, Cue, Loop and Pitch- Bend have dedicated controls to support your intuitive performance, plus 4 user-assignable controls and buttons are available in the Effects section.
The main features of the BEHRINGER B-CONTROL DJ BCD3000 are:
Play, mix and scratch MP3, AAC, WMA, OGG, WAV and AIFF files with vinyl feeling
Native Instruments TRAKTOR 3 LE DJ software with iTunes import, Beatport music store integration, as well as podcasting and recording software included
Powerful 4-channel USB audio interface with 24-bit converters and ultra-low latency operation under Windows XP and Mac OS X operating systems
DJ setup in a single box: dual player, mixer, effects, 2 phono preamps plus a full-fledged monitor section
Two versatile jog wheels to control typical DJ functions like scratching, pitch bending and cue searching
Total performance control through 3-band kill EQ, loop buttons, pitch and level faders per channel plus an ultra-smooth crossfader.
Two internal phono preamps to mix vinyl records with MP3 files or run as a digital DJ mixer with full effects control.
Internal microphone preamp with dedicated Level and EQ controls for MC performances or DJ's talkover.
- Full specifications