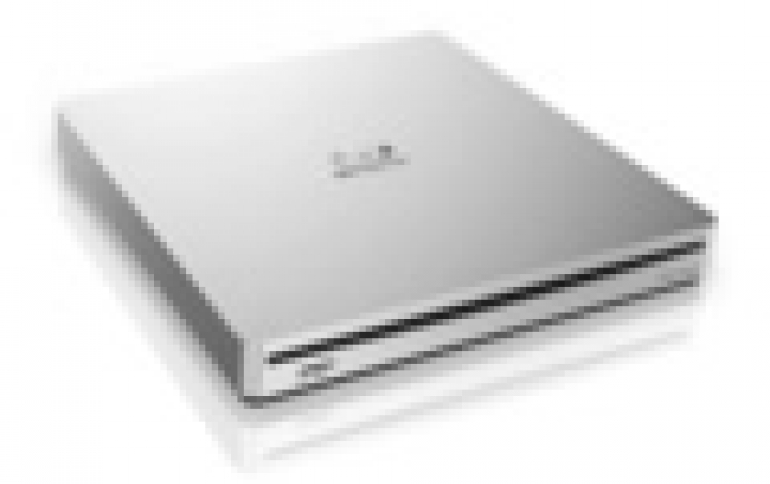 Pioneer Intros New BDR-XS06JL BDXL Burner
Pioneer's has just announced the BDR-XS06JL, a slot-loading BDXl burner designed for both Macs and PCs. The drive supports what Pioneer calls an "intelligent eco mode" to save energy by automatically cutting unnecessary power, compared to the company'sprevious model, the BDR-XS05J.
By employing the slot-loading mechanism, it offers convenient disc loading but still, a shutter membrane keeps the drive quiet during operation and also makes it dustproof.
When combined with an optional wireless dock (APS-WF01J), the drive can be wirelessly connected to a PC or Mac . Also, the "ODFinder" iOS application can be used to stream music and video from the drive to your iPhone or iPad (no BD / DVD video playback).
Other features include "PURE READ2 +" for accurate playback of audio discs and of course, buring support for BD-R XL, BD-RE XL, DVD and CD media.
The drive will be available in Japan later this month.
Supported discs (burning)
BD
BD-R (Single / Dual / Triple / Quadruple layer), BD-RE (Single / Dual / Triple layer)
DVD
DVD-R, DVD-R DL, DVD-RW, DVD + R, DVD + R DL, DVD + RW, Highspeed DVD + RW, DVD-RAM
CD
CD-R, CD-RW, HS CD-RW, US CD-RW, US + CD-RW
Supported discs (reading)
BD
BD-ROM (Single / Dual layer), BD-R (Single / Dual / Triple / Quadruple layer), BD-RE (Single / Dual / Triple layer)
DVD
DVD-ROM (Single / Dual layer), DVD-Video, DVD-R, DVD-R DL, DVD-RW, DVD + R, DVD + R DL, DVD + RW, DVD-RAM
CD
CD-ROM (Mode 1 & 2), CD-ROM XA, Photo CD (Single / Multi-session), Video CD, CD-DA, CD-Extra, CD-R, CD-RW
Interface
USB3.0
Burning speed
BD
-R
2x, 4x, 6x
-R DL
2x, 4x, 6x
-R TL
2x, 4x
-R QL
2x, 4x
-R (LtH)
2x, 4x, 6x
-RE
2x
-RE DL
2x
-RE TL
2x
DVD
-R
1x, 2x, 4x, 6x, 8x
-R DL
x, 4x, 6x
-RW
1x, 2x, 4x, 6x
+ R
2.4x, 4x, 6x, 8x
+ R DL
.4x, 4x, 6x
+ RW
2.4x, 4x, 6x, 8x
-RAM
2x, 3x, 5x
CD
-R
4x, 10x, 16x, 24x
RW
4x, 10x, 16x, 24x
Reading speed
BD-ROM (1 layer)
6x Max
BD-ROM (2 layers)
6x Max
DVD-ROM (1 layer)
8x Max
DVD-ROM (2 layers)
8x Max
CD-ROM
24x Max
Buffer
4 MB
Dimensions
135 mm × 18 mm × 135 mm (W × H × D)
Weight
280 g