Pioneer Rayz Earphones Support Apple's Lightning Audio Technology
Pioneer today introduced Rayz and Rayz Plus earphones, a new line of appcessories for iPhone, iPad and iPod touch. Rayz and Rayz Plus blend an iOS app with Lightning accessories to deliver new experiences not possible through the 3.5mm headphone jack.
Rayz earphones are powered by iPhone, iPad or iPod touch, meaning no additional batteries are required. The Rayz Plus model is also the first and only Lightning headset with an in-line charging node to simultaneously charge iPhone, iPad or iPod touch while the earphones are connected and in use.
Rayz and Rayz Plus are based on Avnera's breakthrough LightX platform that enables the earphones to operate in modes with the lowest power use possible from iPhone, iPad and iPod touch.
Each model contains six microphones. Smart Noise Cancellation, a standard feature for both models, is a patented technology that scans your ear and optimizes the noise-cancelling performance uniquely to your ear and environment. In addition, Rayz promises to deliver exceptional noise cancellation across the entire noise spectrum of everyday life. Rayz also has HearThru mode which lets in just the right amount of outside noise so you can stay in touch with your surroundings without taking your earphones off.
Next, Rayz and Rayz Plus use the embedded microphones to implement sensor-less on-ear detection where the earphones know when they are in or out of your ear and automatically pause and restart your content. Rayz smartly enters a low power mode and saves you from accidental battery use if you do not put the earphones back on.
The Rayz Lightning earphones also support a one-button click to mute the mics during a call. The programmable smart button also allows you access to open apps and to control the advanced features of Rayz.
Finally, an integral part of the Rayz experience is the companion app, available on the App Store. The Rayz by Pioneer app for iPhone, iPad and iPod touch enables you to personalize the earphone's settings like adjusting audio EQ and programming the smart button.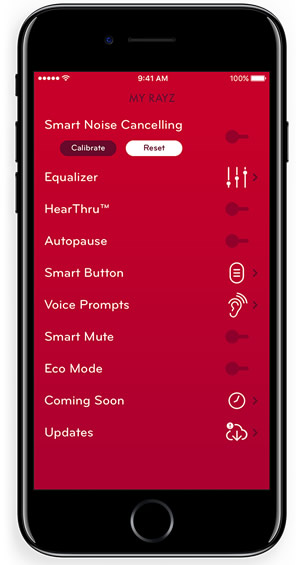 The Rayz earphones are offered in Onyx and Ice and Rayz Plus is available in Graphite and Bronze metallic finishes and will be available at OneCall.com with suggested retail prices of $149.95 (Rayz Plus), $99.95 (Rayz).