Pioneer Unveils Future 3D User Interface
Pioneer unveiled a 3D user interface technology, which allows users to draw text or pictures on a PC screen without using any keyboards, mouse or even touching the screen. Pioneer 3D user interface technology is called "Floating Interface".
The prototype consists of a 15-inch LCD display, a PC, an array of 3D lens (approx. 15-inch), a space sensor and a PC application which includes 3D image processing. User is able to draw a picture by hand in the midair onto a projected virtual screen, as illustrated in the picture below. The space sensors are set around the area where the image is formed. The system sends the location data of the user's finger to the PC via the space sensors. Then, the image is processed in real time, and it is drawn the onto the real 15-inch screen: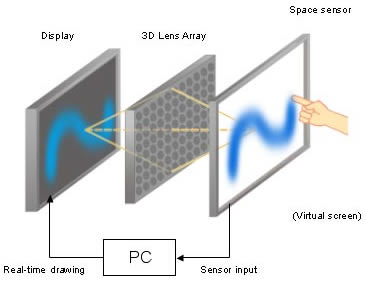 Apart from drawing images, users can drag a virtual PC window on the virtual screen with their fingers. When the virtual window is "touched" a depression is formed on that part of the window. User is also able to enlarge or shrink the window's size.
Pioneer "Floating Interface" has been developed based on the original technology of the "3D Floating Vision," a compact personal 3D image system developed in 2002 with the aim of providing new entertainment.
The new system realizes the ambience of a totally new sense, greatly different from that experienced with conventional 3D systems, and without needing to use any extra "3D" goggles. The Japanese company will be exhibiting a prototype of this technology at CEATEC Japan 2005 from October 4 to 8 at the Makuhari Messe, Japan.