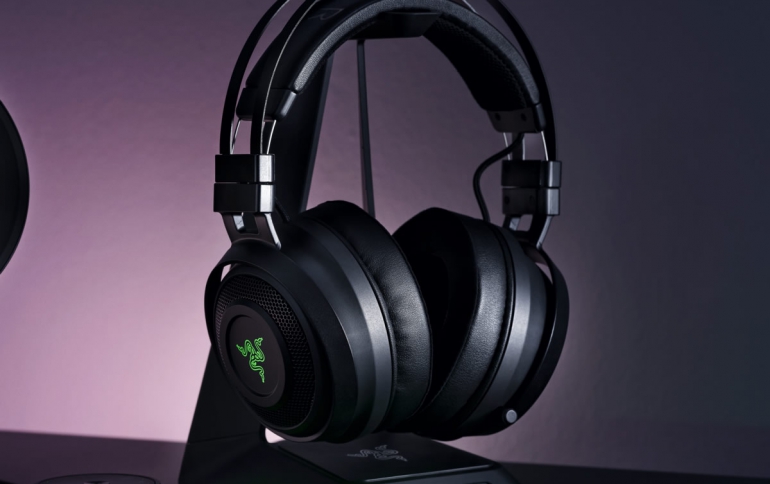 Razer Announces Nari Wireless Gaming Headset Family, With Flagship Model to Support HyperSense Intelligent Haptics
Razer announced the Razer Nari Ultimate wireless gaming headset with Razer HyperSense, featuring advanced haptics to deliver immersive sound for gaming, movies and music.
Razer HyperSense features haptics by Lofelt, a German technology company that specializes in creating intelligent haptics for immersive, natural tactile experiences.
Razer HyperSense utilizes special haptic drivers that generate multidimensional haptic feedback, featuring stereo capabilities for enhanced positional awareness. The technology works across all formats of gaming, music and movies without specific integration by converting audio signals into tactile feedback in real time.
The Nari Ultimate was also engineered with comfort technology that includes an auto-adjusting headband for a fuss-free fit, swiveling ear cups to fit every head shape, and cooling gel ear cushions that keep gamers feeling cooler for longer periods of time compared to traditional memory foam ear cups. The cooling gel ear cushions feature hidden indented eyewear channels for a more comfortable fit with eyewear, as well.
The Razer Nari Ultimate also utilizes THX Spatial Audio which was introduced with the Kraken Tournament Edition. This feature creates realistic depth by simulating 360-degree sound with pinpoint accuracy for greater awareness during gameplay. The headset has game/chat balance, and it works in both wired and wireless mode for added compatibility across PC, Xbox, PlayStation, Nintendo Switch and mobile devices.
The Razer Nari is available in three versions: Razer Nari Ultimate, Nari, and Nari Essential. The Razer Nari Ultimate described above retails for $199.99. The Razer Nari at $149 omits Razer HyperSense while mirroring the Razer Nari Ultimate in comfort, sound technology and all other features. The Razer Nari Essential focuses on core wireless gaming headset features with THX Spatial Audio, comfort with an auto adjusting headband, and cooling gel ear cushions at $99.99.
Razer Nari Ultimate
Headphones
Frequency response: 20 Hz - 20 kHz
Impedance: 32Ω at 1 kHz  
Sensitivity (@1 kHz): 107 ± 3 dB 
Input power: 30 mW (Max)  
Drivers: 50 mm, with Neodymium magnets 
Inner ear cup diameter: Width 56mm / Length 67mm
Oval ear cushions: Designed for full-ear coverage with cooling gel, perfect for long-wearing comfort 
Connection type: Wireless USB Transceiver / 3.5mm analog 
Wireless range: 12 m / 40 ft
Wireless frequency: 2.4 GHz 
Analog connection: 4 - pole 
Battery life: 8 hours with Razer Chroma lighting and HyperSense / 24 hours without Razer Chroma lighting 
Microphone
Frequency response: 100 - 6.5 kHz  
Signal-to-noise ratio: > 50 dB  
Sensitivity (@1  kHz): -42 ± 3 dB  
Pick-up pattern: Unidirectional  
Lofelt L5 Haptic Drivers
1 in each earcup
Frequency Response: 20 - 200 Hz
Maximum Generated Force: 4.3 G
Intelligent Digital Signal Processing
System Requirements
PC with USB port; PlayStation
Windows 10 / Windows 8 / Windows 7  
Internet connection for driver installation
At least 500 MB of free hard disk space