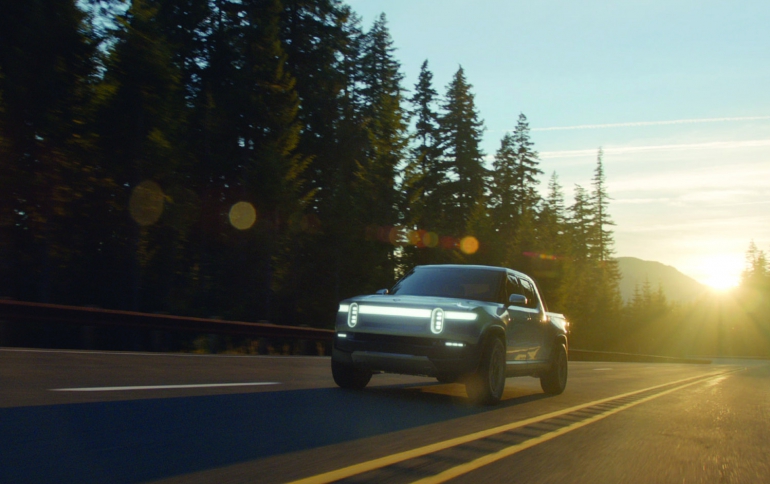 Rivian Unveils Electric Adventure Vehicles
Rivian Automotive debuted its all-electric pickup truck at the Los Angeles auto show on Monday, aiming at becoming a leader in electric pickups.
The company unveiled its Electric Adventure Vehicles — the 5-passenger all-elecreic pickup truck R1T, and the R1S, a 7-passenger SUV, all-electric SUV.
Both vehicles will be produced at Rivian's manufacturing facility in Normal IL. They offer up to 400+ miles in electric range, a wading depth of 1 meter, lockable storage bins, and the performance and precise control of quad-motor AWD.
"We're launching Rivian with two vehicles that reimagine the pickup and SUV segments," said Rivian Founder and CEO RJ Scaringe. "I started Rivian to deliver products that the world didn't already have – to redefine expectations through the application of technology and innovation. Starting with a clean sheet, we have spent years developing the technology to deliver the ideal vehicle for active customers. This means having great driving dynamics on any surface on- or off-road, providing cargo solutions to easily store any type of gear, whether it's a surf board or a fishing rod and, very importantly, being capable of driving long distances on a single charge. From the inside out, Rivian has developed its vehicles with adventurers at the core of every design and engineering decision. The R1T and R1S are the result of all this work and we are excited to finally introduce these products to the world."
The foundation of the R1T and R1S is Rivian's skateboard platform, which packages the battery pack, drive units, suspension, braking and thermal system all below the height of the wheel, leaving the space above for occupants and their gear.
This architecture also delivers a low center of gravity that supports the vehicle's agility and stability. Adding to these is a suspension architecture with unequal length double wishbone suspension in the front and a multi-link suspension in the rear. The suspension features dynamic roll control and adaptive dampers along with ride-height adjustable air-suspension – allowing the suspension to be adjusted for highway comfort, on-road performance or off-road capability.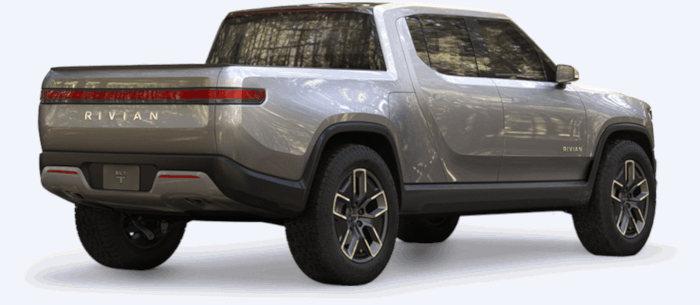 Rivian's vehicles also feature a quad-motor system that delivers 147kW with precise torque control to each wheel, enabling active torque vectoring and maximum performance in every situation, from high-speed cornering to low-speed rock crawling. With 3,500 Nm of grounded torque per wheel (14,000 Nm of torque for the full vehicle), the R1T and R1S can both reach 60 mph in 3 seconds and 100 mph in less than 7 seconds. This powertrain and chassis also enable the R1T's tow rating of 11,000 pounds.
The company will equip the new vehicles with three battery options, with the 180 kWh and 135 kWh available at launch and a 105 kWh being made available within six months.
The battery is designed for fast charging with charging rates of up to 160kW. This enables approximately 200 miles of range to be added in 30 minutes of charging. In addition to DC fast-charging, an 11kW onboard charger facilitates rapid charging at a Level 2 charger.
The R1T and R1S will also launch with a hardware suite with multiple modalities including camera, lidar, radar, ultrasonic and a high precision GPS coupled with high definition maps. This hardware enables "Level 3" (hands-off wheel and eyes off road) autonomy for highway operation. Beyond the highway Level 3, the vehicle will have a range of self-driving features.
Rivian's truck will offer a payload of 1,760 pounds and a towing capacity of 11,000 pounds.
Rivian intends to begin selling its R1T in the fall of 2020. That would not make Rivian the first to the U.S. market with an electric pickup. Cincinnati-based truck maker Workhorse Group Inc is also developing an electric pickup that is slated for production in 2019.
Rivian has not disclosed prices for its truck, but it is expected to start at just under $70,000 before federal tax credits for the entry-level model.
The Detroit Three automakers have not jumped into the market for electric pickups. Tesla's CEO, Elon Musk, told investors in August that an electric pickup is "probably my personal favorite for the next product" from the company, though he has spoken only in general about a potential launch, saying that it would happen "right after" Tesla's Model Y, which the company has targeted to start production in 2020.
Ford Motor Co has promised a hybrid F-150 pickup by 2020 and hinted at a fully electric model some day. General Motors Co's CEO, Mary Barra, has said the U.S. automaker has given a "tiny bit" of thought to developing all-electric pickups.
Fiat Chrysler Automobiles NV has a hybrid electric-gasoline version of its Ram pickup. Japan's Toyota Motor Corp said it hopes to make electric options on all models available by 2025.
Rivian's financial backers include Saudi auto distributor Abdul Latif Jameel Co (ALJ), Sumitomo Corp of America and Standard Chartered Bank.