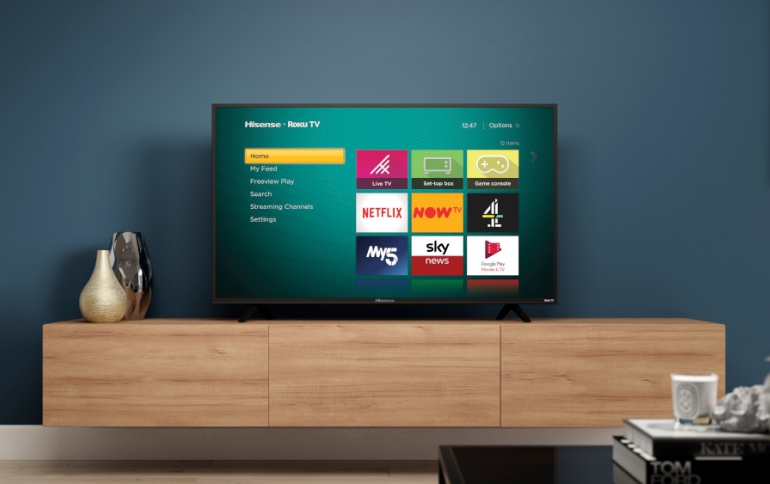 Roku Expands Roku TV Licensing Program Into Europe
Streaming company Roku, whose software runs one in three smart TVs in the United States, is turning to the European market as competition with Amazon goes international.
Roku announced at IFA 2019 it is expanding the Roku TV licensing program into Europe. Roku CEO Anthony Wood shared during his keynote speech that Hisense is the first European Roku TV partner and is expected to launch Roku TV models in the UK in Q4. Hisense Roku TV models combine Roku's operating system including thousands of streaming channels; with Hisense's picture and screen technologies 4K Ultra HD resolution and enhanced detail and contrast levels of HDR.
TV manufacturers can license Roku TV reference designs and use the Roku OS to build smart TVs. Roku TV was first introduced at the 2014 Consumer Electronics Show, and today 100+ models are available from 10+ brands in North America. Roku estimates that in the first half of 2019 more than one-in-three smart TVs sold in the U.S. were Roku TVs, making the Roku OS the #1 selling smart TV OS in the U.S.
Roku TV removes the complicated layers and menus, and unnecessary features and settings that plague smart TVs today. Instead, Roku TVs feature a Roku home screen that showcases all available content sources in one place making it easy to watch live programming, stream a movie or TV show, or listen to a song in just seconds. Just like Roku streaming players, Roku TVs have full access to the Roku Channel Store filled with thousands of streaming channels that offer access to 150,000 movies and TV shows as well as live sports news, music, kids, food, science, tech, fitness, foreign language and other programming. Roku TV models can be controlled with either an included TV remote or with the Roku mobile app for Android and iOS devices. With the Roku mobile app consumers can stream entertainment to their Roku TV, use their voice to search for movies and TV shows, and enjoy private listening of TV audio with headphones.
TV manufacturers receive the Roku TV reference platform complete with TV and remote control designs as well as technical support to manufacture and maintain their Roku TVs. Meanwhile, Roku manages the entire software ecosystem for all Roku TVs which includes securing and updating streaming channels and providing frequent software updates to deliver new features and experience enhancements.
Hisense Roku TV models will initially launch to UK consumers. Hisense Roku TV models are expected to be available for purchase in the UK in Q4 in sizes ranging up to 65 inches.
In Europe, Roku faces the might of Amazon, which unveiled a string of deals a IFA to bring its Fire TV platform to living rooms, partnering with Grundig, JVC and Toshiba.
One of the Grundig models will run on Alexa, Amazon's digital voice assistant, making it possible to dispense with a remote control and instead select programming by 'talking' to the TV.
Some high-end TV makers, like Samsung, still run their own operating systems but for mid-range flatscreens a platform contest between Roku and Amazon is emerging.
Roku is also making more money from digital advertising as marketers shift budgets from commercial TV to streaming, reflecting the cord-cutting trend among viewers.