Samsung 55" OLED TV Enter Mass Production
At the 2012 Samsung Premium TV Showcase, Samsung unveiled its first large-screen OLED TV ready for mass production (ES9500), spanning 55-inches in screen size. Announced in January at CES 2012, the Samsung ES9500 OLED TV features high picture quality, a wide range of Smart Content, and premium design. Also at today's 2012 Premium TV Showcase event, Samsung announced the strategy and revealed further detail across its new, large-screen 2012 premium Smart TV line.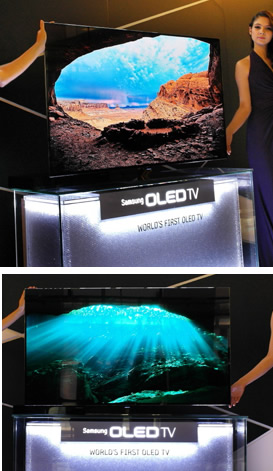 Samsung?s new OLED TV is comprised of self-emitting light sub-pixels - all of which can be adjusted individually. According to Samsung, this means that the technology is able to differentiate between varying degrees of blacks, enabling its unlimited contrast ratio. The ES9500's self-emitting sub-pixels can individually reproduce life-like colors that are 20-percent richer than those found on LED TVs.
Further, since Samsung?s ES9500 OLED TV does not need a separate light source, it offers fast response times, eliminating motion blur. The very high response rate also enables the OLED TV to provide crosstalk-free 3D images.
Samsung's new OLED TV also supports a new "dual view" function. With this new feature, two people can watch two channels in full-screen mode at once, in full HD, and can also hear each program separately in stereo through earphones attached to 3D glasses.
Samsung's new OLED TVs will also support Smart Interaction, Smart Content and Smart Evolution - the features that were introduced to Samsung's flagship Smart TVs early this year.
The ES9500 OLED TV will retail inSouth Korea in the second half of this year for at least 10.8 million won ($9,450) .
Aside from the new ES9500 OLED TV, Samsung today also revealed it is extending its 2012 premium TV lineup to TVs from 60-inches to 75-inches in size.
Samsung's rival LG is also set to release its 55" OLED TV panel this year.
Samsung's 55-inch OLED panel is made using the existing Fine Metal Mask (FMM) process in favour of Small Mask Scanning (SMS). LG's panel adopts an Oxide TFT technology for backplane which is different from a Low Temperature Poly Silicon (LTPS) type generally used in existing small-sized OLED panels. The Oxide TFT type that LG Display utilizes is similar to the existing TFT process, with the simple difference lying in replacing Amorphous Silicon with Oxide. Moreover, the Oxide TFT type produces identical image quality to high performance of LTPS base panels at significantly reduced investment levels.