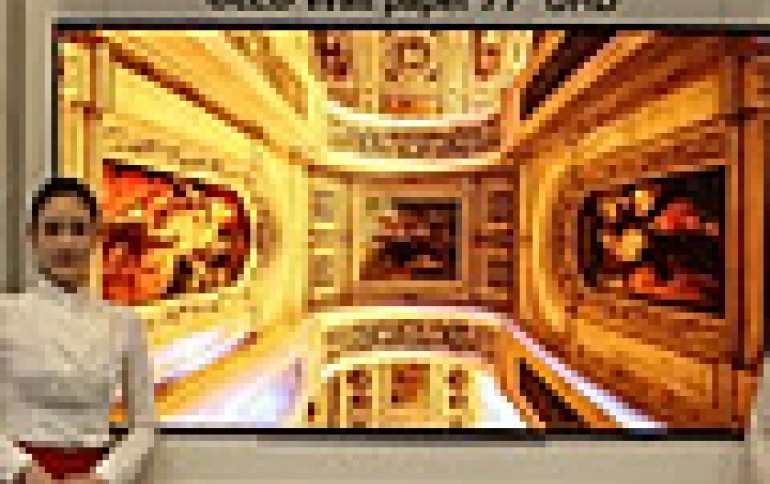 Samsung and LG Showcase Next-generation Displays at IMID 2017
Both South Korean Samsung Display and LG Display attend the 17th International Meeting on Information Display (IMID 2017) conference held at the COEX in Seoul October to unveil their advanced display products.
LG Display
Under the slogan of "Our Technology, Your Innovation," LG Display emphasized the OLED technology at the conference.
LG Display showcases a 65-inch UHD Crystal Sound OLED with sound coming directly from within the screen and a 77-inch Wall Paper display that can completely stick to the wall.
The company will also display a 55-inch Video Wall OLED, a columnar-shaped commercial display consisting of six 77-inch UHD panels and a 55-inch transparent OLED display, showing boundless potentials for OLEDs that can make use in various applications.
LG Display's plastic OLED (POLED) technology can maximize the degree of freedom of designs. Its 12.3-inch cluster display, which has a perfect picture quality of OLEDs with spontaneous emission features, and improves design flexibility, presents a new vision of car designs. Ushering into the full-screen mobile era, the company will also seek to enter the small and mid-size OLED market by releasing its 6-inch QHD+POLED display with the picture ratio of 18 to 9.
Targeting the premium market, LG Display introduces three kinds of LCDs with best specifications, including a 65-inch UHD LCD based on U-IPS that is more advanced than existing LCDs, 65-inch IPS Nano Color LCD that can express richer colors, 65-inch 8K LCD that has four times more precise resolution.
In addition, LG Display extended the application of the in-TOUCH technology to LCDs for laptops and monitors. The company's in-TOUCH technology has not only good touch performance but also high resolutions so that it can realize a slim design by minimizing the width of bezels on the sides without the increase in touch circuits.
Samsung Display
Samsung Display is showcasing an 98-inch 8K (7680x4320) ultra-high resolution liquid crystal display (LCD), which has the
the performance of an ultra-high resolution Retina TV display in terms of image quality even at close viewing distances.
The company also unveiled a 4.9mm 65-inch ultra slim curved LCD. Samsung representatives explained that Samsung's 65-inch ultra-slim curved LCD product is the world's first product to reduce thickness by using glass light guide plates instead of conventional plastic LGPs.
Other products on display included a 65-inch frameless UHD curved LCD screen with a 32:9 aspect ratio, a 49-inch Ultra Wide Curved Monitor featuring a resolution of 3840x1080 pixels, a 144Hz refresh rate and a wide field of view.
Samsung Display had also set up a corner where viewers could compare the image quality of their small and medium-sized OLEDs and LG Display's small and medium-sized liquid crystal display (LCDs) panels side by side.
OLED products for various applications were also showcased, including 1.5-inch curved OLEDs and 1.3-inch round OLEDs for smartwathces, and 12-inch and 9.7-inch products for tablets.
Samsung Display also unveiled a variety of automotive OLED products. A 12.3-inch OLED (1920x720, 800 lumen of brightness) cluster could replace the vehicle dashboard. A
4.94-inch transparent OLED HUD (head-up display) has a brightness of 1000 lumen and a transparency level of 40 percent, meaning it can be used even during daytime driving.
Smartphone display designs included flexible OLEDs for mobile phones.