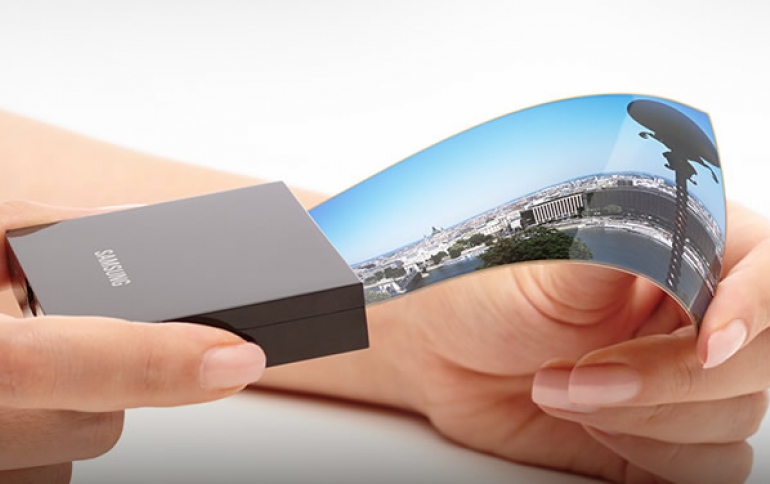 Samsung Display Details the Technology Behind its Flexible AMOLED Displays
Samsung Display, the largest producer of OLED and LCD electronic display panels in the world, has outlined technical details related to its new Flexible AMOLED display now being used on Galaxy S6 edge smartphones. OLED technology is widely considered the premium technology for mobile displays due to its high color gamut, high contrast (blackest blacks), more natural images than conventional displays, and optimized features such as touch control and speed of access. Samsung Display's latest version provides extremely bright, colorful images with 3.6 million pixels, in addition to low power consumption and an unusually fast response time.
In Oct, 2013, Samsung Display mass produced a display using the first flexible AMOLED (active matrix organic light-emitting diode) technology in a curved design, and applied it to the Samsung Galaxy Round smartphone. Last year, with the release of the Galaxy Note Edge, it improved the technology as the YOUM Bended Display and saw it introduced in the Samsung Note Edge display. With its new Flexible AMOLED Display, Samsung Display is now taking another step to advance design innovation in the smartphone market even further with its first dual-edge display being introduced in the Galaxy S 6 edge, which features two curved or beveled sides.
Flexible AMOLED technology will continue to evolve from curved, to bended, foldable and even "rollable" designs. Samsung's 'Edge' displays are actually the vanguard of the second phase - bended displays.
Samsung Display's Flexible AMOLED uses polyimide (PI), an advanced type of plastic, as the substrate material rather than hard glass used in rigid AMOLED panels. PI is a high polymer material with characteristics of flexibility, resilience and shock resistance. Samsung has been able to make an extremely thin film out of it – less than a millimeter thick (thinner than a human hair). With the thickness of the AMOLED substrate being less than half the thickness of glass substrates in conventional mobile LCD displays, Samsung has been able to deposit an electronic circuit onto it and evaporate a luminant RGB organic device, to realize the display's bendable characteristic – making it potentially more bendable than a human hair.
Samsung's third generation Flexible AMOLED display can be used in a 'dual-faceted' design with two rounded sides or in single-edge applications. Thanks to a curvature of 6.5R for each side, the consumer-minded design is easy to grab onto with just one hand. '
Samsung's Flexible AMOLED delivers Quad HD picture clarity at 1440 X 2560 pixels with a pixel density of 577 ppi, currently the highest resolution available for any smartphone. It can deposit more than 3.6 million RGB organic subpixels on its PI substrate. The total number of pixels in the Flexible AMOLED display is 75 percent higher than the number in a full HD AMOLED screen like that used in the Galaxy S5.
The Flexible AMOLED Display can drive each of its pixels individually. This helps it to reduce power consumption. Its pixel control allows for the use of 'partial operation technology' permitting a smartphone to make use of only 7mm of each column of the curved display at any one time -- therein reducing power consumption today by about 20 percent and possibly more in the future. Comparatively, note that in an LCD mobile display, a simple widget or pop-up message uses the entire backlight unit to illuminate the screen.
The Flexible AMOLED has the industry's highest color reproduction rate. It has a color gamut that perfectly supports the Adobe RGB color scale. Adobe RGB covers a 30% wider range of colors than sRGB, which is the most frequently used color standard today. QHD AMOLED display technology can depict almost 100% of Adobe RGB, while LCD can replicate only about 70% because of its inherent structural limitations in requiring a backlight illumination source.
In adition, AMOLED can respond to image transitions quickly because of light-emitting subpixels that produce their own color. On the other hand, an LCD display passes light by changing the orientation of its liquid crystals (LC). So when the LC's response speed slows – for example at low temperatures, transition time slows down, too. The Flexible AMOLED display has a response speed of 0.01ms, which means that it can deliver images up to hundreds of times faster than a mobile device equipped with an LCD (8ms), once new application processors are introduced.
Samsung estimates that in the near future, more consumer products such as the wearable devices and other entry devices to the Internet of Things will take advantage of flexible display curvature and the feature-rich world of OLED imagery.