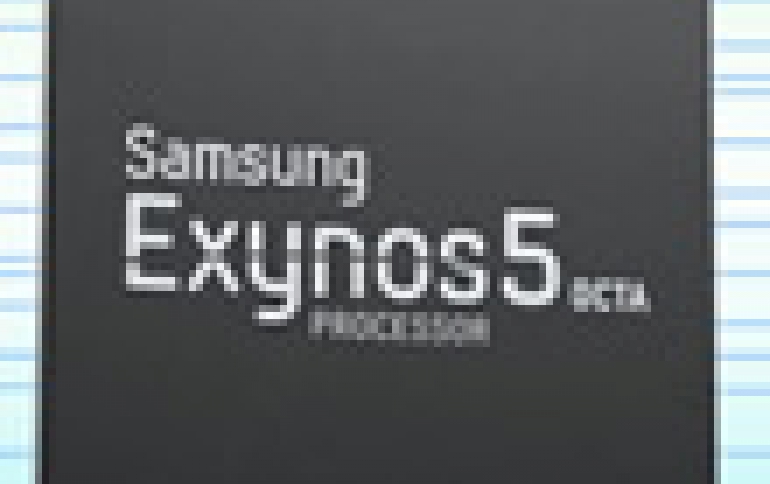 Samsung To Enable All Eight Cores Of Exynos 5 Octa Chip In New Version For Heterogeneous Multi-Processing
Samsung announced its Heterogeneous Multi-Processing (HMP) solution for the Exynos 5 Octa to fully maximize the benefits of the ARM big.LITTLE technology. The HMP capability gives system-level designers the ability to develop solutions that deliver a combination of high-performance and low-power to carry out tasks such as 3D gaming, complex augmented reality and advanced web browsing.
"It's usually assumed that the big CPU will do all the performance-critical work, however, power-efficient little cores can handle many significant workloads all on their own, so the workload is balanced within the system," said Taehoon Kim, vice president of System LSI marketing, Samsung Electronics.
"We welcome Samsung's continued commitment to deploying the leading-edge technology on their latest chips featuring the ARM Cortex-A series of processors, ARM Mali GPUs and ARM Artisan physical IP." said Noel Hurley, vice president, Strategy and Marketing, Processor Division, ARM.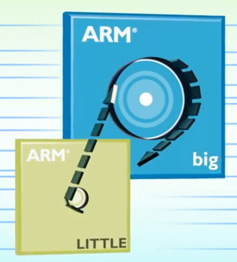 HMP is the most powerful use model for ARM big.LITTLE technology, as it enables the use of all physical cores at the same time. Software threads with high priority or high computational intensity can be allocated to the 'big' Cortex-A15 cores while threads with less priority or are less computationally intensive, can be performed by the 'LITTLE' Cortex-A7 cores, enabling a responsive, low-energy system to be built.
Software implementation is essential to maximizing the benefits of big.LITTLE technology. Multi-processing software controls the scheduling of threads of execution to the appropriate core. In earlier versions of the big.LITTLE software, the whole processor context is moved up to the 'big' core or down to the 'LITTLE' core based on the measured work load. Analysis of diverse use case scenarios enable Samsung to achieve efficiency and high-performance, while managing power levels to deliver optimal user environments.
The HMP solution for Samsung's Exynos 5 Octa application processors will be available in 4Q of 2013.