Samsung Partners with Theater Operator Wanda Cinemas, to Launch China's First Cinema LED Theater
Samsung's Cinema LED Theater technology continues to expand, following implementations last year at theaters in Korea and Thailand, as well as Switzerland.
Samsung is partnering with the world's largest theater operator Wanda Cinemas to bring its Cinema LED Screen technology to Wanda's Wujiaochang theater, located in Shanghai's Yangpu District, China. The theater marks the first implementation of Samsung's Cinema LED Screen in China, and follows implementations in Asia last year in Seoul and Busan, Korea, and Bangkok, Thailand, and also in Europe, at the Arena Cinemas Sihlcity in Zurich, Switzerland.
Wanda Cinema Line Corp. operates nearly 14,347 screens at more than 1,352 theaters around the world, and also owns global cinema brands including AMC, Carmike, Odeon and Hoyts Group. Even as Cinema LED at Shanghai's Wujiaochang theater launches, Samsung and Wanda Cinemas already are finalizing a second cinema conversion in Beijing, with plans to open the venue to the public in the first half of this year.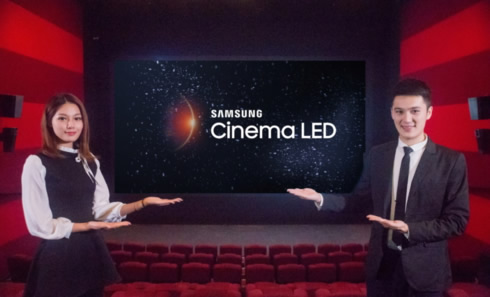 As the world's first Digital Cinema Initiatives (DCI)-compliant High Dynamic Range (HDR) LED theater display, Samsung's Cinema LED Screen delivers excellent visual quality, performance and reliability that surpass that of legacy projector-based operations. Stretching nearly 10.3 m. (33.8 ft.) wide, the Cinema LED Screen fits comfortably in usual theater configurations, maintaining the same picture quality at even the widest viewing angles. The display also transforms content with 4K resolution (4,096 x 2,160) and peak brightness levels nearly 10 times greater than the typical cinema standard.
Samsung has paired its Cinema LED Screen with audio technologies from JBL by HARMAN. This integration includes powerful speakers bordering the screen, and an expanded audio "sweet spot" throughout the theater's seating area.