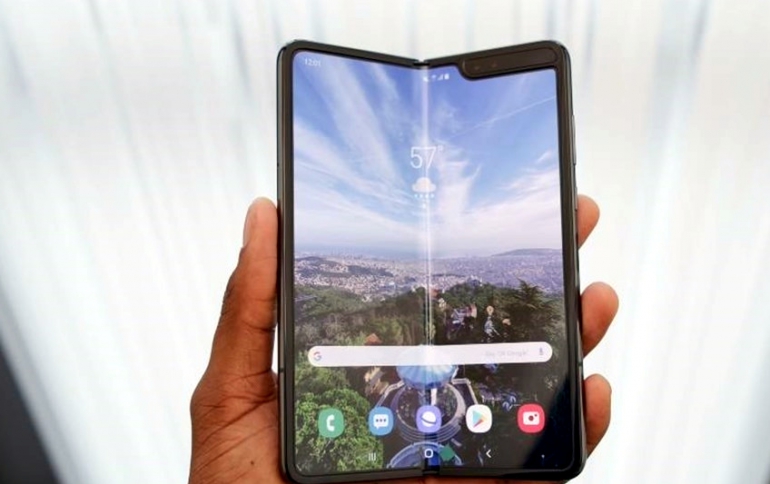 Samsung Postpones Launch of Galaxy Fold
Samsung Electronics has decided to postpone the global release of the Galaxy Fold foldable smartphone after display issues were uncovered by various tech reviewers.
Samsung's announcement came after reports by some journalists who peeled off the top layer of the display, a move that could cause the foldable smartphone to malfunction. The Galaxy Fold, which Samsung introduced in February, was scheduled to be released in the U.S. April 26, May 3 in Europe and mid-May in Korea.
Though Samsung said the top layer is designed to protect the screen and is not meant to be removed, the reviewers said they did so because they were not advised properly and the packaging for reviewers didn't contain a warning about peeling off the protective layer.
Other problems with the foldable phone display were also exposed. Some reviewers said the screen started flickering even though they didn't take off the protective layer. Another said the screen on one side began responding faster than the other side.
After the reports, Samsung inspected the Galaxy Fold samples to find the cause of the problems. The firm made the decision to delay the release of the foldable phone.
"To fully evaluate this feedback and run further internal tests, we have decided to delay the release of the Galaxy Fold," the firm said in a statement adding it will announce a new release date "in the coming weeks."
"Initial findings from the reported issues with the display showed that they could be associated with impacts on the top and bottom exposed areas of the hinge. There was also an instance where substances found inside the device affected the display performance," the firm said.
"We will take measures to strengthen the display protection. We will also enhance the guidance on care and use of the display including the protective layer so that our customers get the most out of their Galaxy Fold."