Samsung to Reveal Creative Lab Projects for Kids and Skincare at CES 2017
Samsung Electronics will display three more Creative Lab (C-Lab) projects during CES 2017, at Eureka Park.
Created in December 2012, C-Lab is a startup business program that encourages a creative corporate culture and nurtures ideas from Samsung employees. The program supports the development of ideas from all areas of the business.
Projects that will be unveiled at CES 2017 are Tag+, an electronic device that adds extra functionality to kids' toys; S-Skin, a home skincare and analysis solution; and Lumini, a portable device that checks the inner skin to identify and prevent skin problems.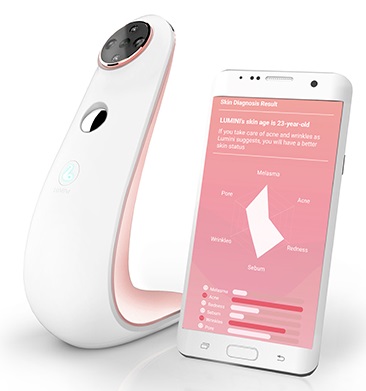 Tag+ is a button-type device that kids can easily use. The device is a digital companion that connects to toys and a smartphone app through Bluetooth LE and introduces new interactions. Depending on whether kids click, long-press, shake or bump the smart tag, the companion application responds accordingly, opening new doors for kids to have fun. With Tag+, kids can have multiple experiences with a toy without losing interest.
S-Skin is a consumer skincare solution that saves time and cost associated with professional dermatological care. It is comprised of a microneedle patch and a portable device that analyses and cares for the skin. The microneedle patch can deeply penetrate the skin to deliver effective ingredients and enhance absorption. The device can measure the hydration, redness, and melanin of the skin to provide customized skincare using LED light. The condition of the skin is saved in the accompanying app to track changes over time.
Lumini is a portable device that spots skin problems before they happen. After taking a picture of the face with Lumini, the device analyses the information with its own algorithm and sends the information to a smartphone app. The device identifies issues under the surface of the skin, like pimples, freckles, increased pores, wrinkles, redness, and sebum. Lumini also recommends cosmetic products based on the analysis and provides a remote consulting service with a dermatologist or a skincare specialist.
Five additional C-Lab projects that have spun off will be exhibited at CES 2017: MANGOSLAB, a compact printer that prints memos from smart devices to Post-it note paper; Jameasy, a solution that helps users practice an acoustic musical instrument through a sensor module attached to the instrument; MOPIC, a smartphone cover that helps view 3D content without glasses; Analogue Plus, a hands-free device for headgear; and WELT, a fashionable belt for healthcare.