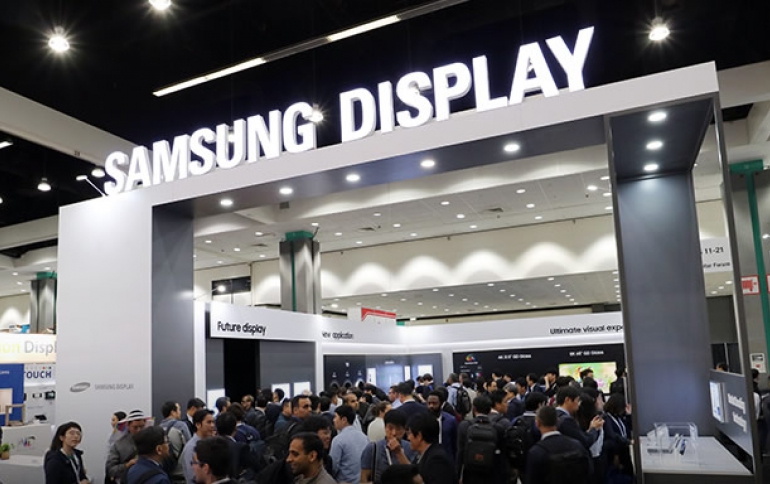 Samsung to Showcase 'Stretchable' OLED, Glasses-free 3D OLED At SID 2017
Samsung Display said Monday it will showcase the world's first "stretchable" OLED, long with a glass-free 3D OLED and an ultra-high resolution LCD at the the Society for Information Display (SID), which will run from Tuesday to Thursday in Los Angeles.
The South Korean company said the stretchable OLED display is unique since it can bend in both directions, while previous flexible panels could only bend in one direction. The new 9.1-inch display can stretch as much as 12 millimeters when pressed, and yet still maintains a high degree of resolution.
Samsung Display will also have on dispaly a 5.09-inch OLED that shows realistic 3D images depending on the viewer's angle. samsung says that the high contrast ratio of the OLED allows for more realistic 3D images than LCDs. The technology could be used in future products such as 3D books, 3D games and VR applications.
Also on SDI's booth at SID will be ultra-high-resolution LCDs, designed for applications related to virtual reality, augmented reality and holograms.
Despite its small size of 1.96, the LCD has a resolution of UHD (3840X2160)and the world's highest pixel density of 2250 pixels per inch (ppi). The display [packs a a total of 780,000 pixels on a 1cm2 screen - about 15 times more thoe packed by a 5-inch QHD (2560 x 1440) smartphone display.
Other products on display include:
a 3.5-inch, 858ppi, 120Hz OLED optimized for VR devices or wearables
a 65-inch frameless LCD curved TV that minimizes screen reflections and achieves color reproduction of 100% (DCI-P3 standard) by applying ultra-low reflection POL (polarizer)
a 34-inch QHD + (3440X1440) LCD curved monitor with a 21: 9 ratio
a 27-inch FHD (1920X1080) 144Hz LCD curved monitor with