Samsung Unveils Its New QLED TVs, LG Responds With New Signature OLED TV W Series
The QLED TV is world's first television to reproduce 100 percent color volume thanks to new and advanced Quantum Dot technology
Samsung Electronics today announced its new QLED TV series - Q9, Q8, and Q7 - during the company's 2017 product unveiling at CES. Rival LG Electronics is introducing TV that is thin as a wallpaper -- the LG Signature OLED TV W.
Samsung promotes its 2017 QLED TVs as another leap forward in terms of image quality.
"2017 will mark a major paradigm shift in the visual display industry, ushering in the era of QLED," said HyunSuk Kim, President of the Visual Display Business at Samsung Electronics. "With the advent of QLED TV, we provide the most true-to-life picture on screen. We have been successful in solving for past inconsistencies in the viewing experience and consumer pain points while redefining the fundamental value of TV."
Samsung's new lineup offers improved color performance, displaying DCI-P3 color space accurately and is capable of showcasing 100 percent color volume. This means they can express all colors at any level of brightness - with even the subtlest differences visible at the QLED's peak luminance - between 1,500 and 2,000 nits.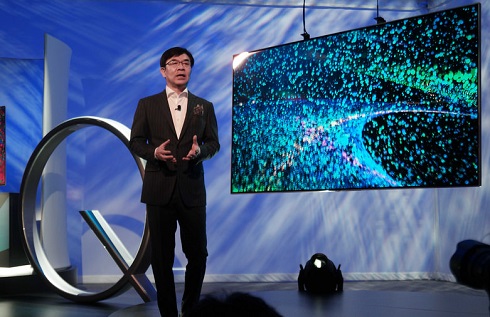 Color volume presents color that can be expressed at different levels of brightness. For example, a leaf can be perceived as different colors from yellowish green to turquoise, depending on brightness of the light. Samsung says that its QLED TV display can capture even subtle differences in color pertaining to brightness. This is a result of Samsung adding a new metal material to its nano-sized semiconductor Quantum dots, which improves color accuracy and luminance efficiency.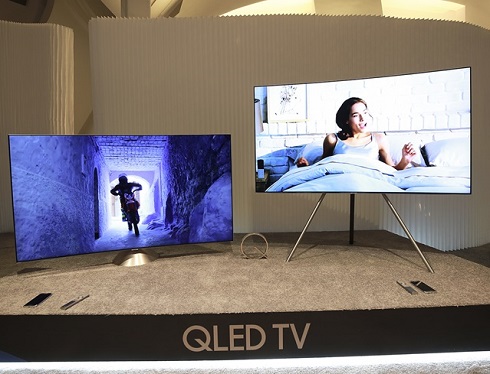 Samsung says it has solved one of the basic problems of LCDs - the display of deep blacks. The company claims that the new metal Quantum dot material enables the QLED TV to express blacks and rich detail regardless of how light or dark the scene is, or whether the content is being played in a brightly lit or darkened room. Furthermore, Samsung's QLED TV can generate peak luminance as high as 1,500 to 2,000 nits of brightness, with no impact on its ability to deliver accurate and impeccable color. In addition, with the new Quantum Dot technology, "brightness no longer has to be compromised to boost color performance, which is also maintained regardless of how wide the viewing angle may be," according to Samsung.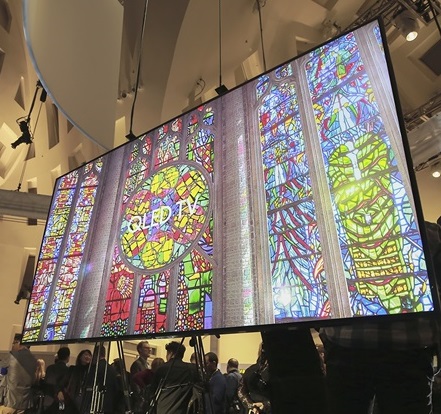 Samsung also used today's product unveiling to highlight new design features.
"With the QLED TV, we've solved problems that everyone -and every home-has experienced; cable clutter, thick wall mounts and a slew of devices sitting right under the TV," said Dave Das, Senior Vice President of Consumer Electronics Marketing for Samsung Electronics America. "With our 2017 lineup, the focus remains where it should be-the content on the screen -not everything surrounding it."
The improvements to design and usability in the QLED TV series include a single, transparent 'Invisible Connection' cable, through which all of the peripheral devices can be gathered and connected to the TV. This is in addition to the 'No-gap wall-mount', which makes it quick to affix the TV flush against the wall. Or, for those who prefer not to mount the TV, Samsung is offering two new stands designed to elevate and showcase the QLED TVs as home accessories all by themselves. Consumers can choose either the 'Studio Stand', which resembles an easel with a painting, or the 'Gravity Stand', which when attached to the TV, resembles a sculpture.
This year, the 'Smart Hub' interface has been extended to smartphones through Samsung's improved 'Smart View' app, which now provides an overview of all available content on the app's home screen. Thus, consumers can use their mobile device to select and start their favorite live TV programs and video-on-demand services - on their TV, through the 'Smart View' mobile app. Consumers can also choose to receive alerts on their mobile devices about their favorite content, regarding for example, show times and availability.
Samsung also introduced two new Smart TV services, including 'Sports', which shows a customizable summary of a customer's favorite sports team and its recent and upcoming games, and 'Music', which can identify songs as they are being played live on a TV show, among many other features.
Samsung's rival LG Electronics has been invested in OLED technolofy and although the company is offering the Nano LCD TV series for 2017, its premium TV offerings are OLED TVs.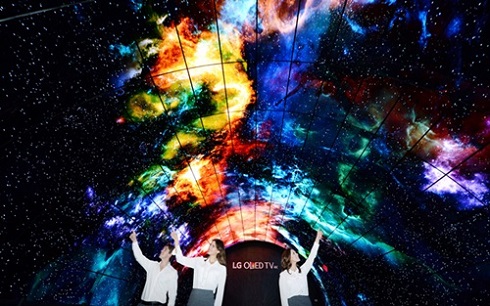 This year, LG is introducing at CES 65-inch and 77-inch UHD display panels for TVs that are thin as a wallpaper.The new 'LG Signature OLED TV W' is so thin that it can be attached to the wall and look like a normal wallpaper.
LG had showcased such a concept back in 2015, with TV models sized at 55 inches, a thickness of 0.97mm and a weight of 1.9kg.
Since each pixel produces light, OLEDs do not require a backlight like LCD TVs do. This allows the TV to be thinner and be manufactured in various form factors.
LG will also showacse at CES a 55-inch full HD transparent display panel along with future products, including 77-inch UHD double-faced display panels and commercial display panels consisting of six 77-inch UHD panels.
In-plane switching (IPS) technology, such as a wide viewing angle high resolution, has been also advanced further. Based on a higher transmittance and upgraded image quality, LG Display will unveil wide color gamut (WCG), which is capable of producing a wide range of colors, high dynamic range (HDR), which can represent a greater range of luminance levels, and high resolution technology solutions. The IPS nano color technology to be introduced at the CES 2017 is LG Electronics' own WCG technology that can produce more accurate and rich colors using nano-sized high color reproduction particles. The company will also expand the use of the In-Touch technology which pre-install touch sensors to 24-inch monitors.
In addition, LG Electronics will display the world's largest 38-inch curved monitors, which is suitable for the working environment like stock trading and watching movies, 32-inch 8K monitors and professional HDR monitor panels for broadcasting and image editing as well as automotive products of the future using the plastic OLED (P-OLED) technology. The company has set up an actual car-like exhibition space to showcase future concept products, including large transparent OLEDs and mirror OLEDs, as well as cluster, which has an improved safety and convenience, central information display (CID) and passenger seat display panels.