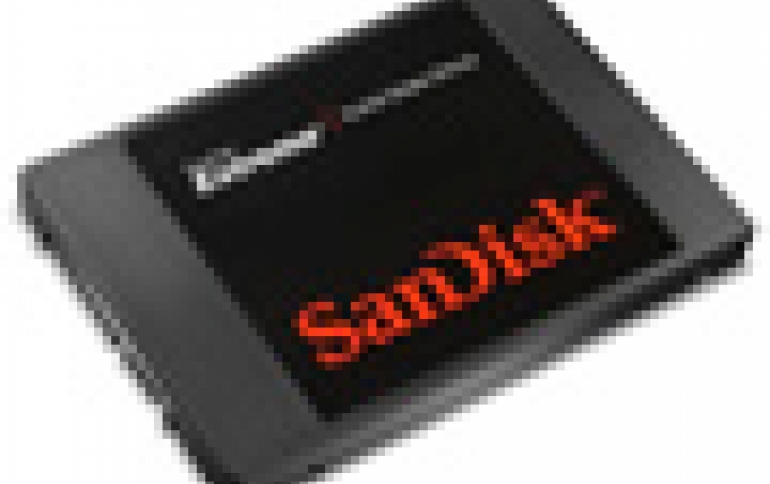 SanDisk Launches High-Performance Solid State Drives
SanDisk today announced SanDisk Extreme and the SanDisk X100 SSDs, two high-performance solid state drives for the retail channel. The SanDisk Extreme SSD delivers up to 83,000 maximum random write Input-Output Operations Per Second (IOPS) and up to 44,000 random read2 IOPS. Sequential read performance is up to 550 megabytes-per-second (MB/s) and sequential write speed up to 520MB/s, according to Sandisk.
The SanDisk Extreme SSD is available worldwide now in 120 gigabyte (GB) and 240GB capacities carrying MSRPs of $189.99 and $399.99 respectively. A 480GB version of the drive will ship later this year with an MSRP of $749.99.
SanDisk also announced today the SanDisk X100 SSD, available in capacities up to 512GB. The SSD utilizes multi-level cell (MLC) technology, a SATA 6Gb/s high-performance interface, multi-streaming features and tiered caching technology.
The drive offers up to 500/420 megabyte per second (MB/sec) sequential read/write speeds. In addition to the standard 2.5 inch form factor, the X100 SSD also comes in mSATA and customized thin form factors to address the emerging ultra-thin laptop market.
Partnership With Diskeeper
In related news, SanDisk also today announced it has entered into a worldwide, exclusive agreement with Diskeeper to license its caching software solutions for solid state disk drives (SSDs). Under the terms of the agreement, SanDisk will provide these solutions both as standalone software products as well as bundled with SanDisk?s SSD products for client computing applications.
The agreement initially calls for SanDisk to exclusively license Diskeeper?s ExpressCache and NowOn software products, which improve overall system performance and boot time in dual-drive (paired SSD and HDD) storage configurations. Additional details of the agreement were not disclosed.
Caching solutions used in computing provide a location for frequently accessed information to be stored and retrieved quickly. A flash memory-based cache can be combined with caching software to improve the performance of hard disk drive (HDD)-based solutions.