Seagate, WD Start Shipments Of their Ultra-Thin Hard Disk Drives
Both Seagate and WD have started shipping their ultra-thin hard disk drives for ultrabooks. WD is offering its 7mm WD Blue HDDs with capacities of up to 1TB, while Seagate is releasing its 5mm Seagate Laptop Ultrathin HDDs, available in capacities 320GB and 500GB versions. Just 5mm thin, the Seagate Laptop Ultrathin HDD is designed to be integrated into ultra-thin mobile computing devices and tablets.
Seagate's 2.5- inch drive is just 5mm thin and weighs a mere 3.3oz . It delivers up to 500GB of capacity in 25 percent less space than its previous-generation 7mm counterpart, freeing up real-estate within portable devices to accommodate additional designed-in features such as longer-life batteries and better air circulation.
An affordable alternative to SSD storage, the HDD is delivering a great cost per GB and cost per millimeter for ultrathin applications. It incorporates a 6Gb/s SATA interface and comes with the industry standard SATA connection for easy integration into existing laptops supported by both hard drive and SSD storage. SED encryption is available on the 500GB capacity version.
The Seagate Laptop Ultrathin has a manufacturer's suggested retail price of $89.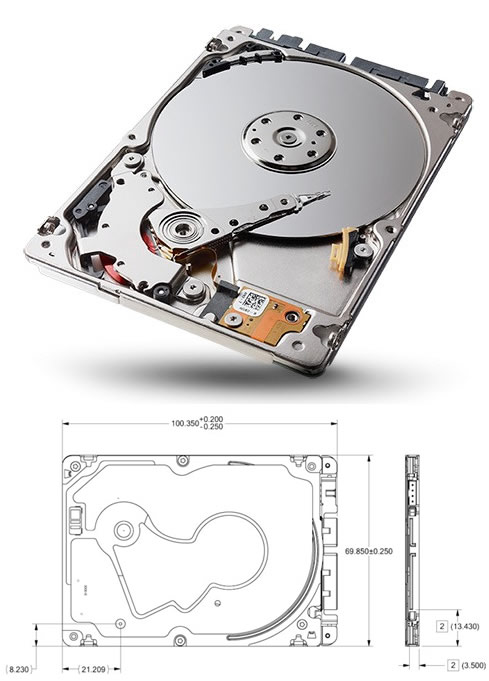 Seagate's rival Western Digital is also shipping its new 2.5-inch WD Blue 7 mm hard drive, offering capacities from 320 GB to 1 TB.
Compatible with the industry-standard 9.5 mm drive slots of mainstream notebooks, the WD Blue 7 mm hard drives include WD?s ShockGuard technology for protection against shocks; WD?s WhisperDrive technology for quiet operation; the StableTrac technology which secures the motor shaft at both ends to compensate for system-induced vibration and stabilize platters and; dual stage actuators to improve positional accuracy over the data track. The primary actuator provides coarse displacement using conventional electromagnetic actuator principles. The secondary actuator uses piezoelectric motion to fine tune the head positioning to a higher degree of accuracy. Last but not least, WD?s SecurePark parks the recording heads off the disk surface during spin up, spin down, and when the drive is off. This ensures the recording head never touches the disk surface.
WD WD Blue 7 mm hard drives are shipping now. The new 1 TB WD Blue 7 mm 2.5-inch mobile hard drive is covered by a two-year limited warranty. MSRP for the 1 TB, model#: (WD10SPCXX) is $139.00 USD.
5mm Seagate Laptop Ultrathin HDDs
Capacity

500GB

320GB

Form Factor

2.5"

2.5"

Interface Options

SATA 6Gb/s

SATA 6Gb/s

Performance
Spindle Speed (RPM)

5400

5400

Cache (MB)

16

16

Transfer Rate, Max Ext (MB/s)

600

600

Sustained Data Rate OD

100MB/s

100MB/s

Average Latency (ms)

5.6

5.6

Power Management
Seek, Typical Operating (W)

1.4

1.4

Idle, Typical Operating (W)

0.47

0.47

Environmental
Temperature

Operating

0° to 60°C

0° to 60°C

Non-operating

-40° to 70°C

-40° to 70°C

Shock

Operating: Gs (ms)

400 (2ms)

400 (2ms)

Non-operating: Gs (ms)

1000 (1ms)

1000 (1ms)

Acoustics (bels - sound power)

Idle

2.0

2.0

Operating

2.2

2.2

Physical
Height (in/mm)

0.197/5.0

0.197/5.0

Width (in/mm)

2.75/69.85

2.75/69.85

Length (in/mm)

3.95/100.35

3.95/100.35

Weight (lb/g)

0.205/93

0.205/93
| Seagate Model Number | Capacity | Interface | Height |
| --- | --- | --- | --- |
| ST500LT032 | 500GB | SATA 6Gb/s | 5.0mm |
| ST500LT033 | 500GB | SATA 6Gb/s | 5.0mm |
| ST320LT030 | 320GB | SATA 6Gb/s | 5.0mm |
Specifications WD Blue 1 TB SATA Hard Drive ( WD10SPCX)

Interface
SATA 6 Gb/s
Performance
Rotational Speed
5,400 RPM (nominal)
Buffer Size
16 MB
Average Latency
5.50 ms (nominal)
Transfer Rates
Buffer To Host (Serial ATA)
6 Gb/s (Max)
Physical
Formatted Capacity
1,000,204 MB
Capacity
1 TB
User Sectors Per Drive
1,953,525,168
| | |
| --- | --- |
| Height | 7.0 mm |
| Depth | 100.2 mm |
| Width | 69.85 mm |
| Weight | 0.09 kg |
Environmental
Shock
Operating Shock (Read)
350G, 2ms
Non-operating Shock
1000G, 2 ms
Temperature
Operating
-0° C to 60° C
Non-operating
-40° C to 65° C
Electrical Specifications
Current Requirements
Power Dissipation
Read/Write
1.7 Watts
Idle
0.57 Watts
Standby
0.18 Watts
Sleep
0.18 Watts
Operating System compatibility
Windows/Mac