Acer And Asus Showcase New Tablets And Ultrathins At Computex
Taiwan's PC makers Acer and Asus are unveiling a new generation of ultra-thin laptops at the world's second-biggest computer show this week.
On Monday, both Acer and Asus unveiled a new generation of laptop-tablet hybrid known as the Ultrabook.
At an Acer pre-Computex presentation Monday, group president Jim Wang said the computer vendor has "reinvented" itself over the past two years, engaging in "progressive design" that aims to not only satisfy users' needs but also allow them to enjoy the devices.
Wang unveiled the 8-inch Windows-8 based Iconia W3 tablet that combines both home and office functions. Powered by Intel's Atom chip and Windows 8 OS, the tablet will be marketed later in June.
The Iconia W3 has LED backlit display (at 1280 x 800 screen resolution) and is equipped with Intel's Atom Z2760 processor, a dual-core chip with a clock speed of 1.8 GHz. It weighs 500 grams, supports 802.11 b/g/n wireless networks, has Bluetooth 4.0, front and rear facing 2 megapixel webcams, and micro-HDMI and micro-USB ports for connecting to displays and other devices. The device has a battery life of up to 8 hours.
The Iconia W3 is also installed with Microsoft Office Home & Student 2013, and will also be available with an attachable keyboard. It will be available with either 32GB or 64GB or storage (you can add an addition 32GB via a microSD slot for more storage). It will be available in June in the U.S. starting at $379.99. The optional keyboard will be available for $79.99 (U.S.) and a case for $34.99 (U.S.).
Enhanced models of Acer's flagship Aspire series of the tablet-laptop hybrid were also unveiled Monday. They include the Aspire R7, which features a hinge-attached pad that holds up the touchscreen and allows users to pull the screen closer or flip it over the keyboard, transforming it into a tablet.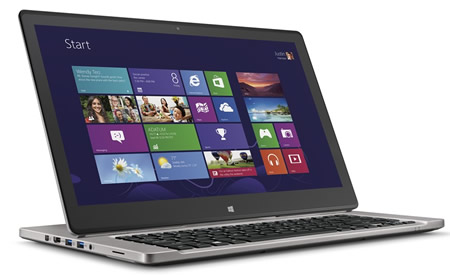 The Aspire R7 is a new 15.6-inch notebook and has the following specs:
A full HD 1920 x 1080 touchscreen display
An Intel Core i5 processor
6GB of memory
A 500GB hard drive and 24GB SSD
A full-size backlit keyboard
Includes an HDMI port, SD card reader, 3 USB ports, Wi-Fi and Bluetooth
Also comes with a converter port supporting VGA, RJ45 and USB.
Acer is also diversifying its tablet product line. The company's two Android-based tablets will sell for as little as $149 if the screen is 7 inches and $169 for the 7.9-inch variant (Iconia A1-810).
Acer also showed off a 5.7-inch Android smartphone that will arrive in the market in this year's third quarter. The Liquid S1 runs Android 4.2, and has a 1280 x 720 pixel screen resolution. It's powered by a Medtatek quad core 1.5 GHz chip, 1GB memory, 8GB of storage and has a batterylife of 11 hours. A 2 megapixel camera is fitted on the front, while an 8 megapixel camera is attached to the rear.
Users looking for an equally performance in a smaller package need to the Liquid E2. The 4.5-inch smartphone offers a real-time camera function capable of shooting eight photos per second, up to 99 photos in total. The device has a qHD display and also includes a dual speaker with DTS Sound quality. As for web content, the device's HSPA+ modem boasts speeds of up to 42 Mbps.
In addition, Acer has updated 29 laptops and desktops with Intel's latest Core processors code-named Haswell, which were announced this week.
The 23 Aspire laptops are priced between $600 and $1,700, and include thin-and-light S- and V-series ultrabooks and standard-sized laptops. The new PCs will be available this month.
The new Acer Aspire S7-392 13.3-inch Ultrabook retains many of the characteristics seen with previous S7 models such as being slim and light measuring only 0.51 inches thin and weighing 2.87 lbs. However, Acer is making a few changes. It sports a 33% increase in battery life over the previous S7 model (up to 7 hours), comes with an electroluminescent backlit keyboard, quieter fans and is powered by either Intel's Core i7-4500U or i7-4200U processor, 8GB of RAM and solid-state storage of up to 256GB. It also comes with a HD IPS 10-point touchscreen display with a 2560 x 1440 resolution. The Aspire S7-392 ultrabook will start at $1,399.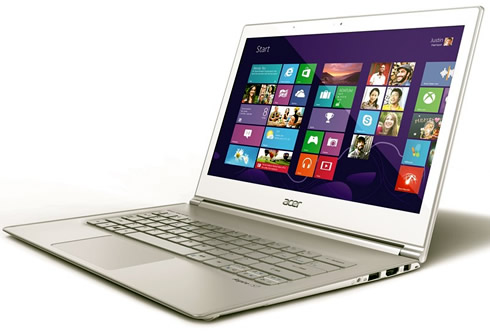 The new Aspire S3-392 13.3-inch Ultrabook inherits the design of the Aspire S7 Series such as its dual-torque hinge that keeps the display wobble-free. It is made from aluminum and sprayed with a glossy white paint. The rest of the chassis is made from anodized aluminum. It has the latest Intel Core processors, NVIDIA GeForce GT735M graphics, and a light-sensing keyboard that auto adjusts to ambient light. It also has a 1080p full HD display with IPS technology. Acer's S3 is available with a 7.2 mm 1 TB hard disk for storage. It will start shipping in July with a starting price of $1300.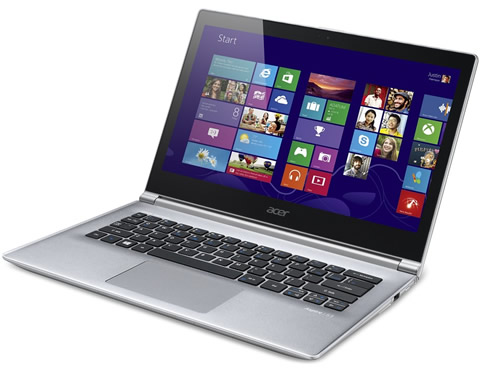 The new Aspire Z3 Series is a new 23-inch All-in-One PC. It has an ergonomic chassis with a full HD display with IPS technology and 10-point touch. It also has front facing Harman Kardon speakers for excellent audio. The PC itself can be adjusted 10 to 30 degrees for the best angle. Its integrated 1 megapixel HD webcam can capture a 720p image and also be adjusted 0-20 degrees.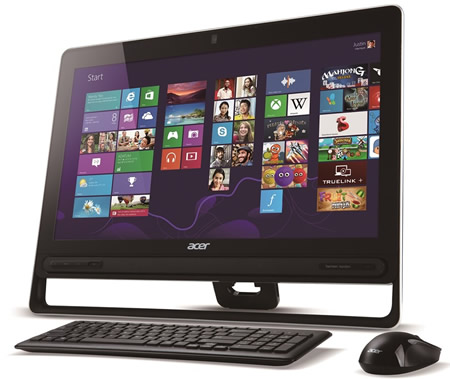 Acer is also adding the new Haswell processors to its Acer Aspire V7-482PG ultrabook, which has a 1920 by 1080 high-resolution touch display, and is priced starting at $1,299. The V7 will also have 12GB of memory, a 1TB hard drive and an GeForce GT750M graphics card. The ultrabook weighs 4.41 pounds.
Acer's gaming laptops include the Acer Aspire V3-772G laptop, which has a 17.3-inch high-definition screen, and a Intel Core i7 4702MQ processor. It will have an Nvidia GeForce GTX760M graphics, 12GB of RAM a 1TB hard drive. It will be priced starting at $1000.
Acer also plans to launch an upgraded version of its Iconia B1, which will feature a new form factor design, a dual-core processor and a larger 1GB of internal memory.
Acer expects up to 80 percent of its products to use touch-screen technology by next year or the year after.
Acer Chairman J.T. Wang also expects the PC industry to see a decline in shipments this year but the notebook and tablet PC segments combined to grow 10 to 15 percent.
At its "We Transform" Computex 2013 press event, AsusTek Chairman Jonney Shih revealed the ASUS way of DesignThinking and introduced an entire line of devices.
"We seek to perfect the balance between engineering and humanity, where every intricate detail echoes our needs for both emotion and function," said ASUS Chairman Jonney Shih. "This is the ASUS way of Design Thinking, where every idea starts with people and we turn our imagination into myriad revolutionary innovations."
The ASUS Transformer Book Trio is a combination of notebook, tablet and desktop PC, while the new Transformer Pad Infinity is the first NVIDIA Tegra 4 tablet with a 2560 x 1600 resolution display.
ASUS also announced two new handheld devices, the 6-inch Fonepad Note FHD 6 tablet with 3G voice-calling and the 7-inchMeMO Pad HD 7 value tablet with an MSRP of US$129.
The ultra-compact VivoPC desktop, the VivoMouse wireless mouse with built-in multi-touch touchpad and the world's first AC1900 router, the RT-AC68U, were also unveiled.
The ASUS Transformer Book Trio is the first three-in-one mobile device. It has an 11.6-inch detachable display and dual operating systems to switch effortlessly between a Windows 8 notebook, Android tablet and Windows 8 desktop PC. Despite the different operating systems, the Transformer Book Trio has been designed to smoothly transition between modes, allowing users to sync data or continueto surf the webpage they're on even when moving from notebook to tablet mode.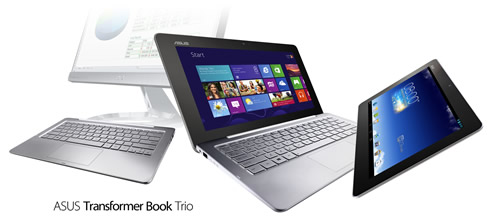 The PC Station dock has its own 4th generation Intel Core i7 processor, keyboard and 750GB hard drive, and with the tablet display detached, can be hooked up to an external display for use as a desktop PC. The PC Station also serves as a charger for the tablet for extended battery life. The tablet features a 2.0GHz Intel Atom Z2580 processor and a 16:9 aspect ratio IPS display with Full HD 1920 x 1080 resolution and up to 64GB storage.
The New Transformer Pad Infinity is the first in ASUS range of dual-purpose mobile devices to feature a 1.9GHz NVIDIA Tegra 4 mobile processor with quad-core ARM Cortex-A15 CPU and 72-core GeForce GPU. The 10.1-inch LED backlit display has a 2560 x 1600 resolution with IPS technology for 178-degree wide viewing angles, plus 10-point multi-touch for fingertip control. ASUS SonicMaster-enhanced audio completes the mobile tablet entertainment experience. The redesigned keyboard dock now features a multi-touch touchpad, USB 3.0 and an SDXC card reader, and gives longer battery life when the tablet is docked.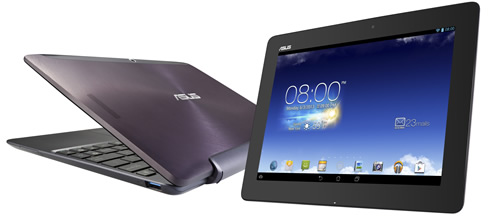 ASUS MeMO Pad HD 7 is an 7-inch tablet with an MSRP of US$129 for 8GB capacity and US$149 for 16GB. MeMO Pad HD 7 weighs just 302g and has a quad-core ARM Cortex A7 processor, plus a 10-point multi-touch 1280 x 800 IPS display with 170-degree wide viewing angles. MeMO Pad HD 7 also features ASUS SonicMaster audio technology, and a front 1.2-megapixel camera and optional 5-megapixel rear-facing camera. It's available in dark blue, white, pink and green colors.
The US$129 price tag for the MeMO Pad HD 7 is lower than that of Acer's 7-inch Iconia B1 tablet, which was launched in January with a price tag of US$150.
The MeMo Pad FHD 10 comes with a 1,920 x 1,200-pixel IPS screen. It runs on the Intel Atom Z2560 processor and features wireless options such as Wi-Fi, GPS and GLONASS for navigation and Miracast for wireless display. The FHD will come in 16GB and 32GB versions, and supports memory expansion via a microSD card slot.
Asus MeMO Pad SPECIFICATIONS 

ASUS MeMO Pad™  HD 7

ASUS MeMO Pad™ HD 10

7-inch HD 1280 x 800 IPS display
5-megapixel rear and 1.2-megapixel front camera
Stereo speakers with SonicMaster technology
Up to 10 hours battery life 2
120.6 x 196.8 x 10.8mm
302g

Intel® Atom™ Z2560 processor (1.6GHz)
10.1-inch, Full HD 1920 x 1200 display
Stereo speakers with SonicMaster technology
Up to 10 hours battery life 2
264.6 x 182.4 x 9.5mm
580g
Part 3G smartphone, part tablet, ASUS Fonepad Note FHD 6 comes with a 1.6GHz Intel Atom Z2560 dual-core processor and 1920 x 1080 Full HD Super IPS+ display. With a display brightness of 450 nits, ASUS Fonepad Note FHD 6 can be used outdoors in bright sunshine, while front-facing stereo speakers with ASUS SonicMaster technology ensure high-quality high-definition audio. ASUS Fonepad Note FHD 6 also includes a stylus for quick handwritten input.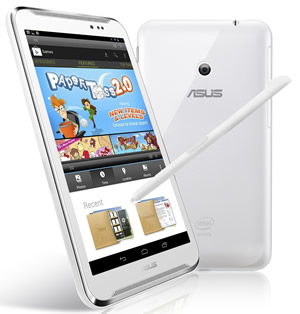 ASUS VivoPC is a wireless media center designed to provide HD Wi-Fi audio and video streaming through a high-speed 802.11ac connection. Its compact design sports a spun-metal finish, ASUS SonicMaster audio technology and two USB 3.0 ports. ASUS VivoPC also features SATA 6GB/s and easy internal access for upgrades.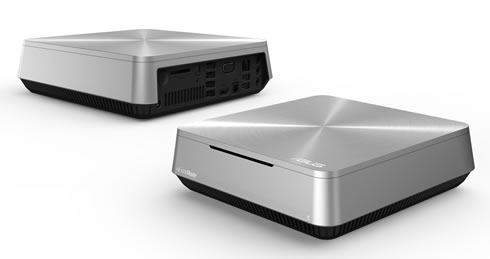 ASUS VivoMouse is a combined touchpad, mouse and PC remote designed to bring the Windows 8 touch experience to PCs without a touch display. VivoMouse has its own touchpad that even recognizes Windows 8 touch gestures and can be used as a wireless remote for home entertainment PCs.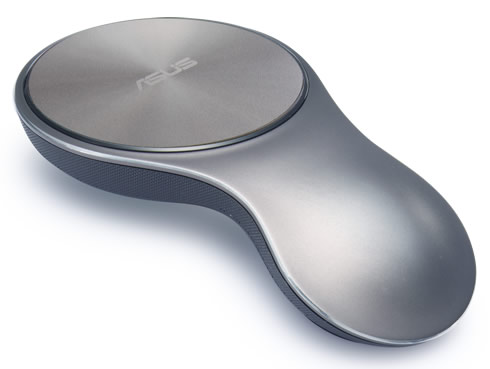 The ASUS RT-AC68U is the first dual-band 802.11ac router with fast combined AC1900 data rates of 1900Mbit/s. The RT-AC68U also features ASUS AiRadar technology that uses beamforming to focus the Wi-Fi for a stronger wireless connection and 150% greater coverage than other routers. The RT-AC68U features a Router-to-Router Sync mode that makes light work of sharing files. A simple invitation allows photos, videos and other files on USB-attached storage to be synchronized automatically to USB-attached storage on other compatible ASUS routers, without theneed for a switched-on PC at either end.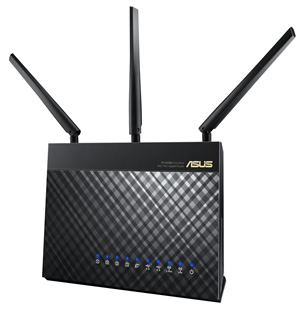 Other ASUS products announced at Computex include the Zenbook Infinity Ultrabook, MeMO Pad FHD 10 tablet, G10 desktop PC with built-in UPS and the PA279Q ProArt WQHD pre-calibrated professional monitor.
The 13.3-inch Zenbook Infinity has a backlit keyboard and will be offered with an Intel Core i5 or 28-watt dual-core Core i7 "Haswell" processor with GT3 graphics, known as Iris 5100. It will feature a 2560 x 1440 panel option similar to Acer's newly announced 2nd gen Aspire S7. The back of the display features Corning Gorilla Glass 3, as do the palm rest and trackpad. Despite the glass exterior, Zenbook Infinity will be slightly lighter than the current 13.3-inch Zenbook, which weighs 1.45kg, the spokesman said. It will also be a bit thinner, at around 14mm at the thickest point. The device also features two USB 3.0 ports, a mini HDMI port, mini DisplayPort, headphone jack and an SD card reader.
The 13.3-inch Zenbook will go on sale in the third quarter with a choice of Windows 8 or the upcoming Windows 8.1, known as Windows Blue.