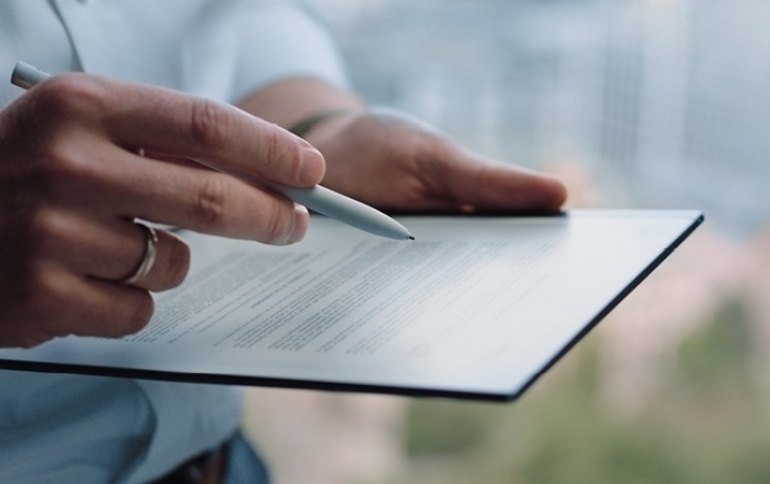 Ultra-thin reMarkable 2 Tablet Coming In June
reMarkable today announced its next-generation paper tablet, reMarkable 2.
The device for note-taking and reviewing documents comes from the Norwegian developers behind the original paper tablet, which broke pre-order records during its 2017 launch.
reMarkable 2 is available for pre-order from reMarkable.com for $399, and is set to ship in June 2020. The limited-time launch offer will include a Marker and Folio.
At 0.19 in/4.7 mm thick, reMarkable 2 is the world's thinnest tablet. Armed with weeks of battery life, and the second-generation CANVAS display partially powered by E Ink technology, reMarkable 2 could be the most paper-like digital device the industry has ever seen.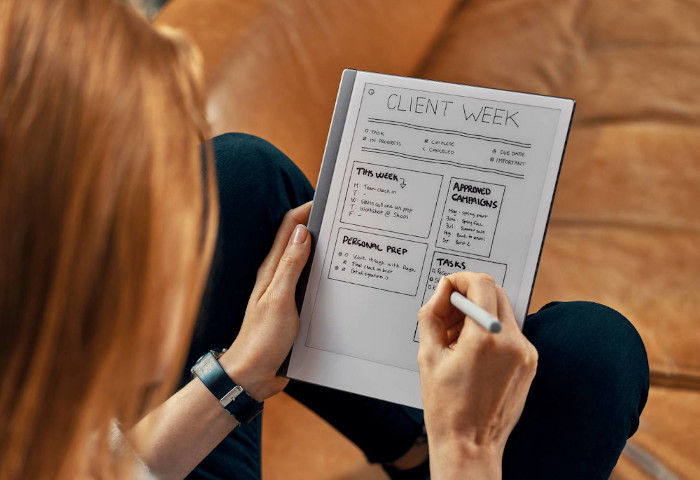 Like the original model, the star of the show is the company's Canvas display, which is now in its second generation. The newer model still is "partially" powered by E Ink and still measures in at 10.3 inches with an 1872 x 1404 resolution (for 226 DPI).
Compared to the reMarkable 1, the enw tablet offers up to 2x the battery life ( two weeks of battery), it is up to 2x more responsive as well as 30% thinner.
But where the reMarkable 2 stands out is the "paper-like" design, a mixture of the textured writing surface and the custom material used for the stylus tips that makes it feel like an actual pencil. The Canvas display has a few new things, though: a shorter distance from the cover to the actual E Ink underneath and a far-faster 21ms latency (nearly twice as fast as the older model). The new model also switches over to USB-C for charging, which is a welcome thing to see in 2020.
Inspired by paper, reMarkable 2 is a tool for note-taking, reading, and annotating documents without built-in distractions.
The teblet's realistic paper experience supports improved focus and better thinking, while still maintaining a connection to the digital world.
reMarkable 2 features the ability to convert handwritten notes into text, along with options for organizing, sharing, annotating and searching documents. Among a host of other digital features, reMarkable's cloud service makes content accessible through multi-platform companion apps for desktop and mobile. Its feature set is aimed at anyone who likes writing by hand, but wants to be able to reuse their work in their digital workflow.
At launch, reMarkable 2 will be accompanied by a Google Chrome plug-in that will allow users to read reformatted web articles on their paper tablet without distractions.
Accessories to compliment reMarkable 2
All accessories are either included in their respective launch bundles, available as a bundle upgrade, or can be purchased separately later in the year when the pre-order finishes.
Markers: reMarkable 2 will launch with two different Markers, both of which attach magnetically to the right side of the paper tablet:

Marker - $49 (included in pre-order)
Marker Plus (includes built-in eraser in the top end) - $99

Folios: Folio and Book Folio have been created with function and style in mind. They're both made from fine materials and designed to fit reMarkable 2 perfectly.
Folio - $69 - The original sleeve for reMarkable 2 (included in the first part of pre-order)
Book Folio - from $99 - Lets you keep your reMarkable 2 in its cover while working. Attaches magnetically to reMarkable 2
Specifications
Size and weight: 187 x 246 x 4.7 mm, approximately 403.5 g (.88 lb)
---
Processor: 1.2 GHz dual core ARM
---
Storage and RAM
1 GB LPDDR3 SDRAM
8 GB internal storage (100,000 pages)
---
Second-generation CANVAS display
10.3" monochrome digital paper display (no colors)
1872 x 1404 resolution (226 DPI)
Partially powered by E Ink Carta technology
Multi-point capacitive touch
---
Marker
No charging, setup, or pairing required
Special high-friction pen tip
Tilt detection
4096 levels of pressure sensitivity
---
Connectivity
Wi-Fi 2.4GHz and 5GHz
USB-C
Accessory port
---
Battery
Rechargeable (Li-ion) battery
USB-C charging
3000 mAh
---
Operating system
Codex — A purposely designed Linux-based operating system for low-latency digital paper displays
---
Document support: PDF and ePUB
---
Other
Menu language: English only
Note and file syncing between reMarkable tablet and reMarkable apps for MacOS, Windows 7 and newer, iOS, and Android