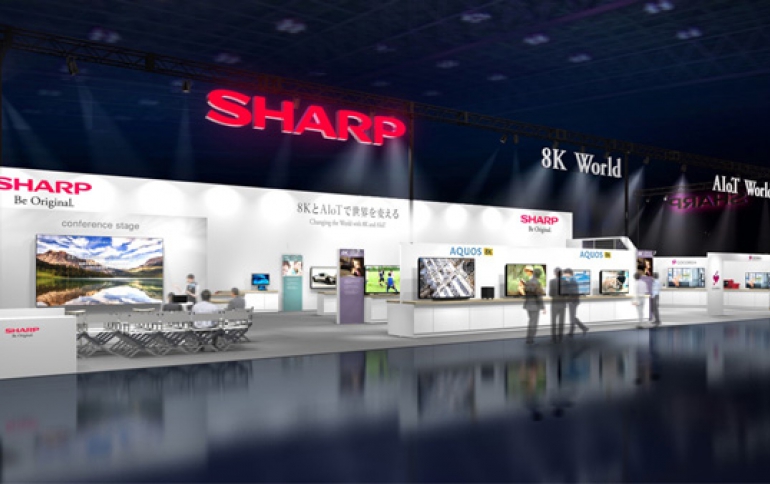 Sharp Embeds Transparent NFC Antenna on a Display Screen
Japanese Sharp has developed a display that has an NFC (near field communication) function on the entire screen.
The technology will help the promotion the use of NFC for electronic payments via a network. Currently, most smartphones function as NFC cards. On the other hand, the number of users that have NFC card readers for electronic payment is not increasing.
Sharp's technology supports display sizes of up to 42 inches, and the company plans to commercialize it in or after fiscal 2019.
The company has managed to create an almost transparent NFC antenna that spans across the entire display. It says that the light transmittance of the antenna is 80% or higher, as a result of the "metal mesh technology for touch panels," technology. Although the details here are limited, Sharp probably used silver (Ag) fine lines for transparent electrodes and transparent electric wiring. Typically, there is a trade-off between the light transmittance and electric conductivity of ITO (indium tin oxide), which is commonly used for transparent electrodes. But Ag fine lines are not influenced by the trade-off much.
The communication range is 3.0-3.5cm on most parts of the screen. It is longer than 2.5cm, which is required for common NFC antennas, Sharp said.
The antenna is expanded across on the entire screen of the display. It divides the screen into multiple areas, places an NFC antenna in each area and switches among them. This means that communications are done by using multiple antennas on the screen in a time-sharing manner.
According to Sharp, this approach reduces the area of display device, compared with cases in which an external NFC card reader is used or a reader is embedded in only part of a display.
Sharp hopes this new development will find its way in POS terminals and vending machines, or for individual authentication in business, educational, medical, or amusement facilities, to name a few.
The company plans to commercialize the technology in fiscal 2020. It can also be applied to existing touch panels.