Sharp to Introduce 4K Touchscreen LCD Monitor
Sharp will introduce into the Japanese market a new 32-inch-class LCD monitor, the PN-K322B. The professional monitor features a high-sensitivity touchscreen and delivers 4K resolution (3,840 ? 2,160 pixels). The PN-K322B ultra-high-definition display features a high-precision touchscreen which allows accurate onscreen handwriting of text and lines, with writing performed via a dedicated touch pen with a pen-tip width of just 2 mm. The display also supports multi-touch operation.
Thanks to IGZO technology and an edge-lit LED backlight, the PN-K322B boasts a slender profile with a thickness of just 36 mm. An included stand allows the monitor to slide easily between two angles depending on the application: vertical for viewing the monitor or low-angle for onscreen writing and touchscreen operation.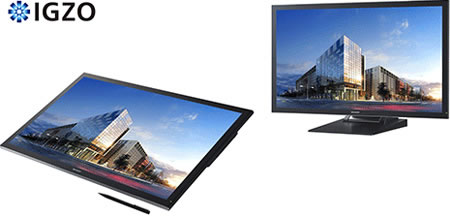 The PN-K322B features a palm cancellation function that prioritizes pen input even when the user's hand is resting on the touchscreen. Input connectors on the PN-K322B are compatible with the latest DisplayPort and HDMI interface specifications, enabling the monitor to display 4K ultra-HD content delivered from a PC via a single-cable connection.
The will be available in Japan in the 30th of July. Sharp said its monthly production schedule was 250 units.
Specifications
Model name
PN-K322B
Installation
Landscape / Portrait
LCD panel
Screen size
32-inch-class widescreen (80.1 cm diagonal) IGZO LCD
Backlight
LED (edge lit)
Max. resolution
(Max. display colors)
3,840 x 2,160 pixels
(Approx. 1.07 billion colors)
Brightness
300 cd/m2
Active screen area
(W x H)
698 x 393 mm
Touchscreen
Touch technology
Capacitive touch
Communication
USB serial
Multi touch
10 points
Supported OS
Windows 8, Windows 7, Windows Vista, WindowsXP
Input terminals
DisplayPort
DisplayPort x 1
HDMI
HDMI x 2
Audio
3.5 mm-diameter mini stereo jack x 1
RS-232C
3.5 mm-diameter mini jack x 1 (conversion cable included)
Output terminal
Audio
3.5 mm-diameter mini stereo jack x 1
Speaker output
2W + 2W
Power supply
100V AC, 50/60 Hz (when using the supplied AC adaptor)
Power consumption
97W/ 91 W
Operating temperature / humidity
5°C to 35°C / 20% to 80% RH (no condensation)
Dimensions (approx.)
750 W x 36 D x 441 H mm (without stand)
750 W x 390–575 D x 207–493 H mm (with stand)
Weight (approx.)
9.0 kg (without stand) / 16.0 kg (with stand)